W&M Holmes Scholars attended AACTE 72nd annual meeting
Prior to the closure of universities and conferences across the nation due to the pandemic, William & Mary Holmes Scholars attended the Holmes Program Preconference in Atlanta, GA. The event was held February 27-29 as part of the 72nd American Association of Colleges for Teacher Education (AACTE) Annual Meeting. The Holmes Scholars Program, a branch of AACTE, provides mentorship, professional development and networking opportunities to support diverse students in achieving educational goals and careers. William & Mary's Holmes Scholars are high-achieving students who are from traditionally under-represented backgrounds pursuing doctoral degrees in education.
The theme of this year's AACTE Annual Meeting and Holmes Program Preconference was "Disrupting Inequities: Educating for Change". During a three-day preconference, Holmes Scholars had opportunities to engage in varied sessions, expand research horizons and connect with colleagues from universities and colleges across the nation. William & Mary Holmes Scholars were well-represented and actively participated in the 3-minute thesis, roundtable and poster presentations.
Jessica Scott, a doctoral student in the Executive Ed.D. program, presented on the topic, "Crisis Averted – What are you going to do after high school?"
"It was a great experience to present and gain feedback from my peers at several different universities," said Scott. "Spending time answering their critical questions was impactful. I appreciate their support." She says she hopes her research can help students in her local school system.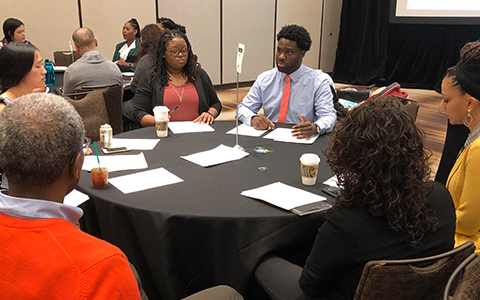 Okenna Egwu and Aiesha Lee, doctoral students in counselor education, presented research entitled "Restorative Relational Cultural Therapy: A Multicultural, Trauma-Informed Approach to Restorative Justice When Working with Juvenile Offenders."
"The experience was an awesome opportunity to expand and trade ideas with passionate and like-minded scholars," said Egwu. "I was happy to share opinions with other students and have my own challenged and refined."
Jingjing Liu, a doctoral student in higher education, presented at the roundtable session. "I enjoyed the interactive discussion that allowed me to develop my communication skills and connect with scholars," shared Liu. "The valuable advice I gained from other scholars helped me further think about how to improve my research."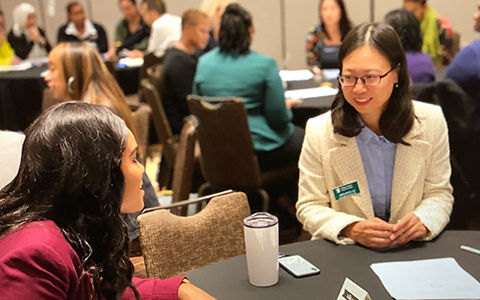 Nancy Chae, Okenna Egwu, and Leila Warraich, doctoral students in counselor education, also had the opportunity to present their research posters during the AACTE conference. "It was a wonderful opportunity to share our research interests and passions with various educators, leaders, and students," said Chae. "I felt honored that many AACTE conference attendees walked up to our posters, expressing genuine interest in the topics and striking up great conversations for future research inquiries."
"It was inspiring to meet strangers who shared an interest in our research topics," added Egwu. "Talking with researchers from all over the country gave me perspective I would have never gained otherwise and created some invaluable connections."
Holmes Scholar Denise Lewis reflected on a moderated panel discussion entitled "Mentoring - Doctoral Journey: Year 1 and Beyond". As a second-year doctoral student in curriculum and learning design, Lewis attended a similar break-out session during her first Holmes Program Annual Meeting. She listened intently as panelists from various universities including Central Florida, Florida, Ohio, Penn State, South Carolina, and Virginia Commonwealth responded to a variety of questions benefiting students in the middle of their doctoral journey.
Lewis also participated in a break-out session entitled "Career Choice Pathways - Education Positions Outside of the Academy" presented by Weade James from AACTE. Students first pondered the question "Why a path outside of the Academy?" and shared their responses with a partner. Many participants cited previous work experiences, flexibility, the desire to transfer research into practice, the current tenuous path to tenure and promotion in academia and the desire to build connections within their communities.
Lewis enjoyed these sessions, had conversations with professionals and obtained positive advice for navigating the doctoral journey and career choice pathways. "I would love the opportunity to share what I learned about how to find available resources on our campus, and how to consider education positions outside of the Academy with my colleagues", she added.
Overall, William & Mary Holmes Scholars viewed participation in the AACTE Annual Meeting as excellent experience to enhance professional development, build a supportive network and engage in meaningful discussions about changes in education. The learning experience inspires scholars to work hard, move their research and service forward and further a high-quality and equitable education.