Doctoral dissertation defenses shift online as school transitions to remote learning
One of the most beloved traditions at the School of Education is the ringing of the school bell by doctoral students after successfully defending their dissertations. During the spring months, rarely a day passes without the sound of the bell ringing across the courtyard.
However, this is not a typical spring. With university buildings closed and all studies shifted online to promote social distancing and slow the spread of COVID-19, the school bell is silent — but that doesn't mean this important milestone for doctoral students has halted.
Over the past two weeks, 13 doctoral students have defended dissertations online through the use of Zoom, the university's video teleconferencing software.
"It's a testament to the remarkable resilience and dedication of our faculty, staff and students that we've been able to adapt so quickly to these new circumstances," said Spencer Niles, dean of the School of Education. "Thanks to their hard work, we've been able to keep our doctoral students on track and on time to defend their dissertations as scheduled."
Fortunately, the school did not have to make any formal changes to dissertation requirements in order to move defenses online. The school's doctoral handbook allows individuals to attend a dissertation defense remotely, though the school had never before conducted an entire defense online. Another important requirement is that the school community be invited to attend, which has been accomplished through email invitations to faculty and student listservs, sharing a link to join the Zoom meetings.
Last Thursday morning, Alex Hilert, a Ph.D. candidate in counselor education, successfully defended his dissertation, entitled "Investigating Facilitation Strategies and Engagement in Correctional Mindfulness Programs: A Grounded Theory," through a Zoom meeting. His dissertation committee, comprised of Natoya Haskins, associate professor of counselor education; Daniel Gutierrez, assistant professor of counselor education; and Janise Parker, assistant professor of school psychology, joined him online through Zoom.
Over the next 30 minutes, Hilert gave a carefully-prepared presentation of his research work, which examined the experiences of volunteers conducting mindfulness programs in prisons. He described his analysis of the factors that influence engagement in such programs, the barriers volunteers encounter, effective strategies for implementing mindfulness programs in a prison context, as well as the implications for facilitators and counselor education programs.
Following Hilert's presentation, the committee members asked a series of far-reaching questions — typically the most nerve-wracking part of the defense for students. And while the questioning was intense, the back-and-forth of the conversation remained friendly and supportive.
Also in attendance were more than a dozen of Hilert's fellow students in the counseling program. As the faculty questioning came to an end and the three professors withdrew from the virtual meeting to discuss the outcome of the defense, Hilert's classmates erupted in applause and compliments of his performance.
"I really appreciate having a virtual audience," said Hilert. "It would have been depressing to do all of this work and have no one see it."
While the transition to online defenses has required significant energy and creative problem-solving by both faculty and students, the ability to include more people through an online platform has proved to be a unique benefit.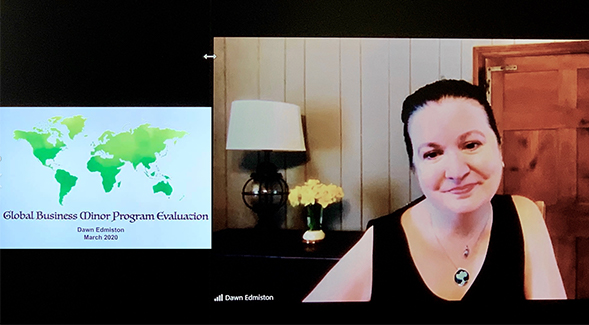 "The digital nature of the defense was certainly not the traditional experience that we had planned in the Blue Room of the Wren Building," said Dawn Edmiston, an Ed.D. candidate in higher education and clinical professor of marketing in the Raymond A. Mason School of Business. "However, the use of Zoom allowed for 30+ individuals to join from across the U.S. to include my parents in New York as well as two vice provosts at W&M. In addition, using Zoom allowed for the dissertation defense to be recorded, which enabled me to fully engage in the discussion and develop notes from the audio transcript afterwards." 
With classes shifted online, as well as all group meetings, faculty and students are quickly adapting to the use of Zoom and other virtual modes of connection—a factor that has smoothed the way for the online dissertation defenses.
Rip McAdams, professor and chair of School Psychology and Counselor Education, has attended two virtual defenses so far, acting as both chair and committee member. "I was surprised how quickly our focus was able to divert away from the electronic format to the actual content of the session," he said. "In all, I think the online dissertation defense experiences were quite successful and well-received."
Faculty members acting as chair for dissertation committees have increased their support for students in this unique situation, helping them prepare for any technological challenges that arise during the virtual defenses.
"My main priority in moving the final dissertation online was to assure that students feel comfortable with the technology and also come away with a positive experience to serve as a capstone for their doctoral experience," said Pamela Eddy, professor and chair of the department of educational policy, planning and leadership.
And while the tradition of ringing the bell at the conclusion of the event has been necessarily put on hold, faculty and students are already planning to recreate the moment in the future.
"I'm looking forward to having a 'do-over' time to bring graduating students back to ring the bell and to celebrate in historic fashion this important part of the defense," added Eddy.
Virtual dissertation defenses conducted as of March 26, 2020:
Nancy Chae, Ph.D. candidate in counselor education
"U.S. High School Counselors' Experiences of Gatekeeping with Underrepresented Students in the International Baccalaureate Diploma Program"
Craig Reed, Ed.D. candidate in K-12 administration
"A Program Evaluation of the Implementation of School Improvement Policies of the Every Student Succeeds Act in a Rural School District in Virginia"
Charles Watson, Ed.D. candidate in K-12 administration
"A Program Evaluation of a Secondary Peer Tutoring Program"
Carmen Concepción, Tricia Fernandez, Alexandra Goldfarb, and Milagros Gonzalez, Ed.D. candidates in K-12 administration
"Teacher Leadership: A District's Human Capital Investment Approach for Elevating Professional Learning"
Alex Hilert, Ph.D. candidate in counselor education
"Investigating Facilitation Strategies and Engagement in Correctional Mindfulness Programs: A Grounded Theory"
Gwendolyn Baugh Ashworth, Ed.D. candidate in K-12 administration
"Exploring the Interaction Between Appreciative Inquiry and Student Academic Optimism: An Action Research Study"
Jeremy Goshorn, Ph.D. candidate in counselor education
"Gay Identity in Emerging Adulthood: Testing the Interaction Between Relational Satisfaction, Outness, and Gay Identity"
Dawn Edmiston, Ed.D. candidate in higher education administration
"An Evaluation of a Global Business Minor Program on the Intercultural Competence and Professional Development of Students and Faculty"
David Gosling, Ph.D. candidate in counselor education
"The Longitudinal Impact of Moral Injury on Combat Soldiers: A Narrative Inquiry Study"
John DeVault, Ed.D. candidate in K-12 administration
"An Evaluation of Gender-Based Instructional Practices in a Single-Sex High School"