Camp Launch celebrates 6th year
Late July is hot and quiet on the W&M campus, but a handful of classrooms in Swem Library and Tucker Hall are buzzing with activity this week. In one classroom, students are examining electrocardiograms and discussing when a defibrillator should be used on a patient in distress. In another, student-designed robots zoom across the carpet, performing complicated turns and overturning obstacles. And down the hall, students debate what makes an online source of information credible.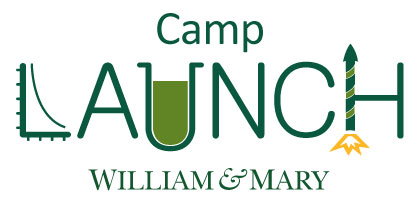 Typical activities for a college campus, but these aren't college students. They're 7th and 8th graders from across the region attending Camp Launch, a two-week residential camp for academically gifted students.

Created six years ago by educators and researchers at the W&M Center for Gifted Education, Camp Launch serves students from low-income families, who attend at no cost. "While all academically gifted young people face challenges, the students we work with at Camp Launch encounter obstacles beyond most of our own experience," said Tracy Cross, executive director of the center.

In addition to coping with the challenges inherent in adolescence and the transition to adulthood, these students must also come to terms with their own giftedness — and the impact that has on their personal relationships with peers and family. Most attend underserved schools and many have personally experienced the struggles of poverty.

"They can easily find themselves caught between the expectations of their families and teachers and the desire to fit in among friends," said Cross.

The camp aims to make an impact at a crucial point in students' lives, added Cross. Research shows that early intervention for middle-schoolers can make a huge impact on their success in high school and likelihood to attend college.
Kick-starting STEM studies
Camp Launch is designed to spark academic and career interests in STEM fields, with interactive and highly engaging courses that get students tinkering and discovering. In addition to Lego Robotics and Engineering, this year students also had the opportunity to learn about the medical sciences through a new Pre-med course.

To complement their STEM studies, students take a Personal Development course that helps them explore their values, goals and interests. Two doctoral students in W&M's counseling program, Edith Gonzalez and Victor Tuazon, are leading these classes using a curriculum developed by another counseling student and the Center for Gifted Education.

Through discussions about resiliency, motivation and decision-making, students gain an important foundation for navigating high school and beyond. "I love seeing how students engage with each of the lessons," said Gonzalez. "In their home schools, they are often discouraged by their peers because they are gifted. Seeing them surrounded by people like them really helps them become motivated to achieve."

For many students, the most transformative part of Camp Launch is the relationships they form with fellow campers. "Being around like-minded people gives them confidence and helps them take ownership of their own giftedness," said Mihyeon Kim, director of pre-collegiate programs for the center and director of Camp Launch. "It's about each of them believing that they are a scholar and creating their own path forward."

Maintaining connections with their fellow campers and with Camp Launch staff will be easier for this year's group of students because at the end of camp, each of them will take home a new tablet computer. Thanks to generous private funding, these tablets will keep students connected to their camp experience and allow them — quite literally — to take their learning into their own hands.
Funding a life-changing experience
The camp was originally funded through a grant from the Jack Kent Cooke Foundation, which provided start-up funds and three years of support for the program. Camp Launch also benefits from ongoing in-kind support from participating school divisions, area businesses and the William & Mary community.

In 2016, alumni Nancy Briggs Petters '81 and Mike Petters M.B.A. '93 made a generous $1 million gift that ensured Camp Launch could continue to help students. The private funds have allowed the camp's directors to broaden the reach of the program and develop new plans for the future.

Cross and Kim are now focused on refining the program's offerings and expanding the partnerships that will enable them to serve more students. They're also conducting research to examine student outcomes, which will in turn provide data and guidance to gifted educators across the globe. They hope to extend the impact of the camp by providing additional support beyond a second year and helping participants as they transition to high school.

"It is a special privilege for all of us to work with these exceptional students," said Cross. "In their enthusiasm, curiosity, strength and resilience, we can learn as much from them as they learn from us."