Please Check Below to See if your Issue Has Been Addressed
---
Blackboard Access
APSI@ W&M will be using Blackboard for the workshops this year. To access Blackboard do the following: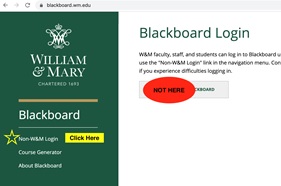 Go to blackboard.wm.edu
Click Non-WM Login
You will receive an email from W&M IT with your username and password 2 weeks before your session starts. This email also has a link to reset your password. Check your spam folder if you do not see the email in your inbox.
---
I do not know my username/password
We have noticed that many school districts' emails are blocking our W&M IT computer-generated emails, please check your junk/spam first. We tried to use participants' personal emails for access to Blackboard. If the W&M IT email is not in your personal email then please check your school email.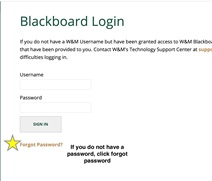 We will be sending a followup email from cfgepd@wm.edu with your username one week before your session starts. 
If you still do not know your password, click Forgot Password as shown in the picture. 
Next, enter the information requested, click submit and then check your email account on file, there will be a link to set your password. 
If you do not get an email, your school system firewall is blocking it, email us cfgepd@wm.edu
with a personal email address, and we will put in a request to IT to change your email on file.
---
How do I access the Live Classes?
Check your Course Overview/Agenda for live sessions
Click on Zoom Live Meetings in the Left Menu Bar, this is where your meetings will show up for you to click Join.