William & Mary Holmes Scholars attend the 74th AACTE conference
William & Mary Holmes Scholars attended the Holmes Scholars Preconference Program in New Orleans in early March as part of the 74th American Association of Colleges for Teacher Education (AACTE) Annual Meeting.  Founded in 1991, the Holmes Scholars Program provides mentorship, peer support and professional development opportunities to doctoral students who self-identify as racially and ethnically diverse and are pursuing graduate degrees in education at AACTE member institutions.
"We are fortunate to have such an excellent group of Holmes Scholars here in the William & Mary School of Education," says Stephanie Blackmon, associate professor of higher education and director of the W&M branch of the Holmes Scholars Program. "They are doing meaningful, interesting work that so many people across education are eager to learn more about."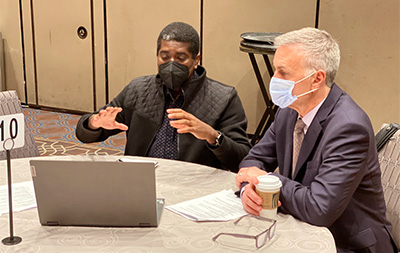 During this year's two-day preconference proceedings, Holmes Scholars participated in the annual business meeting and benefitted from various sessions designed to enable Holmes Scholars to observe and practice presenting their research. Several W&M Holmes Scholars participated in the Roundtable, 3-Minute Thesis, Academic Job Talk, Dissertation Funding Competition and Poster session events including Jessica Scott, Philippa Chin, Lavare Henry, Aiesha Lee, Denise Lewis, Jingjing Liu, Paola Mendizabal, Aishwarya Nambiar and Shené Owens. W&M Holmes Scholars alumna Danielle Giscombe also participated. Through these opportunities, scholars were able to present ideas and obtain peer feedback as they build toward their dissertation.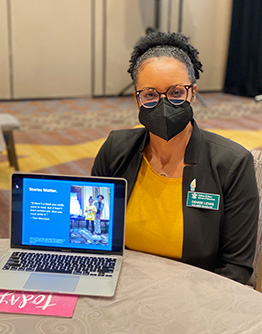 Equally enriching were the break-out sessions. Denise Lewis, a fourth-year doctoral student in Curriculum & Learning Design, participated in a session geared toward creating conditions that promote writing. Lewis remarked, "I really appreciated this session. I learned that in order to enable creativity and innovation, I must approach writing as an intellectual, spiritual, emotional, and a physical process. Awareness of the context and knowledge of self both inform the best conditions for writing." 
Shené Owens, a Ph.D. student in Higher Education Administration, and Paola G. Mendizabal, a Ph.D. student in Curriculum & Learning Design, both commented on feeling empowered during the conference. Owens shared that she was able to connect with other Holmes Scholars from W&M that she's never met in person. She added, "The Holmes preconference showed me that I am a part of a greater community of scholars, representing diverse cultures and backgrounds." Mendizabal commented that she learned the most from the Job Market session facilitated by a faculty member who shared tips on preparing for a faculty position, networking, interviews and more.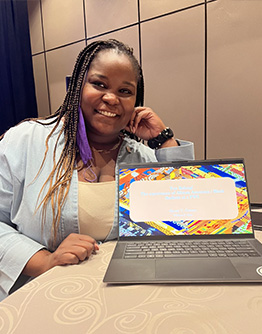 Holmes Scholar Jingjing Liu and Holmes Scholar alum Danielle Giscombe, both Ph.D. students in Higher Education Administration, presented a roundtable discussion titled "Minding the Gap: Enhancing Collaborative Efforts Between Academic and Student Affairs Personnel in Higher Education." The talk examined the long-existing gap between academic and student affairs and provided strategic implementation to enhance collaboration in higher education.
"As a counselor in higher education for more than 18 years, this conference gave me an opportunity to share practitioner-based suggestions that participants could take back to their respective institutions and apply," Giscombe said. "These suggestions include networking with faculty and staff outside of participants' prospective departments, providing a seat at the table for administrators, faculty, and staff, and methods for continued communication."
"The feedback we received is valuable and important," Liu added. "The conference experience motivates us to move research and writing forward to bring attention to the need for a more integrated campus environment through networking and collaboration."