Voices for Children and Youth in Washington: William & Mary attends the 2022 Special Education Legislative Summit
Each summer, special education leaders flock to Washington, D.C. to advocate with members of Congress for students with disabilities in an annual summit hosted by the Council for Exceptional Children (CEC) and the Council of Administrators of Special Education (CASE). Elizabeth Talbott, School of Education professor and Associate Dean for Research & Faculty Development, and William & Mary student Caroline Malachowsky '24 traveled to D.C. and participated in this year's event.
Once assembled, summit participants were divided into teams by state. Teams were composed of administrators, doctoral students, teachers, and higher education faculty. Teams spent one and a half days in training, receiving talking points, learning engagement techniques, and getting up to speed on this year's prominent issues. State teams then met with their Congressional representatives and staff on Capitol Hill. The summit concluded with reflections and debriefing on the experience.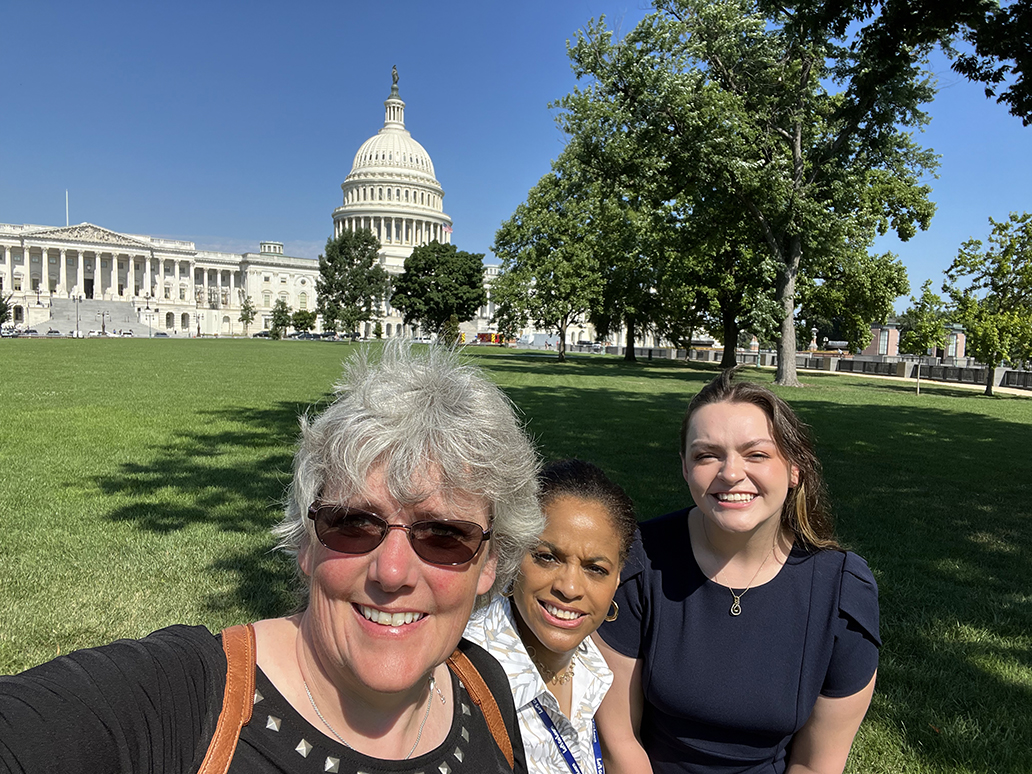 This year's advocacy efforts focused on achieving full funding for the Individuals with Disabilities Education Act (IDEA), the federal law guaranteeing students with disabilities the right to a free appropriate public education, along with strategies to address special educator and mental health professional shortages. Malachowsky joined the West Virginia state team and advocated for more federal funding for IDEA, relevant and sustainable policies to address the teacher shortage, and for the addition of mental health services in rural schools in the state. "I gained a lot of collaboration and communication skills. My team leaders gave me tips on communicating a lot of information persuasively," commented Malachowsky. This experience not only deeply connected with her passion to work in the mental health services and trauma-informed care fields after graduation, but also swayed her to pursue advocacy work in these areas.
There are positive effects of this experience for both first-time participants and for those returning annually. "In coming back year after year, we start to see congressional staff relying on us for advice and resources. And they share opportunities with us about grant funding that we can then take back and share with our schools and communities. But, I have learned that one day of advocacy each year is not enough. We (CEC) need to show up more often to make our voices heard—to do this, we're partnering with organizations who also work on behalf of kids with disabilities," shares Talbott.
Talbott's advocacy work has seen results, which encourages her efforts. For example, following her participation in a panel presentation to Congressional representatives on increasing funding for special education research, the Senate immediately recommended the increase in funding. For more on this advocacy effort, you can read the article in Special Education Today.
Fueled by the power these conversations can have on future policies impacting education, Dr. Talbott invites the W&M community to join in this advocacy work next summer, "There are many possibilities for William & Mary. There are opportunities for making connections on the Hill, building a pipeline for internships, and offering experiences in D.C. for undergrads, especially those interested in policy or minoring in educational studies." When asked for advice for those seeking this opportunity next summer, Malachowsky shares, "It's nerve-wracking, but there is nothing to be nervous about. There is lots of support in CEC. We are all working towards the same goal, and we want to work together."
If you are interested in joining the W&M team and attend the legislative summit in Summer 2023, contact Dr. Talbott at ehtalbott@wm.edu.