Reimagining summer school: Camp EAGER expands to inspire more young people to pursue STEM
An experimental summer camp developed by researchers at the William & Mary School of Education, now in its second year, is exploring innovative ways to encourage more students from underrepresented groups, primarily girls and youth of color, to pursue STEM careers. Camp EAGER, directed by Meredith Kier, associate professor of science education; Lindy Johnson, associate professor of English education; and Janise Parker, assistant professor of school psychology, aims to Elevate engineering, Advance innovation, Guide Learning, Effect change, and Remove barriers for all.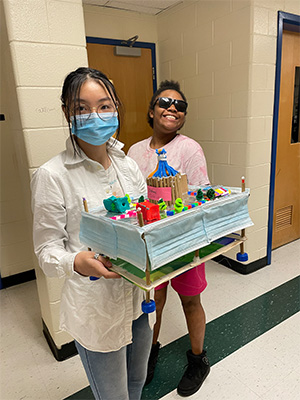 A partnership with Newport News Public Schools (NNPS), the two-week camp offered middle- and high-school students participating in the division's summer school program the opportunity to explore a range of engineering design challenges based on real-world issues like sea level rise and clean energy. Last year's pilot program served 40 students; this year the camp expanded to serve more than 300.
Camp EAGER is funded through the Dean's Strategic Innovation Fund, established in 2020 thanks to support from Shelley and Thomas Jennings, along with their daughter Kathleen Jennings '08. The fund annually supports projects designed by School of Education faculty to expand the school's impact and partnerships.
"Camp EAGER is truly making an impact through community-engaged research," says Dean Rob Knoeppel. "Our students and faculty are immersed in a school setting, partnering with practitioners in the field to respond to challenges in education and develop innovative solutions."
A unique mentoring model
Camp EAGER leverages a powerful mentoring model in which undergraduate college students from underrepresented backgrounds support both student and teacher development. The research team recruited undergraduate students from William & Mary, primarily through a partnership with the WMSURE program, to serve as mentors to the campers. Mentors supported the campers' learning related to the engineering design challenges and also implemented a social-emotional learning curriculum designed to help the campers identify their strengths, set goals and gain confidence.
The mentors, being close in age and experience to the campers, build strong bonds with the campers and gain important skills as well as a deeper understanding of the educational needs of diverse learners.
"Because of their own identities as under-represented students, they see themselves in the faces and experiences of the students we serve," says Parker. "They're able to use their knowledge and skills to give back to kids who look like them and come from similar backgrounds."
A focus on social-emotional learning
Following last year's pilot program, the team further evolved the social-emotional learning curriculum to maximize the growth that campers, mentors and teachers could achieve.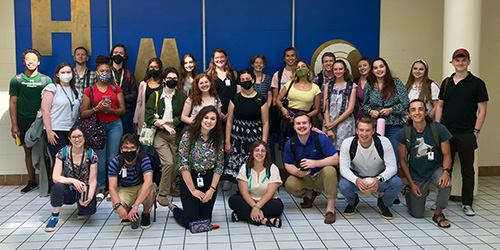 "It was really inspired by the natural conversations the mentors had with students last year about goals and intentional ways to link those aspirations to what was happening in the camp," says Parker. "What we saw was psychological empowerment, with the campers feeling more confident and secure in who they are. Just by the end of the camp, we could see growth."
The NNPS teachers, as well as preservice teachers in training at the School of Education who assisted during the camp, also benefited from the opportunity to implement a more rigorous social-emotional curriculum than is typically used in schools.
"There is a documented gap in preservice teacher training around building teachers' capacity to respond to social-emotional needs," says Kier. "We're training these teachers to be more strategic and systematic about how they respond to students' needs in the classroom." 
Cross-disciplinary collaboration
The opportunity for these four groups — teachers, middle-school students, undergraduates, and researchers — to interact and learn from one another is one of the strongest aspects of the program, say the team.
"We're creating these interdisciplinary systems that promote personal growth for all of the parties involved," says Kier. "It demonstrates so clearly that we serve students better when we don't operate within individual silos. When we come together, we're able to meet the needs of the whole student."