Janise Parker named Early Career Scholar for the 2022 School Psychology Research Collaboration Conference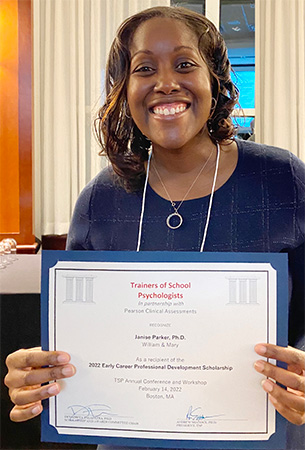 The Success of Students (SOS) tutoring program, which began during the pandemic and allows K-12 students to receive academic and socioemotional support from W&M graduate students, is one of the many contributions that Janise Parker, assistant professor of school psychology, has lately made to her field. She also is known for her excellence in research in the area of school psychology and brings her expertise to a broad community through her blog on Psychology Today entitled "Culture, Community, and Conscience." Through her blog posts, she discusses student engagement, motivation and other issues surrounding mental health, primarily among Black youth. It has become an outlet for Parker to share findings from current research in a way that is accessible and useful for the everyday parent, caregiver and adult responsible for the well-being of children.
Now, the premier organization for research in school psychology has recognized Parker for her contributions to the field and has named her an Early Career Scholar for the 2022 School Psychology Research Collaboration Conference (SPRCC). Hosted by the Society for the Study of School Psychology (SSSP), the conference was held both in person and virtually this spring. During this same week, Parker received the Early Career Faculty Scholarship/Award during the Trainers of School Psychology Conference.
Parker was invited to attend the 2022 SPRCC as a fellow where she was matched with a research mentor and collaborated with colleagues to develop sustainable research agendas. Attendees met in large and small groups, learned strategies for succeeding as an early career scholar (e.g., managing a research lab, procuring grants), reflected on social justice, analyzed articles, and planned collaborative research projects. In particular, Parker was placed in a small group with catalyst scholar Scott Graves at The Ohio State University and four other early faculty where together they planned research projects surrounding their shared interest in promoting equity in schools and communities.
In reflecting on the experience at SPRCC, Parker shares, "It was affirming as a scholar of color. I felt heard and it was validating to share the highs, lows, and experiences unique to marginalized faculty. Mentors of color shared how they navigated those issues and my network expanded to help me navigate oppressive structures that live in the academy."
Parker hopes to build on the network she gained from this experience and the plans her small group put into place for future research. For example, Parker is particularly passionate about the recruitment and retention of school psychologists from marginalized populations. "Much of the literature focuses on graduate students, but we would like to expand on what happens when these early career practitioners enter the field after we retain them in graduate school," states Parker. Aligned with her passion, Parker is also leading a research project that involves the development of a structured support program for early career women of color in school-based mental health fields. Other members of this research team include Natoya Haskins, associate professor at William & Mary; alumna Nancy Chae Ph.D. '20; Angelina Nortey, clinical assistant professor at Yeshiva University; and Kierra Fulmore, founder of School Psych Sistahs, Inc. Her passion for supporting early career practitioners was recognized by the field, as the team recently received an anti-racism seed grant from Division 16 of the American Psychological Association to support the pilot stage of the program.
Overall, she is dedicated to being a productive researcher that reaches the community, promoting equity and truly embodying what it means to be a scholar-activist. "The resources I gained from SPRCC will help strengthen my scholarship, as I look to support other members of the community that invested so much in me."
To learn more about the issues mentioned above, you can follow Parker's blog on Psychology Today at: "Culture, Community, and Conscience."