Courage, dignity and honor: School of Education unveils Trailblazers Wall
Over Charter Day weekend, the School of Education community gathered to unveil a new installation in the school building honoring trailblazers who broke barriers at William & Mary and within the field of education and opened doors for generations of future educators.
The three inaugural honorees on the Trailblazers Wall are Hulon L. Willis, Sr. M.Ed. '56; Janet Brown Strafer '71, M.A.Ed. '77, D.Sc. '18; and Jo Lynne DeMary '68, Ed.D. '82. Their photos and biographies are now displayed in the front hallway of the school building. Additional trailblazers will be identified and celebrated annually.
"As we strive to live out our institutional values of belonging, integrity and respect and to fully embrace an inclusive history of our institution, our progress is due to the determination and tenacity of individuals — those people who have the courage and conviction to act and persevere in order to make a difference," said Dean Rob Knoeppel at the ceremony.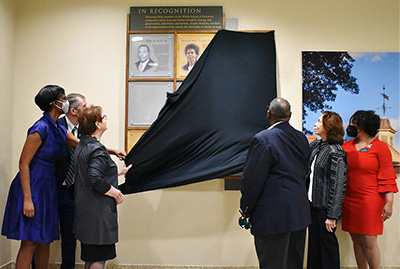 All three honorees were represented in attendance at the dedication ceremony. The late Hulon Willis, Sr. was represented by his son, Hulon Willis, Jr, along with other members of the Willis family. Janet Brown Strafer and Jo Lynne DeMary attended the event, also accompanied by their families.
The project had its origins during the university's commemorations of 50 Years of African Americans in Residence (2017-2018) and 100 Years of Women (2018-2019). At that time, a committee was established to lead initiatives in support of the 50th commemoration and to examine how the school building might better reflect the important contributions of historically underrepresented groups. Under the direction of Chair Stephanie Blackmon, Class of 1963 Associate Professor of Higher Education, the committee recommended establishing a Trailblazers Wall to honor pioneering members of the school community.
The committee also led the work of collecting nominations from the school community and selecting the inaugural honorees. During the dedication ceremony, Dean Knoeppel recognized the work of the committee, the leadership of Dr. Blackmon and the efforts of other faculty and staff who contributed to the success of the project.
As engraved on the new installation, the Trailblazers Wall honors "members of the W&M School of Education community whose lives and stories exemplify courage and perseverance, and whose commitment, despite obstacles, resulted in the improvement of the school, the university, or society at large."
The three honorees were invited to speak briefly during the dedication ceremony, then the installation was formally unveiled by the honorees, along with Dean Knoeppel, Dr. Blackmon, and Associate Dean of Diversity & Inclusion Natoya Haskins.
"It's been an honor for me to get to know these extraordinary individuals, to learn from them and work with them to advance the mission of the school and university," said Knoeppel. "As I have reflected on our gathering today, I find myself consistently drawn to the words courage, dignity and honor."
While celebrating and saluting the school's trailblazers, Knoeppel urged the school community to honor their legacy by continuing to advance work related to equity, inclusion and opportunity.
"Education is a uniquely human endeavor," said Knoeppel. "It is my earnest hope that we draw strength from the courage of these trailblazers and that we have the grace, dignity and humility to advance public discourse to find solutions to our current struggles."
Hulon L. Willis, Sr. M.Ed. '56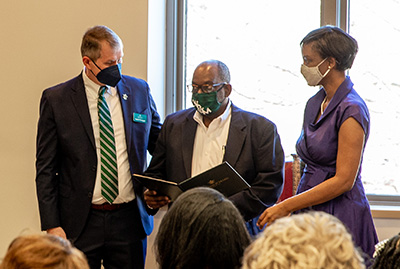 Willis was the first African American student to enroll at William & Mary, earning his master's degree in education in 1956. He was a professor of health and physical education at Virginia State University as well as director of campus police. He was a football and wrestling coach and pioneered the practice of martial arts in the region. As a well-known sensei, he taught karate to law enforcement, promoting less violent ways of keeping the peace.
Willis's legacy lives on in the Hulon Willis Association, the university's affinity group for Black alumni, and through his family: he, his son Hulon L. Willis Jr '77 and granddaughter Mica Willis '13 comprise the first three-generation family of Black alumni.
Janet Brown Strafer '71, M.A.Ed. '77, D.Sc. '18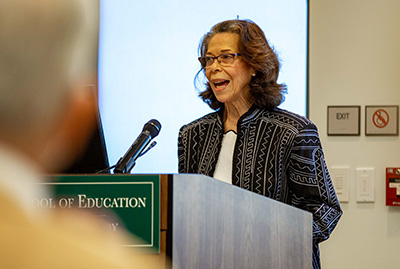 Janet Brown Strafer was one of the three students who enrolled in 1967 as the first Black students to have an opportunity to live in residential halls and participate fully in campus life. Together with Lynn Briley and Karen Ely, Strafer was honored during the university's 50th Anniversary of African Americans in Residence.
Strafer completed an undergraduate degree in elementary education, followed by a master of arts in education at William & Mary. She was a teacher and guidance counselor in Williamsburg-James City County Public Schools before pursuing a 35-year career in federal service. After serving as an education counselor for the Army in Berlin, Germany, she took on roles as an education specialist at the Army Engineer School, a management analyst at the Pentagon and later a branch chief and senior policy analyst.
In 2018, the School of Education created the Janet Brown Strafer Award in her honor. Every year, the award recognizes one student and one faculty member for their work promoting inclusivity and equity in education.
Jo Lynne DeMary '68, Ed.D. '82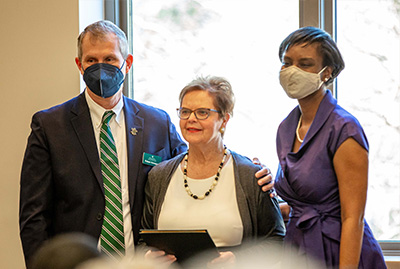 Jo Lynne DeMary rose to the highest position within public education in Virginia when she became the state's first woman to serve as superintendent of public education. She received both her undergraduate degree in elementary education and her doctorate in educational leadership from William & Mary. She served as a teacher, assistant principal, principal, elementary school supervisor, director of special education and assistant superintendent of instruction in Henrico County before being named state superintendent in 2000. During her tenure, she supervised the development of the K-12 content standards known as the Standards of Learning and played a key role in the design and launch of an accountability system with annual testing in English, mathematics, science and history.
After leaving the state department of education in 2006, Dr. DeMary joined the faculty at Virginia Commonwealth University, helping to create and direct their Center for School Improvement. She retired in 2012 after 43 years in education, but continued to be involved in the field, mentoring future educational leaders and serving on multiple boards including the William & Mary School of Education's Development Board.