Julie Bologna M.Ed. '22 selected as 2021 Tillman Scholar
Julie Bologna, a master's student in the military and veteran's counseling program, has been selected by the Tillman Foundation as a 2021 Tillman Scholar. The prestigious scholarship, founded by the family of Pat Tillman, annually recognizes military service members, veterans and spouses who demonstrate extraordinary commitment to service, scholarship, humble leadership and impact.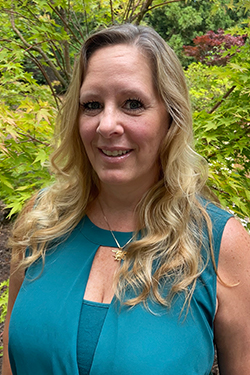 Bologna is a veteran of the Navy, having served as a hospital corpsman who volunteered to deploy to Operation Desert Storm. She later earned her Aircrew wings and became one of two female search and rescue corpsmen in the Atlantic fleet. She flew diverse missions, including medical evacuation, search and rescue, and search and recovery, and was awarded the Sikorsky Life Saving Medal for her efforts.
"While in the Navy, the tasks in front of me demanded that I look inward and find the courage to serve my country and my brothers and sisters in uniform," she said. "I searched for missing pilots, delivered babies, evacuated critically injured patients and exhausted every medical skill I could while my patients took their last breath."
After leaving the Navy, Bologna continued to serve the military community as an ombudsman at two of her husband's commands while he served as a Navy SEAL. In that role, she worked as a liaison between the military and families, providing critical support and resources.
On her first day as an ombudsman, an encounter with Erin, a two-year-old girl, and her family was an experience that deepened her desire to provide support to military families. The girl had been admitted to the hospital with spinal meningitis and was in a coma. Bologna's role as ombudsman was to support the family as they made the difficult decision to remove her from life support and donate her organs.
"Being a part of Erin's care shook me to my core," said Bologna. "The time I spent with Erin's family made it more important than it had ever been for me to look inside myself and find the courage to be the support they needed."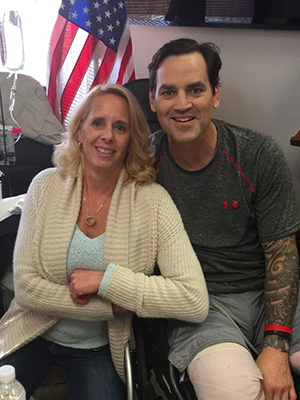 Her role as caregiver became a deeply personal one when her husband sustained life-altering injuries after stepping on an IED while deployed in 2015. As they navigated the medical and mental health challenges of the years of recovery that followed, Bologna shared her knowledge and experiences with other families undergoing similar experiences. She continues to work closely with families of wounded warriors to help them navigate the complex system of military medical care and the personal struggles that arise.
Her passion for military families led her to the military and veteran's specialization within the clinical mental health counseling program at William & Mary. The program, now in its third year, is the only one of its kind in Virginia. With both online and on-campus options, the program trains counselors to meet the unique needs of veterans and their families.
"We have phenomenal medical care in the military and some of the best surgeons in the world," said Bologna. "But we don't have enough people providing mental health care, and I knew that's where I could really make an impact."
Although the military has made significant progress in recent years, access to mental health care is still limited and a stigma surrounding mental health persists. Having lived through so many roles — veteran, military spouse, caregiver, ombudsman — Bologna understands the challenges that veterans and their families face and can personally relate to their experiences. "I want to bring hope to this population, as well as camaraderie, and be the person they can turn to when they need help."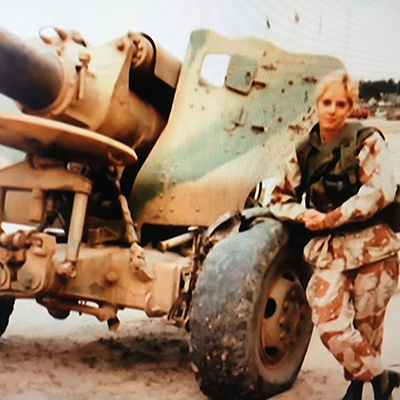 Bologna was encouraged to apply to the Tillman Scholars program by Elizabeth Burgin, assistant professor of counseling and coordinator of the military and veterans counseling program. A Tillman Scholar herself, Burgin knows firsthand the benefits of joining this elite network.
"The sense of community and collective desire to serve among Tillman Scholars makes the foundation much more than a scholarship," said Burgin. "Julie brings rigor, responsibility and empathy to her work and her relationships. As a counselor, she is going to enhance the lives of the veterans and military-connected clients she serves. I am looking forward to seeing the influence she will have on the counseling and military communities in Virginia."
In addition to an $11,000 scholarship, Bologna will join the Tillman Scholar community of peers and mentors that provides networking and opportunities for lifelong leadership development.
Upon graduating from William & Mary, she will be prepared to become a licensed professional counselor with a unique perspective on the needs of military-connected individuals and families. She is particularly passionate about working with individuals with post-traumatic stress, traumatic brain injuries and other "invisible wounds," as well as the impact of military service on families and children.
"The most important lesson I have learned throughout my journey with the military is the family, network and community bonds," she said. "This community gave me the ability to fail without judgement and helped me grow as a person into the strong leader I am today. I hope to continue building these connections and fostering an encouraging community throughout my career as a counselor."