Alynn Parham M.A.Ed. '18 trailblazes new African American History course for WJCC Schools
Always begin with a story. In the first week of Alynn Parham's African American History course at Jamestown High School, her students watched Chimamanda Ngozi Adichie's 2009 TED Talk, The Danger of a Single Story. In her talk, the novelist describes the dangers of making assumptions about another person, race or country based on just a single narrative. After watching the video, Parham's students had a far-ranging discussion about their own perceptions of race, the power of stories and the role of bias in the recounting of history.
"I love their questions," says Parham. "They are optimistic. They want to learn and understand, and that has been such a joy for me. I love teaching this course because my students are always eager to learn more."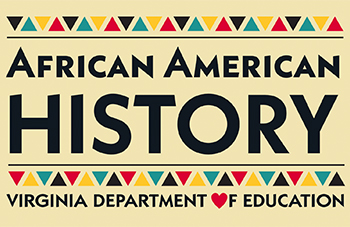 Following a directive in 2019 from Governor Ralph Northam, the new high-school level course was developed through a collaboration between Virtual Virginia, WHRO Public Media and committees of teachers and historians. When the Williamsburg-James City County (WJCC) School Board voted to approve and implement the course, Parham immediately contacted the division's social studies coordinator to express her interest in teaching it.
The course is being taught in all three of the division's high schools, as well as through its virtual academy. Parham has 10 students enrolled in her class and teaches both in-person and virtually at the same time. Because the course is taught as an elective, some students weren't able to fit it in their schedules, says Parham, but are interested in taking it next year.
The course surveys African American history from precolonial Africa through today. It emphasizes the use of both primary and secondary sources to explore the African American experience, as well as how history has impacted the Black community in the U.S.
Parham says all of her students are interested in learning more about this history, as well as the art, history and culture of past and present Black Americans. But for her students who identify as Black, the course is particularly significant. "For these students, it's an opportunity to fill in the gaps of their knowledge about their own heritage," she says. "They may have learned a lot from their families and communities, but much of that history has been lost. This is a chance to connect to their own history."
Throughout the year, students will work on a capstone project that challenges them to think critically, solve problems and develop skills such as public speaking, research, media literacy and teamwork. They'll get to choose their own topic and format in collaboration with Parham and present it to classmates in May.
The teaching models she learned at William & Mary have been critical to her success in teaching this type of course, says Parham. "The faculty always encouraged us to think of ourselves as facilitators, not lecturers. We're not leading the conversation, but instead giving our students the tools and space to think, question and discuss. That's how we teach them to think critically and analytically."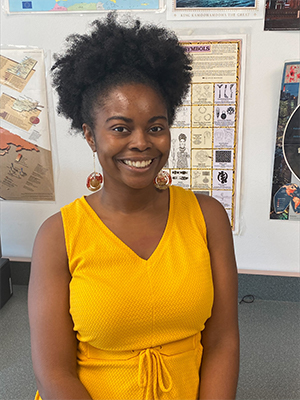 Despite a challenging political landscape in which educators' efforts to teach a more inclusive history and meet the needs of students equitably are under attack, Parham says she hasn't encountered any issues. "I've received nothing but support from my school community. There is an established curriculum and my school's leadership team trusts me — they've got my back. I've also had many parents approach me to thank me for teaching this course."
Now in her fourth year of teaching, Parham is already taking on leadership roles. As the president of the Williamsburg-James City Education Association, she leads efforts to advocate for teachers and education support professionals in the division. She also sits on the Board of Directors for the state-wide association, representing educators from Chesapeake to Prince William County.
"My advocacy work has opened up so many opportunities, allowing me to make connections across roles, disciplines and divisions," she says. "It's about supporting fellow educators and becoming allies."
An important part of that work this year, she adds, is demonstrating the value of a more inclusive study of history in the public schools. "I want to show that our social studies curriculum is evolving to tell a fuller story of America and to enhance our perspective of what our country is."