SURN nurtures new teachers through Novice Teacher Academy
This past Friday, about 50 novice teachers and 10 master teachers gathered with staff from the William & Mary School-University Resource Network (SURN) for a day-long workshop in the School of Education focused on supporting new teachers — those in their first three years of teaching.
Topics for the day included the power of positive presuppositions, aspirations for the new semester, and how to implement deeper learning practices in the classroom. In the afternoon, the teachers broke into small groups to discuss real-life dilemmas they are facing in their classrooms, using a model called the consultancy protocol to break down thorny problems and brainstorm collaborative solutions.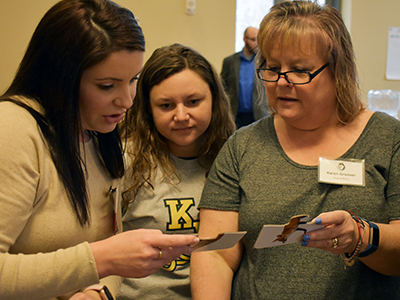 "This experience has taught me that I'm not alone," says Helen Morris, who is in her first year teaching second grade in Mathews County. "I often find myself in a unique situation with students and parents, and this academy has been a safe place where we are able to talk and express our situations with other people who are interested in improving."
Retention of new teachers is a critical challenge for school divisions across the country. Nationwide, about 8% of teachers leave the profession each year, two-thirds of them for reasons other than retirement. And research has shown that up to 40% of new teachers quit teaching within the first five years.
SURN has run a highly successful Principal Academy for eight years, bringing together principals from across the state to focus on problems of practice, share learning and collaborate on new solutions for their schools.
Amy Colley M.A.Ed. '90, M.Ed. '01, Ed.D. '14, SURN's executive director, says they've long wanted to offer a similar experience for teachers. They consulted with a working group of assistant superintendents, who raised the idea of an academy designed for new teachers, especially those from small school divisions that have fewer resources for extensive teacher induction programs.
"We wanted to address the pressing needs of new teachers — the challenges they're dealing with every day in the classroom — but we also wanted to empower them with a positive, optimistic view of teaching and learning," says Colley. "Being a new teacher is hard. But with a good support network, strong self-care strategies and a sense that their work is both valued and valuable, we believe more teachers will stick with the profession."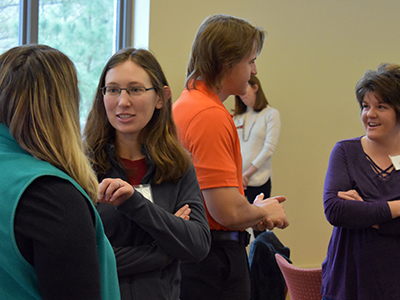 In order to target smaller divisions, SURN opened the academy to divisions with fewer than 10,000 students. Assistant superintendents in those divisions recommended both novice teachers as well as the master teachers who would provide mentoring and support throughout the academy.
Teachers gather for full-day workshops on the William & Mary campus at five points through the school year. The first cohort includes teachers from Gloucester, King William, Mathews, Middlesex, New Kent, Poquoson, Richmond County and West Point Public Schools. The group is about half elementary and half secondary teachers.
Sarah Hylton '89, M.Ed. '97, Ph.D. '21, program coordinator for SURN, has worked with Colley to develop and run the academy. Hylton is a veteran teacher herself and is in the final stages of completing her Ph.D. in Educational Policy, Planning and Leadership at William & Mary. 
In the first session, Hylton and the team asked the novice teachers to answer the question, "What keeps you up at night?" The answers they received provided direction for the curriculum and experiences they've provided over the course of the year. The novice teachers brought up challenges like "knowing what to say when I have to call a parent" and "letting a kid go under the radar." They also got questions related to work-life balance and teacher identity such as "How often do I look like a hobo?," "How long will my grandparents let me live with them?" and "Am I having fun?"
Hylton and the SURN team used those questions as the springboard in determining topics for the academy, which have so far included classroom management, family engagement and conflict resolution. They limit the amount of direct instruction, providing plenty of time for discussion and collaboration as the new teachers work through case studies, scenarios and dilemmas.
"In addition to giving them practical knowledge and skills for the classroom, we're trying to attend to the affective side of novice teaching by giving them tools for self-care and strategies for seeking out support," says Hylton.
Self-care has been a central theme throughout the academy. Hylton even collaborated with staff in W&M's McLeod Tyler Wellness Center to offer chair massages to participating teachers during lunch breaks.
Despite working in education for several years as a paraprofessional and behavior specialist before becoming a teacher, the first year in the classroom still brought challenges to Allison Williams, a special education teacher at New Kent High School. "Being in constant contact with hundreds of people every day and most of them with developing brains, is like being surrounded by tiny mirrors," she says. "I had to learn to lead my days with intention and purpose."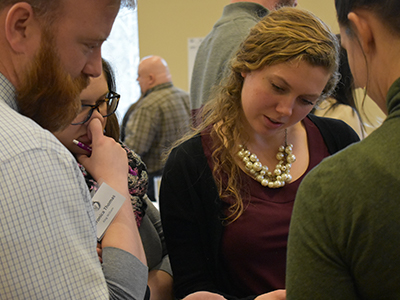 The academy has been a powerful learning experience not just for the novice teachers, but also for the master teachers recruited to mentor them. Jennifer Blamey is in her seventh year as a teacher and currently teaches second grade in West Point Public Schools. She points to the ability to grow professionally as an important one in keeping her in the teaching field.
"About two years ago, I began taking on leadership opportunities such as mentoring high school students and other teachers," says Blamey. "When SURN presented this opportunity, I instantly wanted to take part in the program because I believe that all new educators need a mentor and need positive and encouraging interactions. I was so lucky to have wonderful mentor teachers when I first began teaching. I wanted to pay that forward and help other new teachers."
Currently funded through support from participating school divisions, SURN is seeking grant funding that could help them not only continue to offer the Novice Teacher Academy, but also to scale it up in order to reach more novice teachers.
"Teaching is about relationships, which rely on trust and the willingness to be vulnerable," says Hylton. "New teachers want others to see them as capable and confident, but they need to have a space to be vulnerable. We've been really impressed with our participants' willingness to do that."
As she welcomed teachers on the most recent session of the academy, Colley told them, "If you are still teaching in three to five years, then we will consider our small role to be successful."