First cohort of online counseling students inducted into Chi Sigma Iota
The daily life of a student in the online counseling cohort at W&M looks quite different from that of their on-campus counterparts, but both groups of students can share some important milestones, including induction into Chi Sigma Iota, the international professional honor society for aspiring counselors.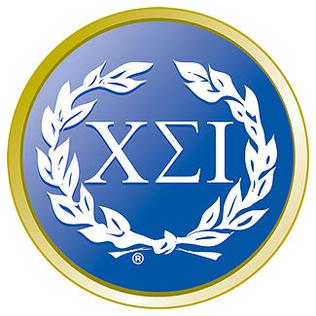 Launched in Spring 2018, William & Mary's Online M.Ed. in Counseling is a three-year, part-time program preparing students to work in the areas of clinical mental health counseling, school counseling, and military and veterans counseling. 
While most coursework for the program is completed online, students meet in Williamsburg twice over the course of the program for brief residencies. Cecilia Dohm '10, a clinical mental health student and Ryan Leger, a school counseling student, felt like they knew their virtual classmates well before they met face to face but were amazed by the stronger connection that came from meeting classmates in person. They still think of the experience as one of the most memorable so far in their program. 
Meeting the people beyond the group text messages and video conferencing used in classes made it that much more real that they were a part of the William & Mary community, Leger said.
Leger lives in South Carolina and was surprised by how powerful his ties to the William & Mary community felt even though he completed coursework more than 300 miles away. He quickly felt comfortable with professors and fellow students as group projects require frequent collaboration. Since the residency experience on campus, he has developed relationships with his cohort members that go beyond the academic hurdles they face together.
Dohm is no stranger to William & Mary. Having graduated with a degree in global studies in 2010, she dreamed of returning for her master's degree but was not able to move to Williamsburg. In a turn of events that she can only describe as serendipity, she saw that the school was launching its first online counseling program just as she was set to begin a program at another school. She withdrew from that program and set her sights on her alma mater.
One semester later, Leger and Dohm again felt the close bond that was characteristic of their residency experience as they joined fellow cohort members in being the first online students to be inducted into Chi Sigma Iota. 
"It is a bond of camaraderie and professional respect that is unlike any other honor society I have been in," Dohm said. "We know we are entrusted with human hearts and minds, in a field that seems so intangible, and standing beside each other to pursue this endeavor makes it more of a reality." 
The honor society requires new members to have completed at least one semester in their graduate program and receive a minimum GPA of 3.5. It provides service and professional development opportunities for continued education including workshops, networking, and access to professional resources and counseling research.
The ceremony, which was conducted over video conferencing, validated the hard work he had completed in the program so far, Leger said.
He looks forward to engaging in advocacy efforts for the counseling profession through Chi Sigma and sees his membership as a first step in immersing himself even more in the field. The organization will help him better serve his community and fulfill his potential as a counselor, he said.
"Despite being in South Carolina on my computer during the induction, it almost felt like I was on campus and was a special moment I will remember forever."