Craig Cashwell joins W&M Counseling faculty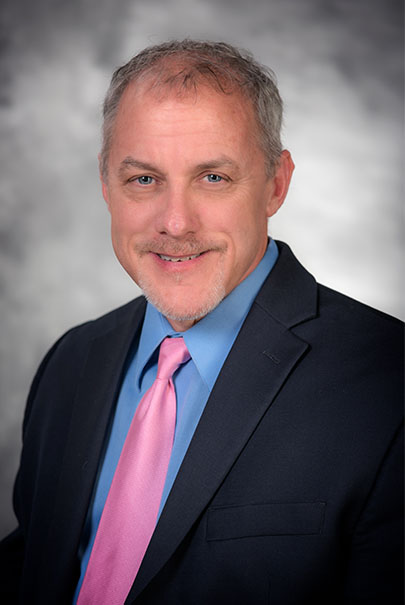 This fall, the School of Education welcomes seven new faculty members. Today, we introduce Craig Cashwell, who joins us as a professor in the Counselor Education program and faculty coordinator of the Clinical Mental Health Counseling Program.
Tell us a little about your background and what brought you to W&M.
I am originally from Winston-Salem, NC and have lived the majority of my life in that area. I am grateful to have navigated my academic journey as a first-generation college student. I did my undergraduate work at UNC Chapel Hill. My sole claim to fame there was that I graduated in the same class as Michael Jordan. As I like to quip, one of us went on to get a Ph.D. and the other is a billionaire! I double-majored in Psychology and Recreation Administration out of a desire to work with children and adolescents in a recreation setting.
I then worked for 6 years for Boy's Clubs of America, primarily working in a grant funded program to divert first-time adjudicated delinquent adolescents from training school. I then returned to graduate school at The University of North Carolina Greensboro (UNCG) to be a Professional School Counselor, but fairly quickly pivoted to what was then called Community Counseling, now known as Clinical Mental Health Counseling. During my master's program, I was fortunate to have a Research Assistantship with a mentor, Dr. L. DiAnne Borders, and I was bitten by the research bug! DiAnne was also the person who encouraged me to go straight into the doctoral program at UNCG given my 6 years of paraprofessional work.
So, five years after starting graduate school, I found myself packing to move to Mississippi State University to begin life as an Assistant Professor. I was at MSU for 6 years, earning promotion to Associate Professor with tenure, and I am grateful for the support and growth that I experienced there, particularly under the mentorship of two faculty, Warren Housley and the late Tom Hosie. I had a unique opportunity to return to my alma mater (UNCG) in 2000 where I remained for 20 years.
Candidly, I assumed I would finish my career at UNCG. Amidst many normal developmental transitions in my life, the opening at William & Mary was brought to my attention. I have known a number of faculty in the counseling program at William & Mary for many years and always held them and the program in high regard, considering it one of the premiere counselor preparation programs in the country. I remember vividly the moment in my interview, during lunch with two faculty members, when I knew at some deep level that I would be in Williamsburg in the Fall. I didn't anticipate that this move, replete with logistical and existential challenges, would be further complicated by a double pandemic of COVID-19 and racism, yet here I am, settled into my new home in Williamsburg and proud to call William & Mary my academic home.
What's your area of research and what question are you most passionate about answering right now?
My over-arching area of research is the competent and ethical integration of religion and spirituality into counseling. I have a co-edited textbook on the subject, Integrating Spirituality and Religion into Counseling: A Guide to Competent Practice, now in the 3rd edition, published by the American Counseling Association.
My current research is on the phenomenon of spiritual bypass, whereby an individual uses their spirituality to avoid the often painful psychological and emotional works that stands before them. The lingering question that I pursue through my research is how spiritual bypass impacts people and how counselors address these issues. One of our more interesting recent findings is that although spiritual bypass as a chronic defense mechanism is maladaptive, it may help some experience post-traumatic growth. We are now working to figure out the profile of those who experience post-traumatic grief and those who do not. I am part of a team that developed a quantitative measure of spiritual bypass, the Spiritual Bypass Scale – 13, which we have used to further understanding of the phenomenon. Currently, I am working on a co-authored text on spiritual bypass.
Additionally, a primary clinical interest is trauma and trauma-informed care and, relatedly, I am working on a co-authored textbook on religious abuse as a form of betrayal trauma.
Which class are you most looking forward to teaching?
I consider my greatest professional privilege that of being a teacher….so, all of them! In particular, though, this semester I am graced with amazing doctoral students in a course on clinical supervision. I have been doing clinical supervision for almost 30 years and have benefitted from the work of some amazing supervisors of my own (as well as enduring a couple of bad supervisors along the way), but this is my first opportunity to teach this course! With the support of these great students, the semester is off to a great start.
What else are you hoping to get involved with on campus or in the community?
Once I settle in to my new rhythm at William & Mary, I hope to get involved in the New Leaf Clinic and the THRIVE Research and Intervention Center. I also enjoy serving at the community, state, regional, and national level and am considering several possibilities.
Anything else you'd like to share?
I want to thank the faculty and students of the counseling program who have gone out of their way to welcome me to this community.