25 years after genocide, Rwandan survivors teach students about forgiveness
Morgan Tompkins thought she knew the meaning of forgiveness until she studied abroad in Rwanda.
She was one of the 12 William & Mary students led by Spencer Niles, dean of the School of Education, and Daniel Gutierrez, assistant professor of counseling, on a soul-searching trip through Rwanda this past summer to explore the country's efforts at peace education and forgiveness since the 1994 Genocide Against the Tutsi that killed more than 1 million people. 
Organized by the Global Education Office at William & Mary's Reves Center for International Studies, the trip attracted both undergraduate and graduate students from a variety of disciplines including psychology, public policy, English and counseling. Participants were able to learn about the genocide by visiting memorials and meeting the people that lived through the tragedy.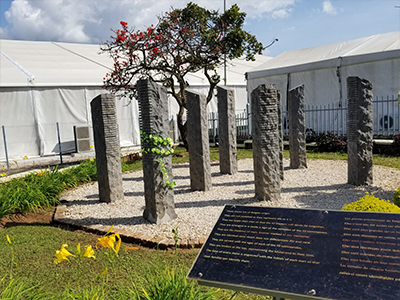 For Tompkins, a senior studying public policy and data science, a trip to Guatemala years ago fostered an interest in international development. Going to Rwanda was a different experience as she grappled with difficult truths about reconciliation and humanity's darkest moments, she says. She learned how to reflect on her role in her community back home.
As Rwanda commemorates the 25th anniversary of the genocide, non-profit organization Aegis Trust has been working to memorialize the events of 1994 and foster conversations about how to prevent genocide around the world. Through a partnership with the organization, the W&M trip allowed students to interact with and learn from survivors who experienced genocide firsthand. Not only were students able to study the causes and progression of genocide, but also hear how survivors attained peace in their life after coming to terms with the events that took place.
"Hearing the stories and experiences of both perpetrators and victims of genocide, you can't help but be transformed," Dean Niles says. "It makes you examine your own experiences, the resentments and transgressions that you harbor, and to think differently about how you handle forgiveness."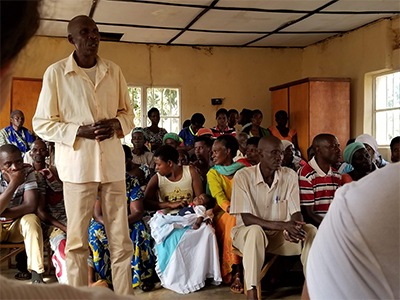 Rwanda has come a long way since 1994. Today, survivors and perpetrators live together in reconciliation villages, searching for peace and forgiveness.
Tompkins was surprised how the meaning of forgiveness, a concept that had seemed straightforward to her, changed after visiting reconciliation villages and speaking to perpetrators and victims. She realized that a community's bond was only as strong as the relationship of its members.
"Forgiveness and reconciliation aren't just a single apology that brings personal relief from guilt, but rather a journey that all sides of a wrong have to take together to heal and grow as a community," Tompkins says.
A forgiveness project was the cornerstone of the students' learning experience, in which students reflected on their own lives, where they needed to heal and what that process would look like. In addition to learning about the forgiveness process the people of Rwanda went through, students did readings and engaged in group discussions about forgiveness. They then applied what they learned in the self-forgiveness project.
"We wanted them to leave Rwanda with greater self-clarity, an appreciation of the resilience of the Rwandan people, and with an awareness of how the experience of the Rwandan people 25 years ago relates to the current rhetoric in the United States," Gutierrez says. 
At the reconciliation villages, students asked what the survivors would like the students to take back to the United States with them. "Share our story. Don't let the world forget about us," the survivors said.
Stephanie Dorais, a doctoral student in counselor education, has not forgotten their story. For her, this trip was fulfilling a plan that was 15 years in the making. The authenticity of the survivors and being able to form relationships with people her age who overcame the genocide changed her view of herself and others, she says.
"The trip taught me experientially about wholeness and the resilience of the human spirit," she says. "It's still working on me now."
Niles and Gutierrez will lead the course again in May 2020. Download the 2020 flyer for more information. Questions? Contact Marina Knapp, advisor in the Reves Center for International Studies, at [[mpknapp]].