Supporting deeper learning practices in Lancaster County
Lancaster County stretches along the Rappahannock River at the southern end of Virginia's Northern Neck. It hosts the charming coastal towns of Irvington and Kilmarnock, but is largely rural and economically disadvantaged. With high levels of poverty and teacher turnover, the school system has struggled with accreditation in recent years. But with provisional accreditation anticipated in the coming year, Superintendent Steve Parker is ready to shift the focus from literacy and math performance to deeper learning practices that will help prepare students for the new economy.
"The industrial age model of education is well past its prime, and we need to prepare our students for the world they will face," says Parker. "Our students need to be able to solve complex problems, navigate ambiguity and failure, collaborate and communicate. In short, we are bringing our students into the 21st century in a way that is purposeful and meaningful."
A new partnership between Lancaster County Schools and William & Mary's Center for Innovation in Learning Design will help teachers and administrators reimagine their curriculum, incorporate project-based learning and inspire deeper learning. The project is possible thanks to support from the Jessie Ball duPont Fund, which is providing $75,000 in the first year.
"Teachers are hungry for this kind of work," says Lindy Johnson, assistant professor of English education. "Deeper learning means more engagement and more fun for everyone — both teachers and students."
Johnson co-directs the Center for Innovation in Learning Design with fellow faculty member Mark Hofer, professor of educational technology.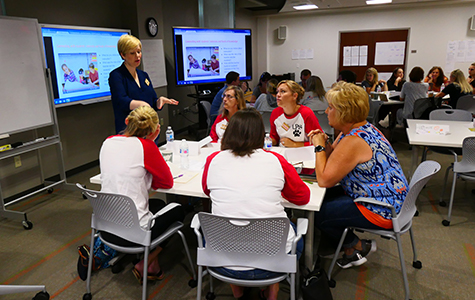 The project is bringing a blended model of professional development to a cohort of 30 teachers during the 2018-2019 school year. Participating teachers began this summer with an intensive three-day academy on the William & Mary campus. There, they were introduced to deeper learning practices through the collaborative design of mini-projects which they will implement in their classrooms.
"The response from the teachers has been overwhelmingly positive," says Parker. "They're already making plans for interdisciplinary, project-based units with their colleagues — even those who are not in the first cohort. They are excited to introduce their students to discovery and relevant problem solving, and they are sharing it with their peers."
Throughout the school year, teachers will continue to learn and collaborate through nine online modules developed by Hofer and Johnson. In addition, on-site coaching will further support teachers as they implement their projects in the classroom.
At the end of the school year, teachers and students will present a division-wide public exhibition and celebration of the year's work.
"One of the biggest challenges in helping teachers implement deeper learning practices is getting them to start exploring new ideas and be more creative and flexible," says Johnson. "They've been in such a high-stakes environment as they worked toward accreditation, and it can be difficult to shift to a new way of thinking."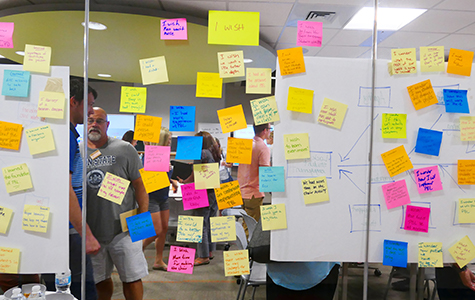 During the summer academy, one third-grade team designed a "Nailed It Baking Challenge," based on the popular tv show. Students will compete to make the best cake, learning fractions and other mathematical concepts along the way.
"This kind of project creates a 'need-to-know' environment where students are motivated to learn. It's more engaging and the learning is deeper," says Johnson.
The center plans to continue the project beyond a first year to reach more teachers in Lancaster County, and eventually to scale the model to other underserved school divisions with vulnerable populations.
"Our approach to professional development focuses on supporting teachers in sustainable ways to truly shift classroom practices," says Hofer. "Not only does it make for a more vibrant learning environment for kids, but it re-energizes teachers and reconnects them with their passion for teaching and learning."