Céad Míle Fáilte — A Hundred Thousand Welcomes
{{youtube:large:center|KnZWpmS-NsM, Transmedia: Toward a deeper understanding in Ireland}}
Céad Míle Fáilte — a hundred thousand welcomes — a warm welcome greeted a group of William & Mary graduate students during their visit to Ireland this summer. During summer session 2018, six graduate students from the School of Education traveled to Ireland and Northern Ireland as part of a Global Studies class.  The course, facilitated by Pamela Eddy, professor of higher education, led the group on a 15-day excursion through eight cities exploring educational centers and cultural sites. Having visited Ireland as a Fulbright scholar, Dr. Eddy was excited to share her love of the country and knowledge of its educational system with students.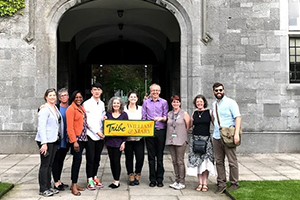 This is the seventh year that the William & Mary School of Education has organized a global studies trip for graduate students, with previous trips to China, Italy, South Africa, and Spain. Study abroad is more commonly thought of as an undergraduate experience, but it is just as important to expose graduate students, who are today and tomorrow's educational leaders, to global perspectives. This year's trip, a second visit to Ireland for the School of Education, gave students the opportunity to engage with higher education professionals, gain insight from policy makers on the implications for education of involvement (or non-involvement) with the EU, and investigate student learning within K-12 schools and higher education in an international context.
Ireland, unpacked
The group started their two week journey in Dublin with visits to Dublin City University and the National Forum for the Enhancement for Teaching and Learning. The group met with Ellen Hazelkorn, former policy advisor and board member of the Higher Education Authority of Ireland (HEA) (2011-2017). Dr Hazelkorn provided an overview of the current context of higher education policy issues and current challenges.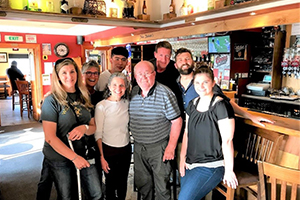 Heading west, students visited the National University of Ireland – Galway and the Cliffs of Mohr.  The group also spent a day in Glencolmcille learning about the traditional Irish culture and language from local townsfolk, and as Johann Ducharme, Ph.D. student in higher education reflected, getting a chance to see "the old Irish as Ireland changes through the eyes of its people." They even learned a traditional dice game – Mai – and practiced throughout the trip. In Northern Ireland, the course included stops at the Letterkenney Institute of Technology and Queen's University in Belfast. Time was also spent exploring the history of the hard won peace on the isle. Several site visits to primary and secondary schools across Ireland rounded out the academic tour.
Similar challenges
Students encountered several issues that felt comparable to issues they are studying at home. These included a nation grappling with globalization while trying to perpetuate a unique cultural and national identity, higher education systems defining and re-defining teaching and learning at the university level, and how to implement education system wide initiatives in a country with a diverse provincial history and unique counties. Elizabeth Auguste, Ph.D., EPPL Curriculum Leadership, 2018, stated, "I saw teachers in the primary schools differentiating lessons to meet individual needs and having success with this strategy; it offered me different reflective lens through which to see a strategy that so many teachers across the Unites States have struggled to feel successful with." 
Teaching and learning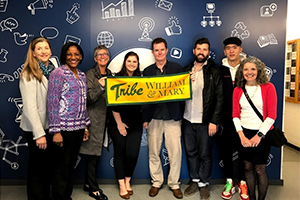 The students visited the National Forum for the Enhancement of Teaching and Learning and met with Dr. Terry Maguire, director of the center. Students learned about the efforts in the Republic of Ireland to support best practices in teaching and learning and work to enable innovation in a changing educational context. In Northern Ireland, the students visited with staff at the Centre for Educational Development at Queen's University and learned how the staff support diverse learners, develop online courses, and work on transition programs between secondary schools and universities. 
Impacts on research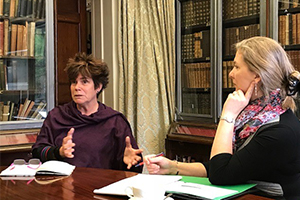 Gearing up for the trip, Toni Gay, Ed.D. was excited to use her digital storytelling techniques to document the course and travel experience in hopes of continuing to refine the techniques to use with her students. As she reviewed her film when she returned to campus, she realized she was also able to capture the self-change that can occur during a pilgrimage and plans on using these ideas to expand her digital storytelling portfolio and explore the technique's viability for instruction as a possible dissertation topic. Ducharme used the study abroad trip as an opportunity to run a pilot study on college learning outcomes by interacting with individuals in every visited locale. He is planning on conducting a larger study collecting data across the United States for comparison. 
Connection on an international scale
Dr. Eddy noted the transformational role of the Global Studies trip to Ireland. "Graduate students bring a lifetime of experiences to their study abroad trips. By using critical reflection, the course encourages them to think differently about what they know and to obtain new understandings of innovative practices in education." Students conducted individual research projects, engaged with educational leaders, and had a chance to reflect on how those in other countries understand the United States. According to Dr. Eddy, "It is amazing the amount of growth in students' thinking and perspective that occurs in a scant two weeks. Students left Ireland hungry to learn more and saw their own work in a different light."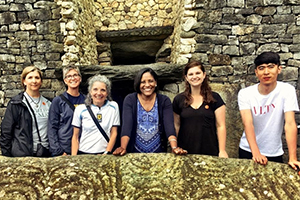 Ducharme further shared, "This trip broadened my horizons of what it could mean to be an educational leader. The interactions during the trip also created new connections for me as a researcher. It is a once in a lifetime opportunity – don't hesitate to sign up and go." Cheng Guo, an international student pursuing his master's of education at W&M, commented on how he enjoyed the time abroad to not only meet educational colleagues in a different country, but also to connect with his W&M companions. Time spent away from campus has made him feel more connected to W&M. He reflected on his feelings about the course succinctly: "Preparation [through course readings] before the trip is necessary. However, once you arrive, the experience is the most important treasure you can get."  An intersections of cultures occurred when the group ate Chinese dumplings in Dublin — with Cheng as their cultural guide on menu selections.
---
EDUC 500 course: Global Studies course is offered in the School of Education during the summer semester and provides a chance to explore education around the globe. Next year, Dr. Jim Barber and Ben Boone, Ph.D. candidate, will lead a group of students on a pilgrimage walk along Camino de Santiago in Spain.