A record-breaking One Tribe One Day
The School of Education community came together like never before for a record-breaking One Tribe One Day on Tuesday, March 28. Nearly 500 donors made gifts to the school, a 35% increase over last year.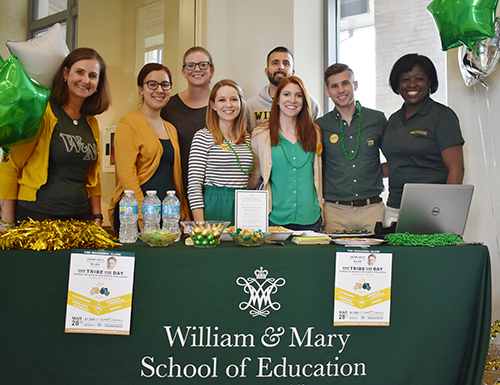 "Every year, One Tribe One Day draws attention to the crucial support that philanthropy provides the school," said Dean Spencer Niles. "Through scholarships, program support, professorships and more, private giving helps us do more and be more in our mission to transform people's lives. One Tribe One Day is a remarkable celebration of the generosity of our community."
Almost $30,000 were raised in 24 hours, benefiting more than 30 different funds. Gifts to the Fund for Excellence, our most flexible source of support, totaled almost $10,000. This funding allows the school to place financial resources where they're most needed—including scholarships and assistantships to attract the most qualified students and resources to support the ongoing work of students and faculty.
"Every area of the school is touched by private giving," said Patty Purish O'Neill Ph.D. '05, director of development. "We saw that reflected on One Tribe One Day, as alumni, students, faculty, staff and friends signaled support for the specific areas in the school that align with their interests and passions."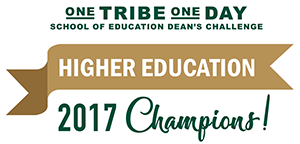 Dean Niles encouraged current students to get involved through the school's first One Tribe One Day Dean's Challenge. He pledged his gift to the student support fund of the academic area with the largest percentage of students making a gift on March 28. Two academic departments, Curriculum & Instruction and School Psychology and Counselor Education, and two program areas, K-12 Leadership and Higher Education, competed for bragging rights and extra funding for their students. Once the gifts were counted, Higher Education was declared the winner, with 53% of its students donating on One Tribe One Day.
"I see the tremendous heart, skill and commitment our students and faculty demonstrate in their work on a daily basis," said Dean Niles. "To see the outpouring of support on One Tribe One Day made me even more proud of our community and our work."