New course allows undergrads to explore issues in K-12 education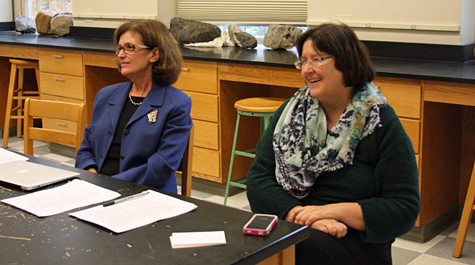 Exploring Contemporary Issues in K-12 Education, co-taught by Professors Virginia McLaughlin and Heather Macdonald, included presentations by faculty from across the campus. Those guest lectures allowed students to discuss wide-ranging educational issues, including the achievement gap, students with disabilities, changing student demographics and technology.
"It was great to learn more about the work colleagues across campus are doing in education and great to have such high student interest in the course," said Macdonald, Chancellor Professor of Geology.
The idea for the course began a year ago with discussions between faculty who are interested in K-12 education from the W&M School of Education and Arts & Sciences. Facilitated by Assistant Vice President for Student Engagement and Leadership Drew Stelljes, the discussions led to a retreat in the summer of 2014 organized by McLaughlin and Macdonald who had volunteered to co-teach a pilot course. During the retreat, interested faculty presented their own work and then collectively discussed course content, structure and assignments. The two professors are no strangers to co-teaching.
"Heather and I had co-taught a freshman seminar supported through the [Teachers for a Competitive Tomorrow] scholars grant about five years ago," said McLaughlin, Chancellor Professor of Education. "So we had co-taught that and had some history. We've worked together in other collaborative ways, but I think what I love about working with Heather is that it's really a substantive collaboration."
McLaughlin and Macdonald not only planned their lessons together but collaboratively worked to bring in speakers from the different disciplines and grade their students' work.
"I think that's what enriches it so much," MacLaughlin said. "To have these different perspectives of arts and science, education and policy."
Approximately half of the 14 presenters for the course came from the Arts & Sciences, and the other half from the W&M School of Education. Each presenter provided students with a unique perspective of their own discipline.
For instance, Associate Professor of Sociology Sal Saporito taught a class on "Bizarrely Drawn Attendance Zones and the Impact on Racial Composition of Schools."
Assistant Professor of Educational Psychology Jason Chen engaged students by presenting on educational technology, including educational games.
"My goal was to give an overview of what the School of Education was about and what type of work is being done there," Chen said. "I wanted to give an idea of what I do as a piece of that, so I wanted to showcase a few of the activities I'm involved with."
Many of the students who participated in the course this semester were sophomores, along with a few juniors. Coming in with different perspectives and majors, the students were able to identify various research opportunities, discover their role in the American education system, and more.
Eboni Brown '17 discovered the class through a community studies course in which she is a teaching assistant.
"I heard that it was a class about education issues, and I immediately signed up," she said. "My biggest take-away is the many different ways one could enter the teaching profession."
McLaughlin and Macdonald hope the course will continue for years to come, allowing students and faculty to collaborate even further -- not only in the classroom, but through research, too.