VIMS (VIRGINIA INSTITUTE OF MARINE SCIENCES)
In coordination with W&M School of Education, VIMS educators provide academically challenging science courses and field experiences for our high school campers. Camp Launch partnering with VIMS would entail two components – two rounds of one-week daytime camps for rising 9th graders each week, and a two-week camp for up to 16 rising 10th graders. The hands on nature of this course gives the campers a great foundation in Marine Science and the research it entails.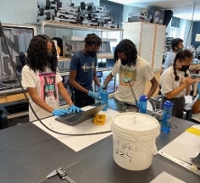 Physics Department/ W&M Applied Science department (Makerspace Engineering Design)
The William & Mary Physics Department and W&M Applied Science department has given our campers access to the college's state of the art labs and a curriculum and instruction from current and former students and faculty.  This opportunity has opened the door to more advanced ideas and an introduction to complex lab equipment for our campers.  9th grade students have hands on engineering problem solving experience in Makerspace while 10th grade level students have opportunities to work in a physics lab along with research methods lessons. We hope to continue to grow this partnership in the future.
Geology Department/VIMS
With the goal of expanding Camp Launch to Rising 11th and 12th graders, a new partnership has been established. Professors from the W&M Geology department and VIMS were recently awarded a National Science Foundation grant to develop a predictive framework for which species will survive and which will go extinct over the next few centuries due to profound human-induced climate change. Among many components of the project, Camp Orbit was proposed as a way of extending the pipeline for STEM career interests of 11th and 12th grade students through collaboration with Camp Launch. Camp Orbit will provide educational experiences for five to six Camp Launch alumni per year for the next five years beginning in the summer of 2023.  
District Partners
Charles City Public Schools
Chesapeake County Public Schools
Colonial Heights Public Schools
Fluvanna County Public Schools
Goochland County Public Schools
Hampton City Public Schools
Hanover County Public Schools
Henrico County Public Schools
Isle of Wight County Schools
King and Queen County Public Schools
King George County Public Schools
Mathews County Public Schools
Newport News Public Schools
Norfolk Public Schools
Poquoson City Public Schools
Portsmouth Public Schools
Prince George County Public Schools
Prince William County Public Schools
Richmond Public Schools
Suffolk County Public Schools
Surry County Public Schools
Sussex County Public Schools
Virginia Beach Public Schools
Williamsburg/James City County Public Schools
York County Public Schools