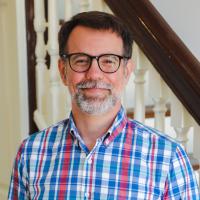 Mark Hofer
Professor and Educational Partnerships Coordinator, Office of Strategic Cultural Partnerships
Office: Travis House
Phone: (757) 221-1713
Email: [[mjhofe]]
Website: {{http://markhofer.net,markhofer.net}}
Twitter: {{https://twitter.com/markhofer,@markhofer}}
Areas of Expertise: Educational Technology, Instructional Design, Innovation, Project-Based Learning, Teacher Education

Profile
Dr. Mark Hofer is a professor of educational technology and the educational partnerships coordinator for the Office of Strategic Cultural Partnerships at William & Mary. Previously, he was the director of the Studio for Teaching & Learning Innovation. A former high school history teacher, he teaches undergraduate, master's and doctoral courses focusing on curriculum-based technology integration and deeper learning in K-16 classrooms. Dr. Hofer has served as co-PI on a number of grants, including a research grant through the William & Flora Hewlett Foundation to explore the School Retool innovation fellowship program for secondary principals. He has collaborated on research and development projects with Dr. Judi Harris designed to help preservice and inservice teachers develop their TPACK, or technology integration knowledge. He is also co-author of And Action! Directing Documentaries in the Social Studies Classroom. He regularly presents his work at local, national, and international conferences and publishes his work in a variety of scholarly and practitioner journals.
Education
Ph.D in Instructional Technology, University of Virginia, 2003
M.S. in Educational Administration, Butler University, 1999
B.A. in History, University of Notre Dame, 1995
Activities and Honors
Sallie Gertrude Smoot Spears Term Distinguished Associate Professor (2014 - Present)
Dorman Family Distinguished Associate Professor (2009 - 2012)
Selected Publications
Hofer, M. J., Bell, L. (2015). In Hofer, M., Bell, L, & Bull, G. (Ed.), Practitioner's Guide to Technology, Pedagogy, and Content Knowledge (TPACK): Rich Media Cases of Teacher Knowledge. Waynesville, NC: Association for the Advancement of Computing in Teacher Education.
Swan, K., Hofer, M. J. (2013). And Action: Directing Documentaries in the Social Studies Classroom. New York, New York: Rowman & Littlefield Publishing Group.
Swan, K. & Hofer, M. (2013). Examining Student-Created Documentaries as a Mechanism for Engaging Students in Authentic Intellectual Work. Theory & Research in Social Education, 41(1), 133-175.
Hofer, M. & Grandgenett, N. (2012). TPACK Development in Teacher Education: A Longitudinal Study of Preservice Teachers in a Secondary M.A.Ed. Program. Journal of Research on Technology in Education, 45(1), 83-106.
Harris, J. B., Hofer, M., Blanchard, M. R., Grandgenett, N. F., Schmidt, D. A., van Olphen, M., & Young, C. A. (2010). "Grounded" Technology Integration: Instructional Planning Using Curriculum-Based Activity Type Taxonomies. Journal of Technology and Teacher Education, 18(4), 573-605.
Harris, J. B., Grandgett, N., & Hofer, M. (2010). Testing a TPACK-Based Technology Integration Assessment Rubric. In C. D. Maddux (Ed.), Research Highlights in Technology and Teacher Education 2010 (pp. 323-331). Chesapeake, VA: Society for Information Technology & Teacher Education.