2E @ W&M Conference to focus on twice-exceptional students
As the calendar demonstrates its quadrennial act of exceptionality this Leap Year, the W&M Center for Gifted Education will bring together researchers, practitioners and parents for a new conference around the topic of twice-exceptional learners. The first annual 2E @ W&M Conference will be held Feb. 28-29, 2020 at the School of Education.
"Twice exceptionality isn't a new concept, but there are still limited resources — and even fewer opportunities for professional development and parent engagement — specifically devoted to twice-exceptional students," says Ashley Carpenter, assistant professor, director of professional development and publications for the Center for Gifted Education and organizer of the event.
Twice-exceptional learners are those who demonstrate both high ability and areas of learning difference or disability. The range of disabilities is wide, including specific learning disabilities such as dyslexia or auditory processing disorders; ADHD and executive function disorders; autism spectrum disorder; emotional issues such as anxiety or obsessive-compulsive disorder; speech or language impairment; visual impairment; and deafness.
Twice-exceptional learners have unique challenges — frequently, they learn quickly but can't demonstrate that learning in traditional or expected ways, creating a disconnect between what they can learn and how they can show it. Behavioral issues often crop up when students are not in the right learning environment, further complicating students' performance in the classroom. Twice-exceptional students need the right combination of intellectual challenge with the supports and accommodations that will put them on a level playing field with fellow students.
"Traditionally, the fields of giftedness and special education have been very siloed, and there was this idea that a student could only belong in one category or the other," says Carpenter. "And 2E students can be difficult to identify because there is a lot of masking that goes on. Their talents can mask their disabilities — and vice versa — so that it can be hard to see the underlying issues and provide the right supports to help them succeed."
The two-day conference will focus on issues of practice and support for twice-exceptional students, with sessions geared toward both educators and parents.
"It's fairly uncommon to bring together educators from both ends of the educational spectrum — from both gifted and special education," says Carpenter. "And we're excited to offer sessions that are designed to allow parents to talk to experts, find resources, and learn new strategies to support their 2E students."
In addition to educators, the speaker list includes professionals from related fields including psychology, occupational therapy, nutrition, functional medicine and special education law. "We'd like people to go home with new ideas for school, but also strategies that they can put in place at home," says Carpenter.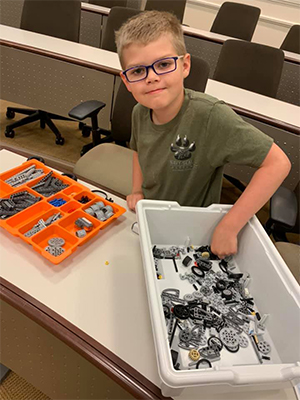 The W&M Center for Gifted Education has been an international leader in research and services in support of gifted students for more than 30 years. In addition to graduate programs and ongoing research, the center offers K-12 enrichment programs, an award-winning curriculum and professional development opportunities for educators. The center hosts several conferences throughout the year, but this is the first focused on twice-exceptional students.
"We are delighted to be able to host this conference at William & Mary," says Tracy Cross, the Jody and Layton Smith Professor of Psychology and Gifted Education and executive director of the Center for Gifted Education and the Institute for Research on the Suicide of Gifted Students. "We have long known that gifted learners are a diverse group with unique challenges, and we hope this conference will help advance a more nuanced understanding of both giftedness and disability."
For Carpenter, the event is a passion project. A former special educator and teacher of the gifted, she also has a twice-exceptional child of her own. Frustrated by the lack of awareness about twice-exceptional learners, she set out to organize a conference that would not only bring together experts, but provide tools that teachers and parents could use right away.
"I'm especially excited about the second day of the conference, which is geared toward parents," says Carpenter. "Being a parent of a twice-exceptional child can be very isolating. You don't feel like you can identify with parents of gifted students, or special education students, or neurotypical students. I hope the conference will provide a feeling of community for these parents, as well as some really concrete ways to improve both their home life and their children's experience at school."
Registration for 2E @ William & Mary is now open. Choose from one- and two-day options and register by February 8 for a special early bird rate. Discounts are available for groups of 5 or more as well as for W&M students, faculty and staff. Learn more.