Camp Launch 2024
July 14 - 27, 2024
If you are planning to return for the 2024 camp, please follow the link below to complete your intent to return survey!
CAMP LAUNCH: Returning Campers!
Born out of a desire to help gifted students from low socioeconomic levels, Camp Launch provides eligible  students in grades 7-10 with unique academic and enrichment opportunities. Campers are recruited from school districts throughout Virginia to participate in this two-week residential program with courses in STEM, Writing, and Personal Development.

If you would like more information regarding application requirements or would like to apply, please contact our office at [[camplaunch]]. Please visit our About section for more information and eligibility requirements.
Camp Launch has four goals: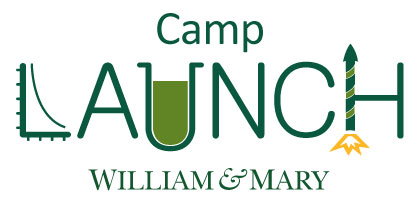 to deliver advanced instruction in academic content, such as STEM, writing, academic self-efficacy, and personal development;
to provide enrichment opportunities in a wide variety of content areas;
to encourage the development of peer support networks; and
to develop in campers a future orientation that includes a college education, along with preparation that will help them take advantage of enabling opportunities to achieve that goal.
Accepting Camp Orbit 2024 Applications Now!
Deadline: February 16, 2024.
Just for Camp Launch Alumni who have attended each year of their eligibility (Rising 7th grade-Rising 10th Grade). 
Camp Orbit will occur from July 14, 2024 – July 27, 2024.  This is a highly competitive program specifically for Camp Launch Alumni.  Camp Orbit students will have the opportunity to participate in hands-on research and mentorship with a W&M Geology or VIMS Marine Science researcher.
Please follow the appropriate link below to apply for your desired program.
Geology Track:
Students who are working with W&M geologists will study how global warming that happened three million years ago affected fossil seashells.
Camp Orbit Geology Track Application
 VIMS Track:
Students who are collaborating with VIMS marine scientists might work on a range of different projects - including how to restore and farm oysters, how beaches or wetlands form, how to forecast the severity of low-oxygen dead zones, how to assess pollution and disease risk, and how global change is affected coastal species and ecosystems.
Camp Orbit VIMS Track Application
We look forward to reviewing your application.
Questions? Contact Conor Dibble at 757-221-2362 or email [[camplaunch]].
Registering for and attending events at William & Mary conveys a shared expectation of abiding by university policy, which is subject to change as conditions warrant. As of March 29, 2022, masking is optional both indoors and outdoors, with masking especially encouraged in large gatherings. Masks are required for students visiting the Student Health Center, for staff in the clinic, and for anyone using public transportation. COVID-19 vaccination and boosters are strongly encouraged for all William & Mary students, employees and external visitors, in alignment with Centers for Disease Control and Prevention guidance. We create these shared expectations of event participants in keeping with William & Mary's core values of Belonging within this community and Respect for one another as individuals, and in recognition of the risks inherent to gathering amid pandemic.