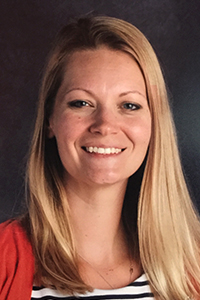 Ashley Carpenter
Clinical Assistant Professor & Director of Professional Development, Center for Gifted Education
Office: 3012
Phone: (757) 221-2588
Email: [[aycarpenter]]
Website: {{https://education.wm.edu/centers/cfge/, Center for Gifted Education}}
Areas of Expertise: Gifted Education, Professional Development, Underserved Gifted Populations, Twice-Exceptional Learners

Profile
Ashley Y. Carpenter, Ph.D., is a Clinical Assistant Professor and Director of Professional Development and Publications at William & Mary's Center for Gifted Education. She currently teaches graduate courses in Gifted Education and is the Professional Developer for Project BUMP UP, a Jacob Javits Grant funded research project. As the Director of Professional Development, Ashley coordinates several conferences, including 2e @ William & Mary: Twice Exceptional Conference and the National Curriculum Networking Conference. She also provides trainings on Center for Gifted Education curriculum units and general gifted education topics across the country. Ashley completed her doctoral work in Gifted Education and Talent Development at the University of Connecticut and worked at the National Center for Research on Gifted Education as a Research Assistant and Research Site Director. She was a middle school teacher for 14 years and is the parent of a twice-exceptional child.
Education
Ph.D. in Educational Psychology with a specialty in Gifted Education, Talent Development, and Creativity, University of Connecticut, 2019
Activities and Honors
Professional Developer, Project Building Up Mathematics Proficiency Utilizing Push-in (BUMP UP), Funded by Jacob K, Javits Gifted and Talented Students Education Program, U.S. Department of Education PR/Award #S206A190028 (2019-2024)
Selected Publications
Carpenter, A. Y. (2021). Twice-Exceptional Students. In Handbook for Counselors Serving Students With Gifts & Talents (pp. 305-323). Routledge.   
Carpenter, A. Y., & Hayden, S. M. (2021). Roles in Gifted Education: A Parent's Guide. In Success Strategies for Parenting Gifted Kids (pp. 299-305). Routledge.
Gubbins, E. J., Siegle, D., Peters, P. M., Carpenter, A. Y., Hamilton, R., McCoach, D. B., ... & Long, D. (2020). Promising practices for improving identification of English learners for gifted and talented programs. Journal for the Education of the Gifted, 43(4), 336-369.
Gubbins, E. J., Siegle, D., Hamilton, R., Peters, P., Carpenter, A. Y., O'Rourke, P., ... & Estepar-Garcia, W. (2018). Exploratory Study on the Identification of English Learners for Gifted and Talented Programs. Grantee Submission.