Randy Williams, Ph.D. '13
Named associate vice president for campus engagement at Elon University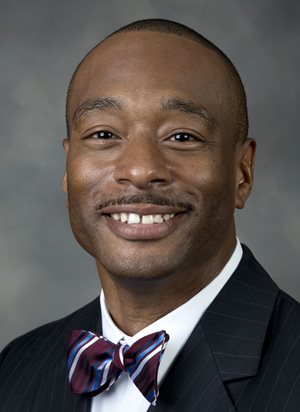 Randy Williams, Ph.D. '13 has been named associate vice president for campus engagement at Elon University, a new position with a wide range of responsibilities related to academics, student life and university development.
Dr. Williams will oversee a new director of the Center for Race, Ethnicity and Diversity Education (CREDE) while also partnering with Elon's senior staff members to plan, implement and measure the success of strategic initiatives. His initial projects include developing an intercultural competence program, implementing recommendations from the campus social climate task force, and leading the Presidential Task Force on Black Student, Faculty and Staff Experiences implementation and assessment team.
Randy joined the Elon University administration in 2014 after serving as vice president for student affairs and dean of students at North Carolina Wesleyan College. He worked previously as assistant dean of students at the College of William & Mary and associate dean of students at Hampden-Sydney College.
Randy earned his bachelor's degree in physics from Hampden-Sydney, a master's degree in education from Longwood University, and a doctorate in Educational Policy, Planning and Leadership from the College of William & Mary. His dissertation study was entitled: "How Direct Descendants of a School Lockout Achieved Academic Success: Resilience in the Educational Attainments of Prince Edward County's Children."
In his new role, Randy will serve as a member of the Provost's Advisory Council, Academic Affairs Advisory Council, and the Student Life VP Council. Randy also will partner with the Office of Alumni Engagement and University Advancement leaders to represent Elon's senior staff at high-level events and to work on fundraising projects.