Najoua Benothmane '13, M.Ed. '14
"Hermione the ship, and a long journey of friendship."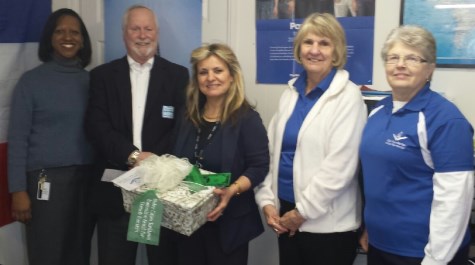 Students in Najoua Benothmane's French classes at York High School (YHS) have a special reason to look forward to the Hermione's arrival in Yorktown in June. The Hermione, an exact replica of General Lafayette's 18th-century ship, set sail from France to the United States in April. The tall ship's first destination will be Yorktown, and special events have been planned leading up to the festivities the first weekend in June.

York High School students have donated their artistic talents in the form of two pieces of art. Students studied images of the ship to develop sketches, using grids to maintain scale and perspectives. Finally, the students began the detailed painting, though most had never painted before.
These collaborative paintings are now on display at the Yorktown Library and the Mariner's Museum and will be part of the welcoming ceremony when the Hermione arrives in June. The artwork has already been noticed by the U.S. Embassy in France on Twitter, with a special shout-out to the students, "beau travail Falcons."
Najoua Benothmane '13, M.Ed. '14 has been awarded the Innovative Instructional Grant by the York Foundation for Public Education, Inc. Ms. Benothmane is a 2013 graduate of the College of William & Mary and earned her master's from the School of Education in 2014, majoring in Secondary Foreign Language. She is a French teacher at York High School in the York County School Division.
This award was used for students' work on a painting/ mural that will represent the Hermione Ship.
French students learned about the history of that ship and will create a seascape. The ship is a replica of the frigate Hermione that enabled General Lafayette to bring help to the insurgent during the American War of Independence. "On the tracks of its elder, a crossing of the Atlantic Ocean is planned for next spring. The journey of the Hermione is a commemorative and educational mission. It falls within the scope of the symbolic voyage of Hermione, "the Frigate of Liberty".
This project will introduce world language students to other disciplines. Students of French will understand better the community where they live (Yorktown) through an historical backdrop and hands on activity. Students will acquire a holistic vision and will be able to connect cultural, scientific and maritime patrimonies. They will be more aware of the "values of Peace and Liberty inherited from the 18th century ideal of enlightenment, values of personal engagement and more precisely the engagement of the Youth, exemplified by Lafayette". Students will appreciate our common Franco-American Heritage and principles of international solidarity.
Many standards will be covered:
- The student will use information acquired in the study of French and information acquired in other subjects in other areas to reinforce one another. Relevance of other school subjects areas to French class (interdisciplinary connections)
- Give examples of the influence of French and francophone cultures on other subjects
-Investigate the interrelationship of geography and history of French and American cultures
-The student will present information orally and in written French
- The student will develop an awareness of perspectives, practices, and products of the cultures where the foreign language is spoken
- Geographic and political aspects of culture
- Recreation, pastimes and the Arts as Expressions of culture
- Contrast/similarities between the United States and the French cultures
- French outside school and in the community

Community partners:
Yorktown Middle school
Yorktown Museum
Poitou-Charentes Region in France
Jamestown-Yorktown Foundation
Oceanopolis (Brest)
New York Historical Society
French Embassy
W3R-US/W3R-NPS
Friends of Hermione-Lafayette in America
Rotary Club of Newport, RI
Alliance Francaise of Charlottesville, VA
Historical and genealogical societies