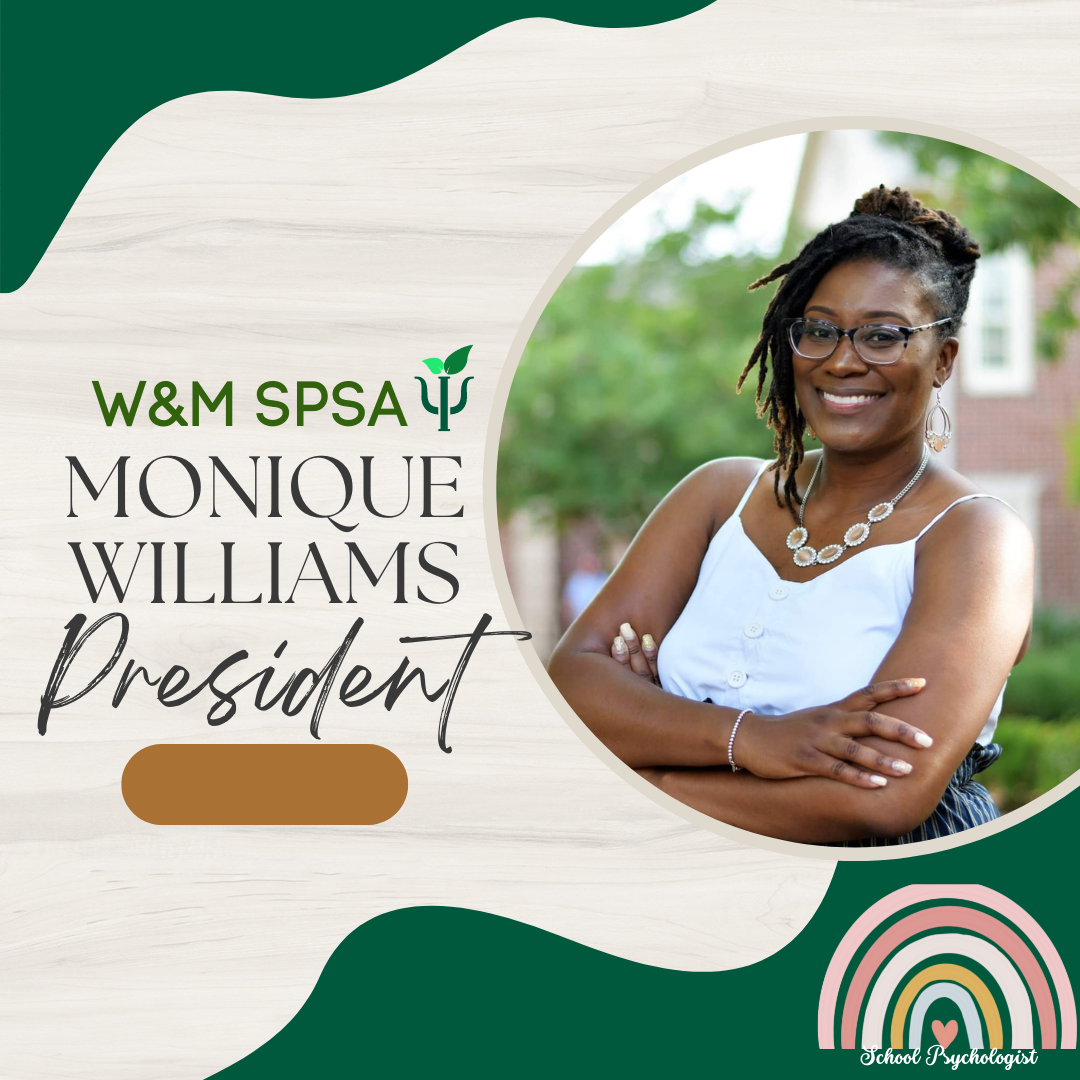 President: Monique Williams, MA, M.Ed
Monique has spent years within the class
room as a secondary special education teacher and as a community based service provider for youth in foster care and adverse life experiences.  She has undergraduate and prior graduate school experience in criminal justice and sociology,  psychology, and human services counseling.  As a fu
ture school psychologist, Monique draws interest in 
disrupting how marginalized students 
 are permeated in special education and pushed out of schools, adopting culturally-responsive interventions in counseling and discipline, and improving postsecondary outcomes for students with disabilities. Monique is a W&M Social Justice Research Fellow and Graduate Assistant in the Dean of Students - Office of Academic Wellbeing. She is completing her practicum at Charlotte County Public Schools.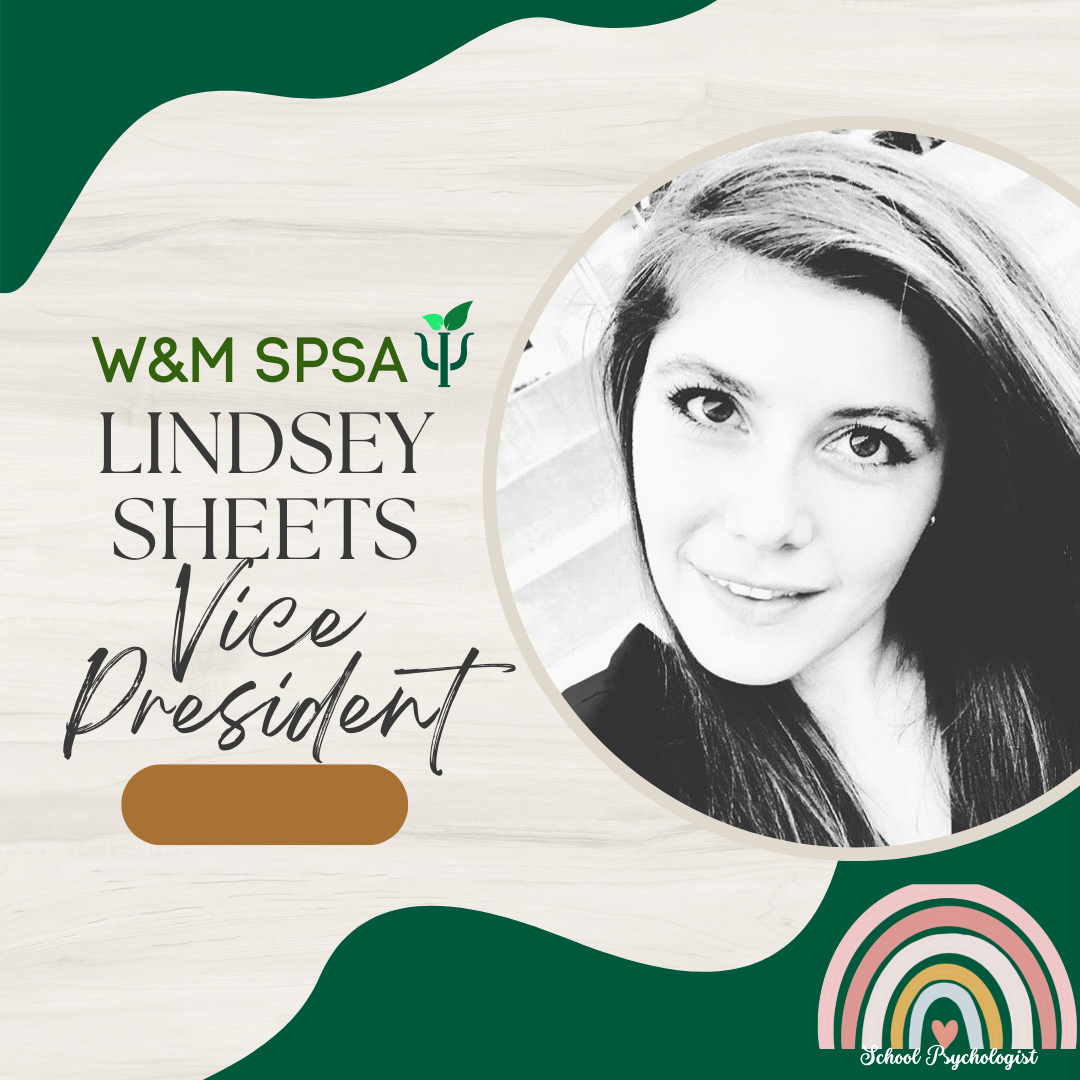 Vice President: Lindsey Sheets, M.Ed
Lindsey loves all things related to testing and assessment. She has experience in the private practice setting and has worked with clients of all ages. Lindsey is the Graduate Assistant for Dr. Ryan McGill, and will be leading the Testing and Administration Lab under his supervision for the 2022-2023 academic year. All the way from Omaha, NE, William & Mary's SOE has stolen Lindsey's heart, and she's excited for everyone to have their own life-shaping experiences within our program this year.  Lindsey is completing her practicum at Gloucester County Public Schools.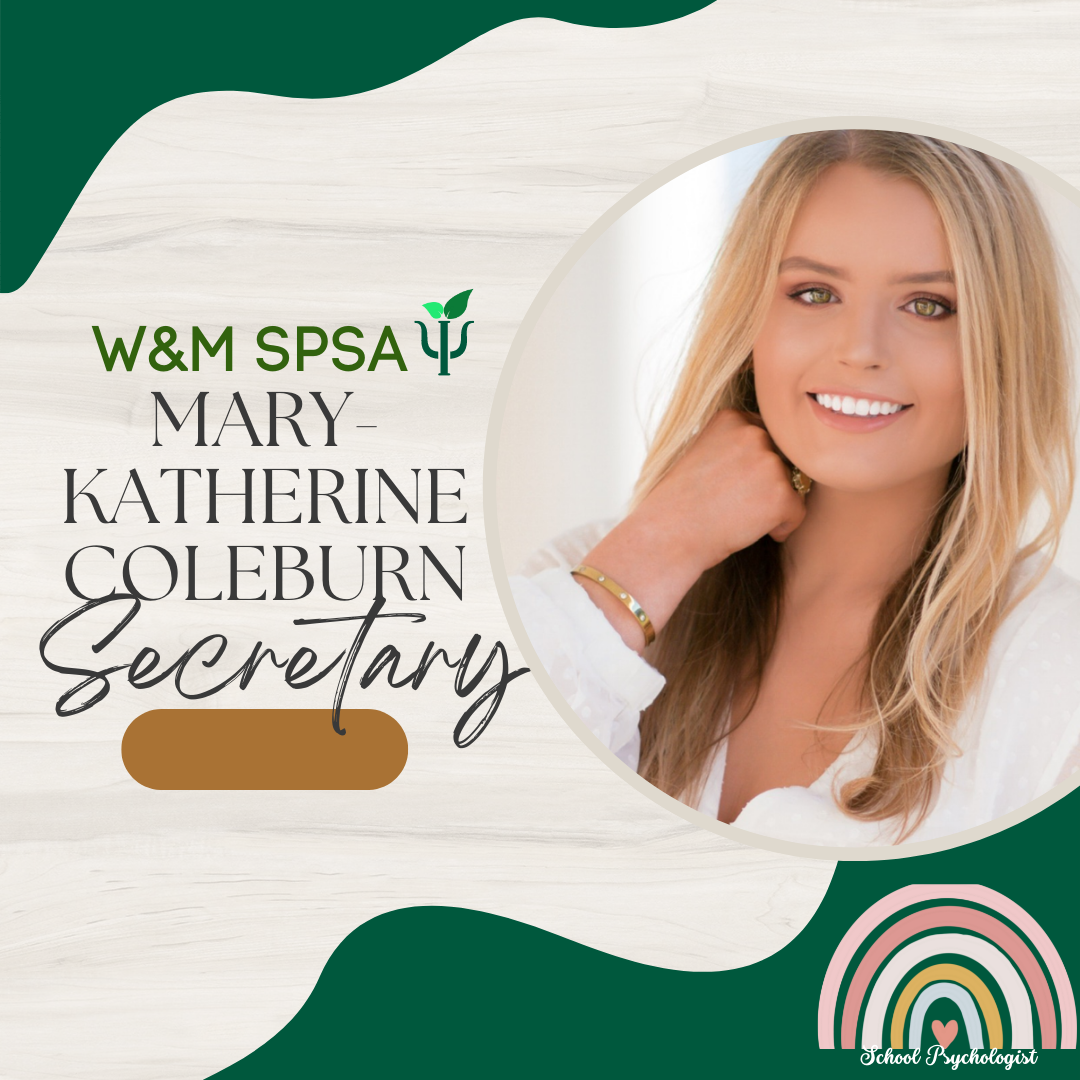 Secretary: Mary Katherine Coleburn, M.Ed
Mary Katherine (MK) received her B.S. in Psychology from James Madison University.  She has experience as a Psychometrist at King and Queen County Public Schools, providing her considerable experience in administering and scoring assessments within the school-based setting. Growing up in a rural town, Mary Katherine's passion is to give back to rural communities by emphasizing the need for a better mental health system of care. Mary Katherine is completing her practicum at King and Queen County Public Schools.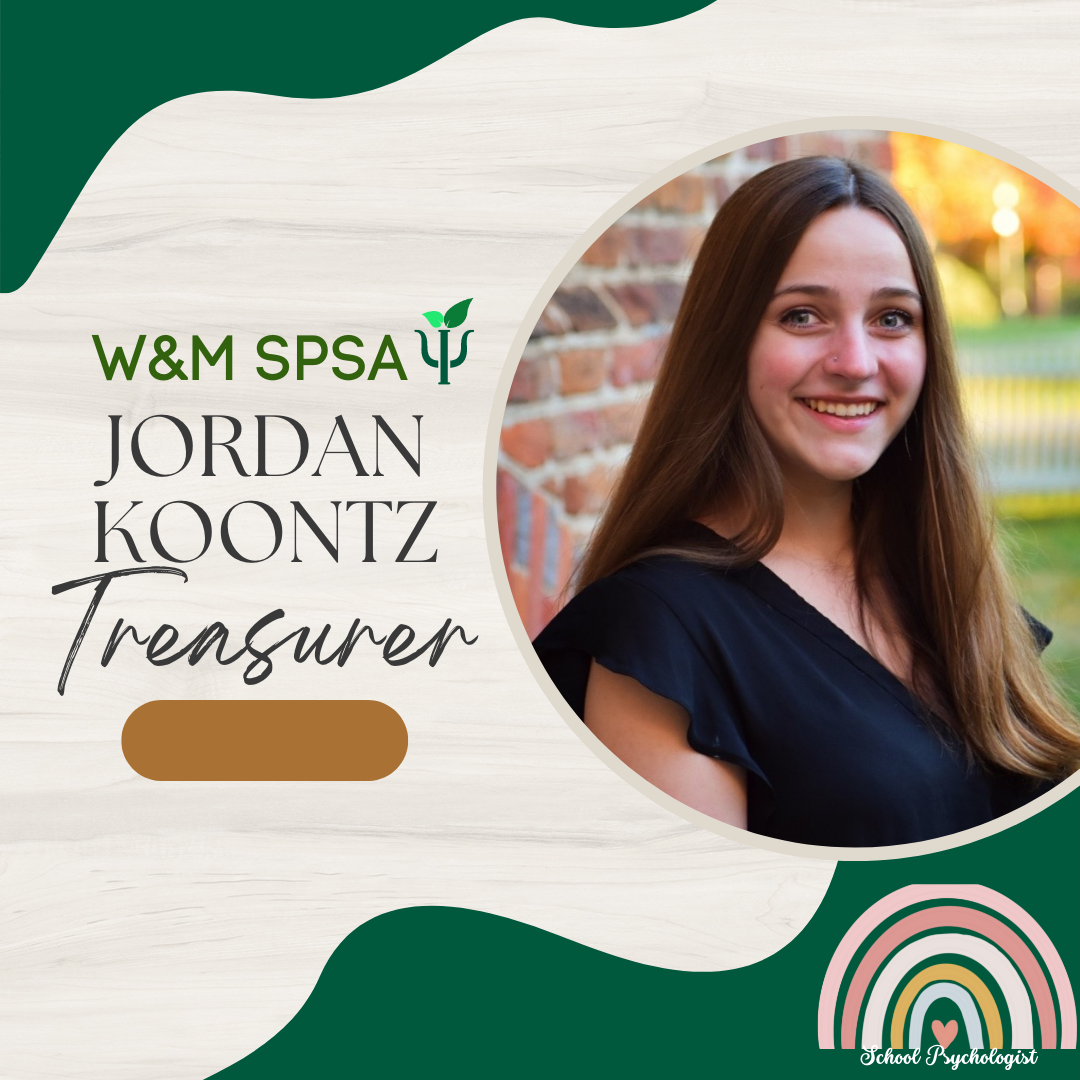 Treasurer: Jordan Koontz, M.Ed
Jordan graduated from Virginia Tech with a B.S. in Human Development and Psychology. Through her experiences in student programming, elementary education, and disability services, Jordan has developed a passion for fostering accessible and inclusive educational environments. As a future school psychologist, she hopes to be an effective advocate for students by building strong community relationships and engaging reflectively with data to inform culturally responsive interventions. Currently, Jordan serves as the Employer Engagement and Programming Graduate Assistant for the Office of Career Development and Professional Engagement. She is completing practicum at York County Public Schools.
Engagement & Social Chair: Danielle Wright, M.Ed
Danielle was born and raised in Norfolk, Virginia so she has a special love for the Tidewater and Hampton Roads communities. She completed her undergraduate studies at Old Dominion University where she majored in Psychology and minored in Human Services.  Danielle is a true counselor at heart who brings energy and experience counseling children and offering recommendations to engage them in learning. She has provided programming for children in various aspects including facilitating youth groups and camp counseling. Danielle is completing her practicum at Portsmouth Public Schools.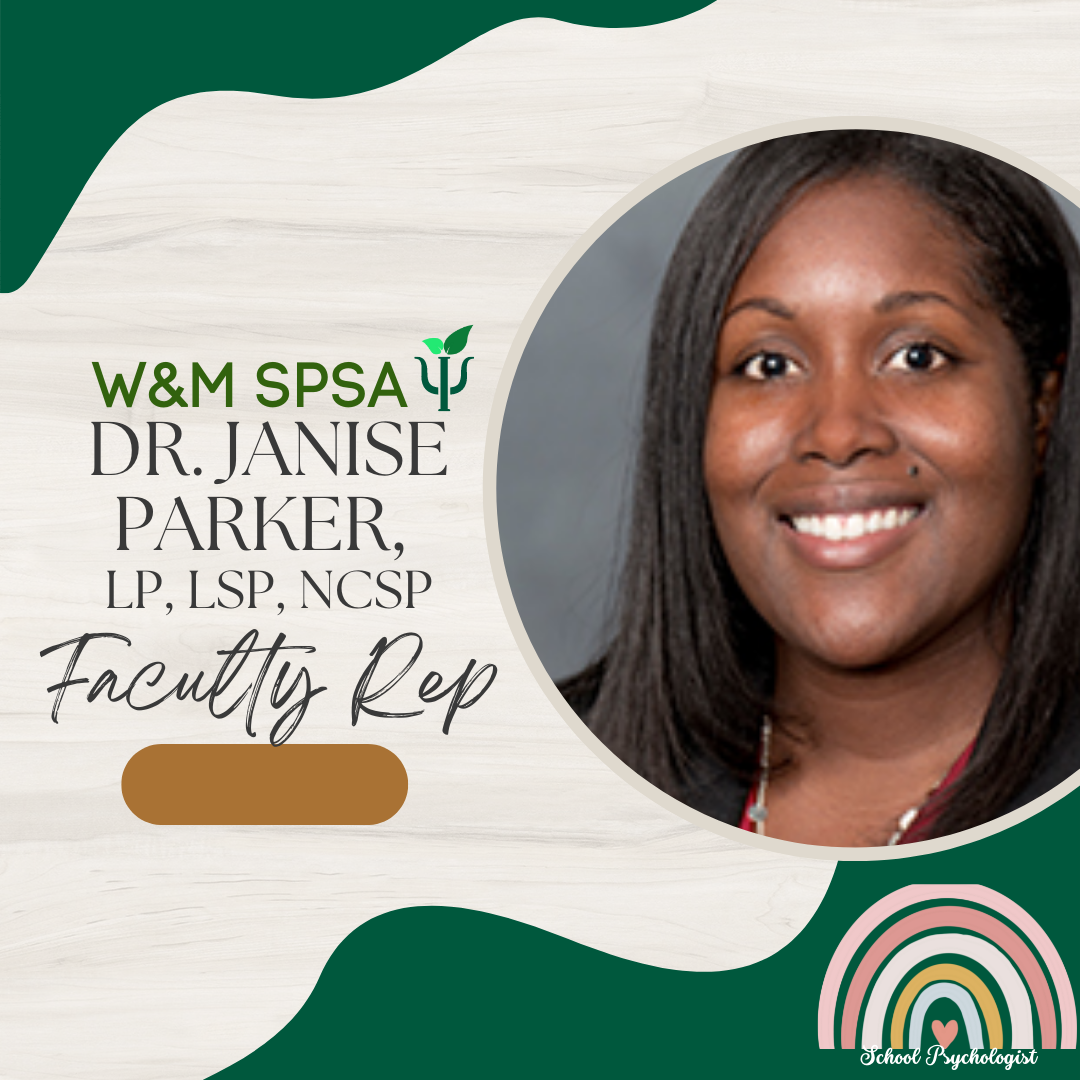 SPSA Faculty Representative: Janise S. Parker, Ph.D., LP, LSP, NCSP
Dr. Parker (Assistant Professor of School Psychology, Practicum Coordinator) earned her Ph.D. in School Psychology from the University of Florida.  She is also a Licensed Psychologist and Nationally Certified School Psychologist (NCSP). Dr. Parker's research primarily focuses on student engagement and motivation among adolescents from underrepresented groups and culturally responsive practice in school psychology. Along those lines, she has much experience collaborating with high school educators to support at-risk youth from diverse backgrounds and providing counseling support in public schools for middle and high school students.