Instruments Developed and Used by the Center
These are used as the pre- and posttests for the problem-based units and assess student knowledge of the experimental research design process.
Fowler Test [pdf]
Diet Cola test and rubric [pdf]
Published Units
Science units are available to purchase from Kendall Hunt and Prufrock Press. We encourage you to purchase the materials directly from our publishers, and you can do so by clicking on each book's title.
Survive and Thrive

Survive and Thrive is a life-science unit that provides students in grades K–1 an opportunity to study animals, their characteristics, and their natural environments. The overarching concept of change guides students as they use webcams to distinguish the features of animals, determine their basic needs to survive, and observe animals in their habitats.

How the Sun Makes Our Day


How the Sun Makes Our Day is an Earth and space-science unit that engages students in grades K–1 in investigations and observations about the sun as a source of light and energy, the nature of shadows, man-made sources of energy, and the need for humans to conserve natural resources.

Water Works


Water Works engages students in grades K–1 in scientific investigation as they closely observe and experiment with water. Students are transformed into scientists who notice, react to, reflect on, and discover more about force and change. 2009 Winner of a National Association for Gifted Children Curriculum Division Award for Outstanding Curriculum
Guide to Teaching a Problem-Based Science Curriculum for High-Ability Learners
This guide contains important information related to the implementation of the eight problem-based units. Concept papers related to systems, experimental design, and problem-based learning are included along with criteria for assessing science curriculum needs at local levels. A resource section for parents and teachers is also provided.
Budding Botanists

Budding Botanists engages students in grades 1–2 in an investigation of plant life as they assume the role of botanists. Team members seek to understand the structure, nature, and life cycle of plants, and to answer questions such as, "How can plants be used to fuel cars?" 2008 Winner of a National Association for Gifted Children Curriculum Division Award for Outstanding Curriculum
Where's the Beach?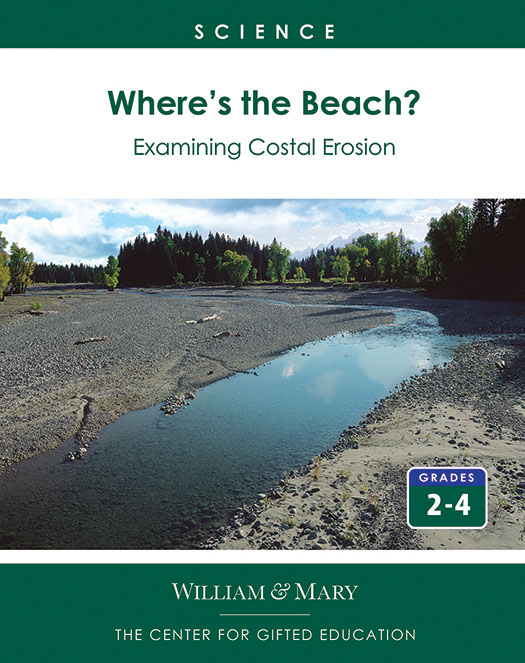 Plans for building a children's camp at the beach are on hold because the town council is worried about beach erosion. Because the camp received a large donation to develop nature-themed experiences, designed to teach children how to protect the environment, the camp manager wants to cooperate with the council. The problem is that she must begin construction quickly to be ready for the summer season. Acting as members of the town council, students in grades 1–3 must develop scientifically based regulations that will satisfy the long-term needs of the town and the plans for the new camp.
Weather Reporter

Weather Reporter provides students in grade 2 with opportunities in a scenario-based approach to observe, measure, and analyze weather phenomena. The overarching concept of change reinforces students' decisions as they learn about the changes in the Earth's weather and observe, measure, and forecast the weather.
What's the Matter?

What's the Matter? asks students in grades 2–3 to work on solving real-world scenarios by using their newly discovered knowledge of matter, the measurement of matter, and change in physical properties. At the end of this 15-lesson unit, students present their data in a classroom science conference.

What a Find!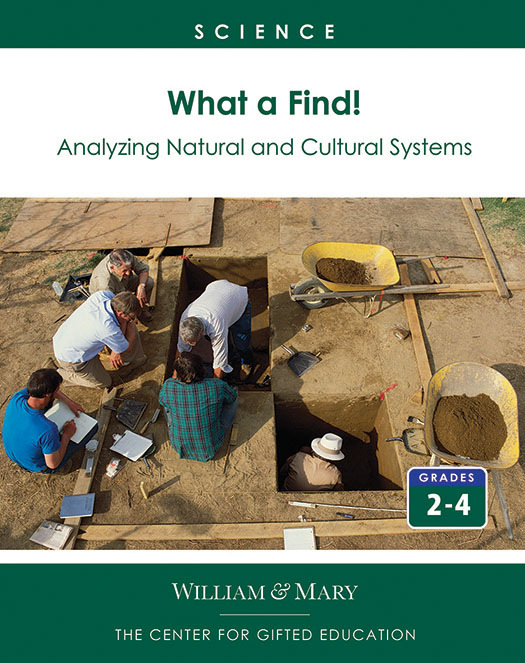 What a Find! is an exploration of the field of archaeology. Students in grades 2–4 are put in the role of a newly hired archaeologist who is contacted by a construction company crew that has just unearthed some artifacts. The construction company needs your input to determine what the next steps should be. Through the concept of systems, a simulation, and scientific investigations of the archaeological processes, students will uncover a solution to the problem. 1999 Winner of a National Association for Gifted Children Curriculum Division Award for Outstanding Curriculum
Dig It!

Dig It! encourages students in grade 3 to investigate humanity's effects on the environment and the importance of conserving natural resources. The unit builds upon students' prior knowledge and the overarching concept of change by providing opportunities to relate local examples of environmental pollution and conservation with hands-on scientific experiments and demonstrations.
Invitation to Invent

Invitation to Invent engages students in grades 3–4 in investigations and observations that support their learning about simple machines and their uses. Students explore force, motion, and friction as they learn about the six simple machines and how they are put together to form compound machines.

Acid, Acid Everywhere
This unit presents the structure of systems through chemistry, ecological habitats, and transportation. The unit poses an ill-structured problem that leads students in grades 4–6 into an interdisciplinary inquiry about the structure and interaction of several systems, centering around the study of an acid spill on a local highway. 1997 Winner of a National Association for Gifted Children Curriculum Division Award for Outstanding Curriculum
Electricity City
This unit provides a creative and interdisciplinary approach to introducing students in grades 4–6 to electricity. In this simulated activity, a large recreational complex is being built in the middle of a city, and the students' role is to plan the site's electrical needs, as well as create additional backup plans. This real-world problem requires students to analyze the situation, determine what type of research is needed, conduct experiments, and evaluate solutions.
Nuclear Energy: Friend or Foe?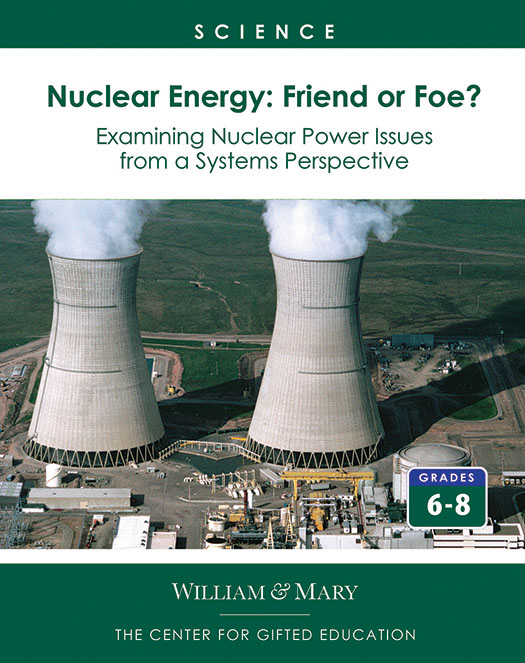 This unit for students in grades 6–8 creatively explores the effects of nuclear power waste. The topic is introduced through the eyes of a mayor of a town where a nuclear power plant is located. She must decide if the facility can expand its waste disposal techniques. What are the biological implications of radiation? What are the trade-offs with which society must live as we accept nuclear technologies into our lives? Students explore these questions as they prepare to make recommendations about the use of the nuclear power plant in their fictitious town.
No Quick Fix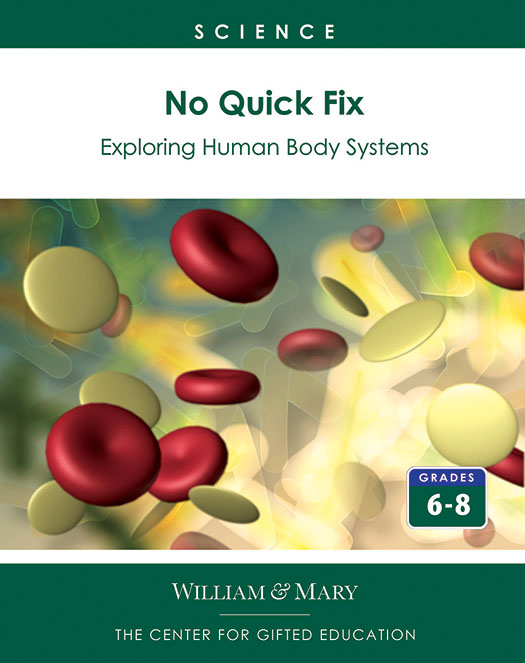 This unit uses systems as the fundamental concept to help students understand cell and tuberculosis biology. In a series of widening concentric circles, students in grades 6–8 learn that the cells are elements in larger systems, such as the immune system of the human body. Students also interact with human social systems, including health care and public education. Students take on the role of physician and begin to search for the cause and resolution of the problem. While unraveling the interactions among various systems, students can appreciate the complexities of staying healthy in the modern world.
Something Fishy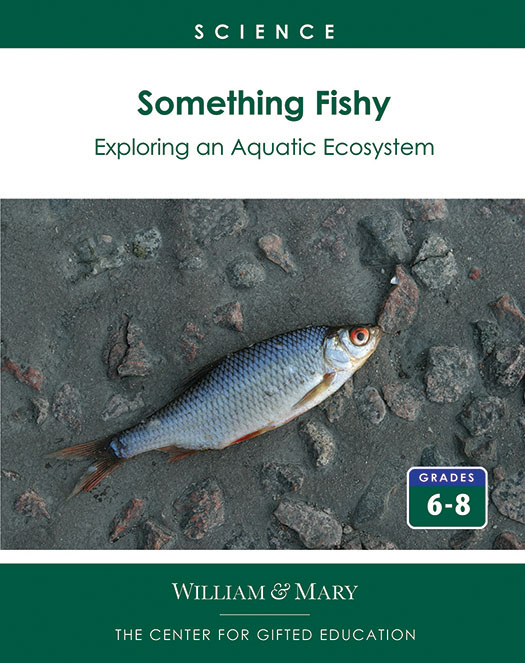 This unit poses an ill-structured problem that will lead students in grades 6–8 into an interdisciplinary study about several individual systems and their interactions. The content of the unit focuses on the various systems involved in the pollution of a local body of water: the aquatic ecosystem, chemical reaction systems, government systems, and economic systems. Students are challenged to grapple with real-world concerns and develop recommendations through simulation activities based on the scientific process.
Animal Populations
This unit integrates population biology and mathematics. The ill-structured problem puts students in grades 6–8 in the stakeholder role of assistant to the mayor of a small town in which residents are demanding that something be done about the deer that are eating their landscaped plants. Throughout the unit, students deal with physical models, conceptual models, and mathematical models as they tackle the deer problem and the complication of Lyme disease.