Teaching and Learning in China
In late May 2016, a group of eight students from the W&M School of Education traveled to China as a part of the course EDUC 500: Global Studies – Teaching and Learning in China.  Led by Associate Professor Jim Barber, the group visited Beijing and Shanghai for two weeks to explore aspects of Chinese education across the continuum from elementary school through higher education. Dr. Barber shared, "Our experiences during this study abroad course will have a lasting impact on the work that we do as educators, administrators, and professionals.  It has been a transformative two weeks, and we have gained valuable new perspectives on teaching and learning that have added to our understanding of education in China as well as the U.S."
The School of Education delegation began their travel in the Chinese capital city, Beijing, with educational visits to Beijing Normal University (BNU), the BNU Experimental Primary School, Wenhui Middle School, and Wenhui Primary School.  During these site visits, the group met with teachers and administrators, toured facilities, and observed classes to learn more about Chinese approaches to education. These site visits were balanced with trips to see some of China's most iconic cultural sites, including the Great Wall, Forbidden City, Temple of Heaven, and the Bird's Nest Olympic Stadium.  At the conclusion of their week in Beijing, the group boarded a high speed train, reaching speeds of up to 190 miles per hour en route to Shanghai.
Shanghai offered the group additional perspectives on education, with site visits to Fudan University, East China Normal University, and Beicai Primary School.  At Beicai, the W&M group learned about a new initiative in the Shanghai public schools called "life education," an approach to teaching and learning that emphasizes application of concepts in real-world situations.  To complement their experiences in school contexts, the group visited key sites in Shanghai including the Yu Garden, Jade Buddha Temple, and the downtown financial district to learn about Chinese culture and daily life in Shanghai.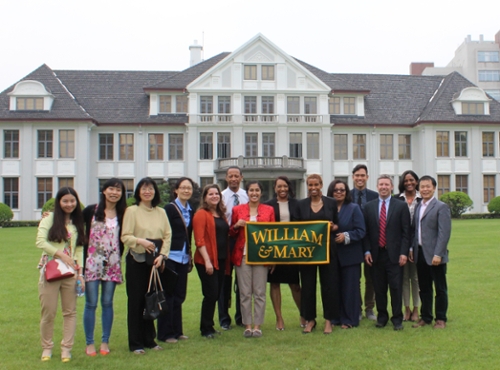 Students in the course connected their experiences in China to their own academic and personal interests through course assignments and written reflections.  Elizabeth Auguste, a Ph.D. student in Curriculum Leadership with a focus on literacy education, noted, "I met with teachers, parents, students, and administrators, all in an effort to understand how Chinese students are taught writing."  She found the U.S. and China face similar literacy challenges with curriculum and pedagogy, both recognizing the need for more authentic writing instruction.
Above all, a highlight of this study abroad experience was the opportunity for in-depth conversation with colleagues in China – teachers, administrators, faculty, graduate students, and parents – who shared passion for education. Rosario Fox, Assistant Director for Admission in the School of Education, reflected on her experience, "I have learned so much about China; it was a life experience that will stay with me for a long time. We have the same goals for our children: good health, happiness, a good education, success, and most of all love."
Special thanks to the W&M School of Education, Educational Policy, Planning, and Leadership (EPPL) Department, School Psychology and Counselor Education (SPACE) Department, W&M Confucius Institute, the Reves Center for International Studies, and EF College Study Tours for partnering to make this course a fantastic learning experience.
EDUC 500 is offered in the School of Education each spring term, exploring education around the globe.  In previous years, students have traveled to South Africa, Italy, and Ireland.  Next year's course (2017) will focus on higher education in the United Kingdom.
For additional information about Chinese higher education or this study abroad experience in particular, contact Dr. Jim Barber.