Olivia Uwamahoro joins W&M Counseling faculty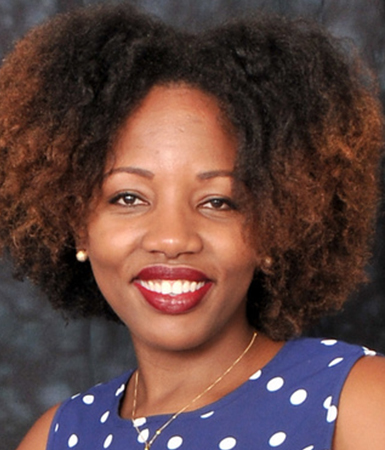 This fall, the School of Education welcomes new faculty members. Today, we introduce Olivia Uwamahoro, who is joining our Counseling faculty.
Tell us a little about your background and what brought you to W&M. 
I have been a professional counselor for 12 years and a counselor educator and supervisor for 8 years. I earned my bachelor's degree in Psychology and minor in African & African American Studies from The University of Tennessee, Knoxville, a Master of Science degree in Clinical Mental Health Counseling from the University of Memphis and a Doctor of Philosophy degree in Counselor Education and Supervision from the University of Central Florida. I am a Board Certified National Certified Counselor (NCC), Licensed Professional Counselor (LPC) in the state of Georgia, and a Certified Professional Counselor Supervisor (CPCS) in the State of Georgia. My clinical expertise includes working with children, adolescents, couples, and families. In addition, I have worked in inpatient, outpatient, partial hospitalization, and private practice settings. 
A few factors brought me to William & Mary including the incredible reputation of the W&M Counseling Education Program (directly attributed to the remarkable past and current CEP Faculty) and the innovation behind the Online Counseling Program.  
What's your area of research and what question are you most passionate about answering right now?
My scholarship activities centers around the areas of using virtual simulation and virtual reality to teach microskills, client outcome, counseling student development, and clinical supervision. I am currently serving as a Co-Principal Investigator on a 5-year $2.2 million grant funded by the U.S. Rehabilitation Services Administrations Innovative Training program. The project is designed to deliver training to vocational rehabilitation counselors who are hired to work with youth with disabilities (age 14 to 16) in Pre-Employment Training Services. The remote delivery includes online modules, podcasts, skill training using UWGLive Simulation Lab and virtual reality 360 videos. 
What else are you hoping to get involved with on campus or in the community?
I hope to get involved in initiatives around innovation teaching and learning, and diversity, equity, and inclusion.
Anything else you'd like to share?
I have been married for 7 years to my wonderful husband, Marlon. We have two incredible children, Madeline (5 years old) and MJ (2). I love working out, gardening, cooking, and painting.