Supporting homeless students through a pandemic: COVID relief funds expand the impact of Project Hope
In a normal year, from a small office tucked on the second floor of the W&M School of Education, Project HOPE-VA administers the statewide program for the education of homeless youth using a budget of just under $2 million annually. These funds support a network of school divisions that receive homeless education subgrants and liaisons in every school division in the state, with the aim of identifying and supporting students experiencing homelessness.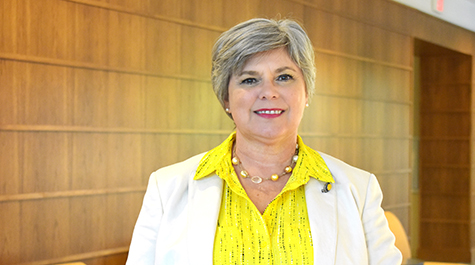 "Our goal is to find them, get them enrolled in school and keep them there," says Pat Popp, state coordinator for the program and clinical associate professor. "Once they are in school, we can provide not only academic support, but everything from mental health services to food assistance."
But with school buildings closed due to the pandemic, many of those threads of support became severed, leaving students and families cut off from vital services.
In the three years preceding the pandemic, about 20,000 K-12 students across the state were identified as homeless, defined as the lack of a fixed, regular, and adequate nighttime residence. Last year, that number dropped to about 14,000, despite widespread economic turmoil and data showing that overall homelessness in the state was reaching historic levels during the pandemic.
"While schools were closed, families didn't think about reaching out to our school division programs for assistance." says Popp. "Despite the efforts of our local homeless education liaisons in each school division, we know we lost touch with more students than we have in the past. Finding these families and students is a critical priority for the coming academic year."
And while the first relief packages, including the CARES Act signed in early 2020, provided support for education, they did not specifically earmark money for students experiencing homelessness. Advocates ensured that the American Rescue Plan of March 2021 did, resulting in an unprecedented $800 million dedicated to supporting the needs of students experiencing homelessness during the pandemic.
For Project HOPE, that meant an additional $13 million in funding and an urgent charge from the U.S. Department of Education to provide immediate relief to families across the state — many of whom had scattered without a forwarding address.
With the increased funding, the department also provided more flexibility in putting those dollars to work. In the past, funding was limited to activities directly related to the education of students experiencing homelessness, for instance transportation to keep students in their school of origin, tutoring, and school supply costs. The guidelines for the new funding are broader, allowing for the provision of wraparound services such as short-term temporary housing, internet access, trauma-informed care and mental health services.
"It opens the door a little more to support families," says Popp. "And it means our partnerships with community-based organizations are more important than ever. I get invited to a lot of tables and I try to sit at as many of them as possible to increase awareness of the needs of students who face homelessness."
Evaluation and accountability are high on Popp's list of priorities as Project HOPE moves forward. "We have to find simple ways to evaluate the difference the additional funds make," she adds. "How are students benefiting?"
About a quarter of the funding was disbursed in April and went directly to previously identified subgrants actively working in the hardest hit areas of the state. The increase in funding will mean that school divisions that hadn't previously been awarded subgrants will have an opportunity to expand their programs as the remainder of the funding gets distributed.
Much of Project HOPE's work revolves around training school staff to work with students experiencing homelessness and keep them continuously enrolled in school. Those training efforts have moved online during the pandemic, allowing even more educators from across the state to participate.
Popp initiated biweekly Zoom meetings with division-based liaisons that she calls "Charlie Check-Ins." During these meetings, staff can ask questions, share information and discuss current challenges. Guest speakers have included advocacy lawyers to discuss eviction protections and Department of Health staff to address health issues. Another webinar was devoted to the topic of human trafficking to ensure that school staff can identify the warning signs that children are being moved illegally or otherwise exploited.
With these new funds, Project HOPE also plans to expand services for preschool children and students in higher education. They have been working with the State Council for Higher Education in Virginia (SCHEV) and are developing professional development for university staff from Virginia universities that currently host GEAR UP programs to establish single points of contact on their campuses for students facing homelessness.
In addition to building relationships with other agencies and developing learning opportunities for school staff, Popp and her team are focused on monitoring current efforts and evaluating all the new ideas that have arisen.
"We're constantly asking ourselves: How do we take these ideas, evaluate them and then put them to work helping families? And how do we make them sustainable so that we're supporting children and families long after the pandemic has passed?"