Pamela Eddy delivers lecture on community college leadership
On November 18, Pamela Eddy, professor of Higher Education, delivered the annual Don A. Buchholz Lecture in the Bill J. Priest Center for Community College Education at the University of North Texas (UNT). The mission of the Bill J. Priest Center is to prepare leaders and teachers for specific careers in community colleges. The Center invites national leaders to discuss community college issues.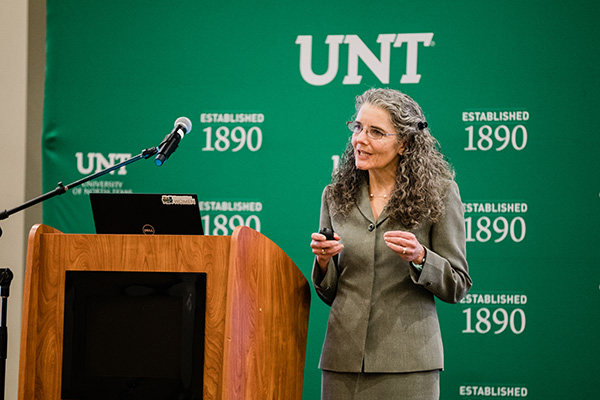 Eddy presented, "Courageous Leaders Wanted: Developing Tomorrow's Community College Leaders" and shared her research on community college leadership and development. She addressed the challenges facing today's community colleges and the crucial role of developing leadership to help reinvent community colleges. She argued that courageous community college leaders must be prepared to lead successful change efforts using a host of strategies. Nearly 150 community college leaders from the Dallas/Fort-Worth region attended the lecture.
Reflecting on the experience, Eddy offered, "I am always excited about opportunities to share my research on community college leadership with those in the field. Having an opportunity to engage with leaders doing the important work for change to support student success provides a wonderful link between research and practice." Aspiring leaders met with Eddy after the lecture to discuss career strategies and to learn more about the publication process in community college journals. Eddy is the editor-in-chief of New Directions for Community Colleges.