One family's inspiring gift to support teachers helping children with dyslexia learn to read
School of Education student Ellen Frackelton is the 2019 recipient of the Quinn Scholarship, which was created by Julie Richardson Agnew '91, Richard C. Kraemer Term Professor of Business at the Raymond A. Mason School of Business. It is awarded each year to one W&M student with a commitment to improving instruction for children with dyslexia.
"This scholarship allows a student to receive in-depth training in a multi-sensory, specialized reading approach that is evidence-based and recommended for students with dyslexia and learning disabilities in reading," explains Debbie Ramer, clinical faculty in special education and coordinator of the elementary education program. "While both the special education and elementary education programs provide an overview of the hallmarks of dyslexia and introduce students to evidence-based practices to support dyslexic students, this scholarship provides invaluable training that is not possible within the regular scope of our program."
The scholarship will enable Frackelton to attend a two-week course for teachers at the
Riverside School
, a Richmond K-8 school that uses the Orton-Gillingham (O-G) approach to teaching children with dyslexia. The training meets all of the coursework requirements for the Academy of Orton-Gillingham Practitioners and Educators (AOGPE) Associate Level Certification. Frackelton will complete 60 hours of coursework in the O-G approach, dyslexia, the brain, assessment, phonology, the structure of language and how to teach it, morphology, handwriting, and reading comprehension.
Fifteen of the course hours involve working under the supervision of an experienced AOGPE certified mentor teacher. With the help of their mentor teacher, class members plan O-G lessons and use these lessons to teach a child with dyslexia. This applied practice is a valuable part of the course. As one class member from the 2018 course shared, "The Applied Practice was not just a rote implementation of procedures. It first helped me to understand more deeply the concepts and procedures learned in class. Second, it really showed me the flexibility inherent in the OG approach. Third, it helped me see the beauty of weaving a concept into many sections of a lesson plan. These are things we can hear about in lecture, but it is in Applied Practice that they really click and enable us to teach in the true spirit of the OG approach."
Agnew established the scholarship in honor of her son Quinn, whose dyslexia was identified early and who benefited greatly from the expertise of the Riverside School.
"We were extremely lucky to recognize Quinn had an issue with reading when he was very young. Often students go undiagnosed for years or are never identified," explains Agnew. The delay in diagnosis and lack of evidence-based early intervention can derail a child's progress in reading and writing, she says. The idea for the scholarship emerged from a visit Agnew and her son made to the Virginia State Capital to advocate on behalf of students with dyslexia.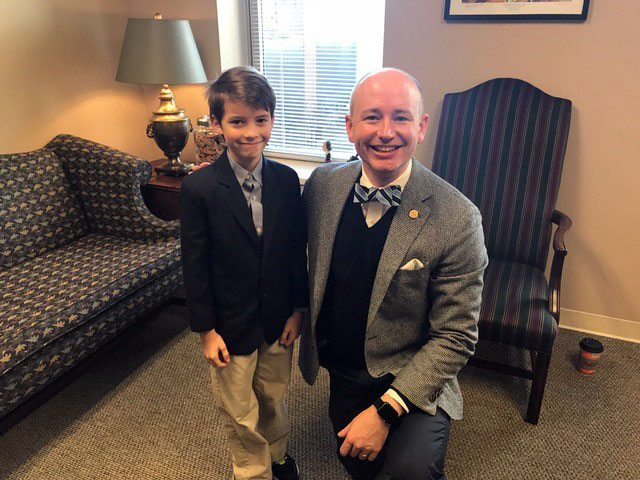 "It was during our meetings with Sen. Monty Mason and Del. Michael Mullin that Quinn said something to both of them that gave me pause. He said, 'I wish all kids could have the opportunity to learn like I do.' That moment was the genesis for his scholarship," she recalls. They knew that the Riverside School, which had been so essential in providing early intervention for Quinn, also offered a training program for teachers. "Quinn thought if we could train one new teacher a year to learn how to identify and teach students with dyslexia, then that teacher over time would help countless students. Their interactions would change lives and hopefully cause a ripple effect."
At the same time, Agnew remembered the energy and enthusiasm her college roommates, Emily Sackett Mumford '91 and Ashley Owen Greene '91, had had for their education training at the School of Education.
"We knew there couldn't be smarter or more enthusiastic students than those from William & Mary to undertake this training," she says, adding that she and Quinn also were inspired by Ramer and fellow School of Education professor Kristin Conradi Smith. "They are experts in the field and have been working diligently to train future teachers and provide continuing education in this area. Their enthusiasm is contagious. I knew that they would be wonderful stewards of the gift."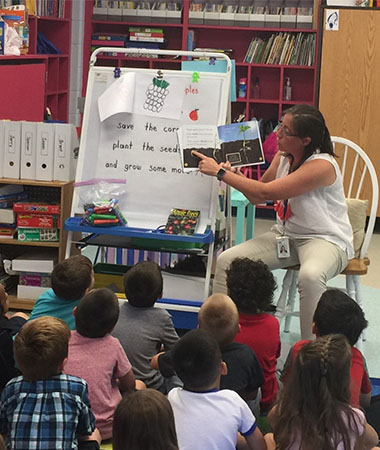 Frackelton, whose career is dedicated to evidence-based reading instruction for all students, hails from upstate New York, and has been residing in Williamsburg since 2010. Now in her 11th year of teaching, she has taught in first and second grade classrooms, as well as with the Reading Recovery program, after which she entered the kindergarten classroom at Clara Byrd Baker Elementary School.
"I wanted the flexibility to teach the way I knew was best based on the research I've read through my coursework at W&M," says Frackelton. "I was excited when a kindergarten position became available at Baker, where I was teaching Reading Recovery. It is an amazing school with great teachers and administrators. I also love being students' and families' first teacher at school. It is a huge responsibility but I hope I am getting my students off to a strong start by building a strong foundation for their future learning."
During her studies at William & Mary, Frackelton says she found herself digging more deeply into material about teaching students with dyslexia.
"If more students receive appropriate instruction early, we can prevent long-term problems with word reading. I am excited to learn more about the Orton-Gillingham approach and apply it to my work with students," she says. In addition to anticipating the work she will do through the Quinn Scholarship, Frackelton reports that she is graduating in summer 2019 from the Literacy Leadership Program, which positions her to become a school's reading specialist.
"The knowledge that I gain through the Quinn Scholarship undoubtedly will affect my work in that role and will allow me to be an advocate for students and families in public schools," she says.
Frackelton points out that teachers have more information than ever before that can empower them to help students reach their literacy goals.
"I am fortunate to work with an amazing literacy team at Clara Byrd Baker and over the last three years we've worked very hard to provide evidence-based practices to all students in our school," she says. "It is an exciting time to be in education and especially in the field of literacy. We now have information from cognitive science and functioning MRIs that we can use to inform our instruction and work with students."
Frackelton isn't resting on her laurels, however. She and her colleagues intend to share their knowledge broadly.
"This summer, in collaboration with my colleagues, we hope to offer one-day mini literacy conferences. We plan to share research and evidence-based practices that we've used in our classrooms. We are excited to shared what we've learned and found success with.  I hope to share what I've learned through the Quinn Scholarship as well," she says.
Increasing professional awareness of diagnosing and responding to dyslexia is critical, says Ramer. Research shows that dyslexia affects 5-8 percent of learners, which translates into approximately 2-3 children in every classroom of 35.  
"In fact, the state of Virginia recently passed legislation requiring that all teachers seeking new or renewed teaching licenses receive training in how to identify and teach students with dyslexia," she says. "It's exciting to see more current and future teachers gaining skills in working with these students. We're so grateful for the Quinn Scholarship, which allows W&M students to lead in this area."
Given the importance of better understanding dyslexia, the School of Education and the
School University Research Network (SURN)
will offer a Structured Literacy conference for practicing and pre-service teachers, administrators, and families in October, 2019. In addition, the School of Education has partnered with Riverside and plans to offer a course in the summer of 2020 on the Orton-Gillingham approach. This course will foreground demonstrated methods from the Riverside School, while integrating expertise from scholars across William & Mary. By integrating information beyond education, to include psychology, neuroscience, law, and linguistics, this multidisciplinary course will serve advocates and teachers of dyslexia well.