Helping young people with diverse needs find their next move
In Virginia, the unemployment rate for young adults with diverse needs is around 70%. 1 in 4 adults with a disability is living at or below the poverty level. Elizabeth Redford Howley M.Ed. '10 is working to change all that.
The
Next Move Program
, a non-profit she co-founded and directs, partners with businesses in Richmond, VA, to create guided internship experiences for young adults with disabilities.
"Through education and job training, we empower these individuals to achieve their goals," said Howley. "80% of our graduates have gained employment or acceptance to post-secondary education."
Her path to non-profit work began with a serendipitous meeting, but grew from a passion for helping individuals with special needs and a degree from William & Mary that uniquely suited her for the work.
From classroom to non-profit
After graduating with her
master's degree in special education
in 2010, Howley jumped into teaching in central Virginia, first in a 5th grade self-contained classroom and later in collaborative classrooms for 6th and 8th graders.
"I loved my students," she said. "But working across several grade levels of content and with students with a large variety of labels was challenging."
In 2013, she met the director of education for a large biotech company that was looking to start an internship program to train and employ adults with disabilities. She was hired soon after as a program coordinator, running the internship program and providing case management services for employees hired through the program.
The interns performed work that had previously been done by temporary workers, which had resulted in an expensive, high turnover rate and frequent errors. After the interns began work, explained Howley, not only were these issues eliminated, but there was an unexpected positive impact on workplace culture.
"Our interns were motivated and always smiling, and it inspired the best work from fellow employees" she said. "The relationships that employees form with our students are transformative, opening minds and hearts to what individuals with disabilities are capable of in our community."
And while the benefits for the company were significant, the effect on interns was life-changing. In addition to the internship experience, Howley developed a curriculum which offered interns a deeper understanding of concepts required for acquiring and maintaining employment. Topics include safety training, goal setting, body language, appropriate workplace dress and conversation, resume writing, and interviewing.
"Our interns make tremendous gains, as they are learning concepts in the most authentic setting by training and learning in an actual business among working professionals," said Howley.
Expanding the organization's reach
In 2015, the biotech company was sold and its operations were relocated to Texas. Howley relaunched the internship program as an independent nonprofit and christened it The Next Move Program. The organization now has the flexibility to partner with a wide variety of businesses, including Quirk Hotel, Ledbury, Central Virginia Legal Aid Society, the Renaissance, the YMCA of Greater Richmond, the University of Richmond, and Wells Fargo.

Howley points to her studies at William & Mary for preparing her for success in this field. Not only did she learn strategies, such as positive behavioral supports and visual schedules, that she uses daily in her work, but she got a thorough grounding in the field of transition, an area where few other graduate programs focus.

"Transition truly is the next frontier in special education and within the disability community," said Howley. "My coursework at William & Mary propelled me toward this subset of the field."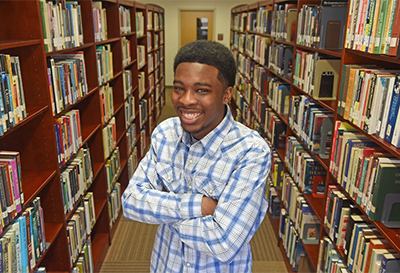 Justin Feaster, now 23, became involved with Next Move the summer after he graduated from high school. The son of a local pastor, "Justin was terrified to leave school because he did not know what his future would hold," said Howley.

Feaster excelled as an intern and was hired by the company where he interned. He earned admission to a competitive vocational program at J. Sargent Reynolds Community College, and is now a graduate. He continues to stay involved with Next Move by serving on the Board of Directors.

"Justin and his family credit our program with fully preparing him for both employment and continuing education," said Howley.
#capABLE
Feaster is one 19 individuals with diverse needs that Next Move featured in a social media campaign this spring to generate conversation about disability outcomes in the Richmond community.
Howley partnered with six professional photographers to capture portraits of these individuals — each at a different location in the city tied to their unique story.
"The models that were selected have remarkable and varied stories," said Howley. "They are business owners, advocates, athletes, authors, volunteers and artists. What they have in common is their engagement in the disability community."
The photographs are now on display at the Virginia Historical Society, as part of a
special exhibition
called Story of Virginia, through September 4, 2017.
The road forward
In the early days of Next Move, the biggest challenge was finding businesses willing to host interns and programming. Now, said Howley, they've grown to a point that businesses are reaching out to them with interest in partnering.
The next hurdle is finding the funding to sustain and widen the impact of the organization's work. They currently select six interns per 3-month session, but Howley aims to run multiple concurrent sessions, which will allow them to serve more individuals with diverse needs.
She recently launched a pilot partnership with a local baker and GrowRVA, which runs two farmer's markets in the Richmond area. The program provides baking classes to a group of current and former Next Move students, as well as the opportunity to sell their baked goods at the farmer's market.
In April, Howley received the ChamberRVA HYPE (Helping Young Professionals Engage) program's
Change Agent Award
. Every year, the award recognizes a young professional in the Richmond area who "challenges the status quo and isn't afraid to start difficult conversations that address a need or opportunity."
Howley believes that conversations about the abilities and outcomes of people with diverse needs are crucial — as are the work and educational experiences they need to successfully transition out of high school into the working world.
The organization's vision is one in which "all young adults are prepared for competitive employment." For Howley, it's a passion that is not only transforming the lives of the young people in the program, but also changing perceptions in the wider community about the contributions of people with diverse needs.