Engineering a better STEM classroom
In a classroom in Prince George's County, Maryland, 42 middle-school teachers recently worked through a unique design challenge in small groups: build a shelter that could accommodate six adults using only short wooden dowels and rubber bands—in just 20 minutes. They were assisted by seven professional engineers from the local area, drawn from a diverse range of industries including the military, health care and telecommunications.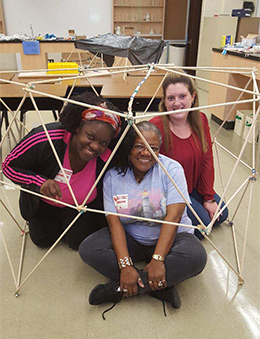 Prior to the challenge, teachers and engineers engaged in rich conversations about how middle school students perceive the idea of shelter and the social inequities related to housing in their community. The dowel-rod shelter challenge was developed to incorporate math, science, and engineering concepts while also exploring real-world problems related to housing and social justice.
Together, these teachers and engineers are restructuring the traditional STEM curriculum with simple engineering design challenges and lessons that engage students around issues relevant to their own lives and communities.
The design session was the culmination of a three-day professional development workshop for E-communities, a research project funded by the National Science Foundation and led by Meredith Kier, assistant professor of science education at W&M; Deena Khalil, assistant professor of mathematics education at Howard University; and Paige Teamey, engineering educator and curriculum developer. The project, now in its third year, aims to inspire the next generation of engineers, scientists and mathematicians by providing a model where students, teachers and professional engineers come together in a community of practice that uses STEM to solve challenges that are contextualized in students' lived experiences and interests.
In the first year of the project, Kier, Khalil and Teamey focused on building participating teachers' ability to tinker and engineer, teaching them how to use engineering tools and create their own designs to solve problems. Teachers took an online course and participated in monthly conference calls, in addition to the yearly professional development workshop.
This year, the number of participating teachers has doubled—growth fueled by word of mouth about the project and the addition of a postdoctoral fellow at Howard to help manage the project. 
Noël Williams, a Ph.D. student in the Curriculum Leadership program at William & Mary, has been closely involved with the project since its inception. "It's really exciting to see the growth of the second-year teachers," she said. "They share that the project has humanized their teaching, and many have mentioned that they feel as though connecting with the students made them better teachers because they had a deeper understanding of their students and their lives outside of school."
Kier and the rest of the team are focusing now on supporting teachers as they implement design thinking and engineering challenges into their math and science lesson plans. 
The greatest challenge for teachers, she says, is finding ways to meaningfully connect the story of a local engineer to their students' lived experiences and create a challenge that can teach a standard. "It requires teachers to know more than just how to teach the isolated facts, definitions and formulas found in science standards but to also apply them to life and peoples' stories."
She notes, though, that as the project progresses, it's becoming more sustainable. For instance, teachers are becoming aware of inexpensive, readily available and recyclable materials they can use to design. "They are seeing that you don't necessarily need high-tech kits — you can engineer with simple things like dialysis tubing and syringes."
For Kier, it's gratifying to see the enthusiasm from teachers who are participating in the project. "They are seeing their students become more engaged in their classes, and they feel empowered and energized to make their teaching more relevant to their students."