Educational policy course takes students to Washington, D.C.
The best way to learn about policy is to experience the process in action.  Two recent course projects gave the doctoral students in EPPL 601 Educational Policy: Development & Analysis an opportunity to do just that. Students traveled to Washington, D.C., the central hub of the policy process, to meet with policy leaders and discuss critical education policy issues. They also had the chance to engage the public on current policy issues by presenting to an audience of current and prospective William & Mary students and their families preceding the School of Education's open house in late October.
EPPL 601 Goes to Washington
Students in the course found that there is much power in having access to influential policy actors — to be in the same room and to be able to discuss critical issues that have a direct, real-time impact on education.  Courtesy of the efforts of Pamela Eddy, professor and chair of the Educational Policy, Planning and Leadership department, students had direct access to policy actors during this learning experience. 
The day began at the William & Mary D.C. Center, on Massachusetts Avenue, in the heart of DuPont Circle.  Students toured the facilities and met with the following policy leaders:
Jonathan Gagliardi, associate director of the Center for Policy Research and Strategy, and Zaina Okolo, a doctoral student and fellow at the American Council on Education
David Baime, senior vice president, Government Relations and Policy Analysis at the American Association of Community Colleges
Marie O'Hara, associate director of state policy and implementation at Achieve.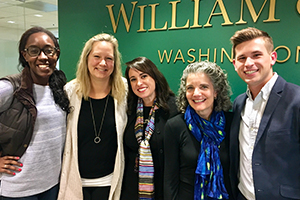 Students discussed current education policy issues with the policy association actors, including the most critical issues on each association's respective policy agenda, as well as insights into influencing the policy process.
The students were treated to a working lunch discussion with William & Mary School of Education alumni turned policy actors, Cristin Toutsi Grigos M.Ed. '08, director of public policy and statewide programs at the Association of Governing Boards of Universities and Colleges, and Steven Lovern '13, M.Ed. '17, senior account executive at Simpson Scarborough, a higher education consulting firm.  Cristin and Steven provided their perspectives of their respective policy organizations and spoke about their transition from William & Mary to the policy field.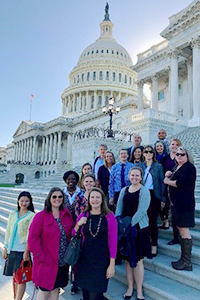 The day closed with a trip to Capitol Hill.  Eddy and the students had the opportunity to meet directly with representatives of several members of Congress, including legislative aides and policy advisors to Senator Chuck Schumer, Senator Tim Kaine, and Congressman Bobby Scott.  Each presented the inside view of policy in action on Capitol Hill.  They shared sources of research that inform policy development and analysis, concerns about the current policy and political climate, and a picture of a day in their respective policy lives.  Tracey Schneider, a second year Ph.D. student in the K-12 General Administration program, offered, "I was struck by how each legislative representative underscored the value that members of Congress place on communications from their constituents, noting that citizens really do have a voice in policy and should be encouraged to use it."
Not only did Eddy and the students have the unique learning experience of immersing themselves in the policy process, they were able to discuss the experience in real-time via Twitter.  Throughout the day students tweeted, sharing their experience and their professional insights using #WM601.
At the end of the day, the group was tired, but grateful for having had the chance to see the policy process up close. Eddy noted, "It is hard to explain to the students just how much they will get out of a trip that typically starts with a 4 am drive to the train station, a full day of meetings and walking on the Hill, all followed by a train ride and drive home at 8 pm.  Yet, time and time again, it is this policy trip that is referenced as a highpoint of their program.  The effort is worth the opportunity to experience such authentic learning."
Presenting current trends in policy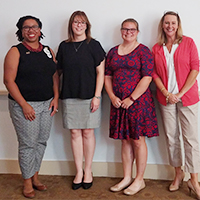 Students in the EPPL 601 course are not just learning how to engage in the policy process, they are learning how to engage others in the policy process.  In advance of the William & Mary School of Education prospective student open house, students presented Current Trends in Educational Policy, a presentation of relevant educational policy issues.  Topics crossed disciplines between business, law, and education and spanned all educational levels from preK-12 through higher education. 
Samantha Freeburn, 3rd year law student, presented Student Conduct Policies: Alcohol and Medical Amnesty
Sarah Hylton, 2nd year Ph.D. student in Curriculum Leadership, and Tracey Schneider, 2nd year Ph.D. student in K-12 General Administration, presented Profile of a Virginia Graduate: A Policy for Developing "Life Ready" Students
Asia Randolph, 2nd year Ph.D. student in Higher Education, presented TRIO Program Support for Low-Income/First-Generation Students
Erin Wojtkun, 3rd year in the Joint Ed.D. in Higher Education and MBA program, presented Transgender Policy in the NCAA.
The students enjoyed the challenge of presenting policies to the public in an understandable and meaningful way as well as the process of communicating and engaging in critical, current policy issues.
"I truly enjoyed speaking with others about why TRIO works and the need to be active in the policy process," said Randolph. "However, the most memorable part of my presentation was having the support of my colleagues. I have developed close relationships within the School of Education and we genuinely support one another. There was no better surprise than to have friends show up to cheer me on during my presentation."