Awards Ceremony initiates seven new awards
"Thank you for believing in the School of Education," Dean McLaughlin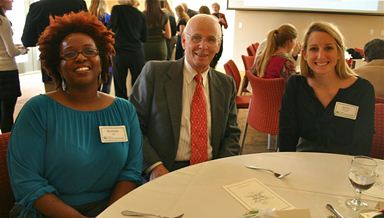 At the School of Education Awards Ceremony held November 30, forty-four students were honored with academic awards.  Seven of these awards were newly established scholarships, recognizing academic achievements, leadership and service.  Donors and students filled the Matoaka Woods Room to celebrate this year's recipients. 
"The benefactors of these new scholarship funds may surprise you," said Dean Virginia McLaughlin. "Many of our current scholarships were established by undergraduate and graduate alumni of the School of Education who seem like the most likely source of our supporters. These new scholarships were established by an Emeritus Faculty member of the School of Education; a current faculty member of the SOE; the family of a recent graduate; a lifelong educator whose mother was a W&M alumna; a community leader and his wife who was a teacher for more than 30 years; and family and friends of an alumna who worked in the Center for Gifted Education until her untimely passing."
Today the School of Education has 38 privately funded scholarships that are providing nearly $150,000 in funding to students for this academic year. Many of these scholarships are endowed and will be awarded in perpetuity. Of the $7.5 million endowment supporting the School of Education, more than half -- $4.1M—is designated for undergraduate and graduate student aid. The remaining endowment funds advance opportunities for faculty and program support. In addition to our endowed scholarships, we also have a number of annual scholarships that are funded each year by donors and awarded based on the criteria established by the benefactors.
"We are grateful for the addition of these new funds that will support our outstanding students. Thank you for believing in the School of Education and for making an investment that will impact our students of today and of the future," said Dean Virginia McLaughlin.
New Scholarships and Awards
Dawn Benson Memorial Scholarship
Emily Joyce Davis Scholarship
Educational Leadership International Student Scholarship
S. Stuart Flanagan Family Scholarship
S. Stuart Flanagan Family Graduate Fellowship
Hershberger Memorial Scholarship
Jennings Family Scholarship