Spanish text and e-text published
New Spanish program weaves language and culture together in real-world context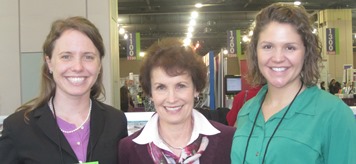 Janet Dannemiller-Parker, adjunct instructor of modern and classical language education, in collaboration with the College of William & Mary School of Education graduates, Catherine Schwenkler, '96, M.A.Ed. '09, and Megan Packett Cory, '07 published Tejidos (Tapestries), a student-centered high school Spanish program, in July, 2013.
Parker was approached by Wayside Publishing to write a pre-AP/IB Spanish program that would prepare students for the new Advanced Placement Spanish Language & Culture Exam (spring 2014) and the International Baccalaureate Spanish Language B Exam.
The co-authors designed and created a student-centered communicative program within a cultural context to engage learners to interact with thematic authentic materials that include videos, audio, articles, blogs, interviews, and literature written for native Spanish-speakers.  The text and e-book are supported by a comprehensive teacher manual and web-based learning site.
The authors were guided by backward design and research-based best practices in language learning. The innovative communicative program is framed by essential questions and includes authentic performance tasks and assessments that reflect real world contexts. The learning program integrates technology, scaffolding and differentiated activities for diverse learning styles.
Tejidos – Comunicación auténtica en un contexto cultural
Copyright: © 2013
Author(s): Janet Parker, Catherine Schwenkler & Megan Cory
Formats: Softcover, Hardcover, eText
Pages: 350 pages
Targeting intermediate-level students in pre-AP and pre-IB level courses, Tejidos: Comunicación auténtica en un contexto cultural weaves language and culture together in real-world context.