Earl Granger '92, M.Ed. '98
Receives Algernon Sydney Sullivan Award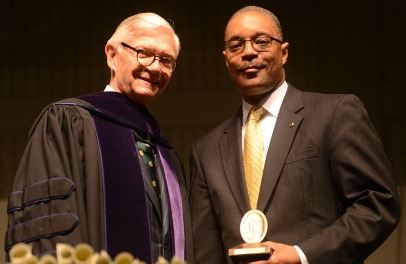 The Algernon Sydney Sullivan (non-student) award was presented at Commencement to Associate Vice President for Development Earl T. Granger III, BA 1992, MED 1998.
The Award
To perpetuate the memory of Algernon Sydney Sullivan, the New York Southern Society has arranged to make awards to one man and one woman in each W&M graduating class, and to honor one other person who has a close relationship with the College. In the selection of recipients, nothing is considered except characteristics of heart, mind and helpfulness to others.  This year, the student winners were Bailey Clair Rose and Kevin Norman Barrett. Earl T. Granger III, associate vice president for university development, was the non-student recipient.
Earl T. Granger III, has inspired countless students, parents, alumni and friends of William & Mary since he matriculated as a freshman in 1988.
As an undergraduate, Granger, who was a member of the Black Students Organization, served as a president's aide and as an admission tour guide, a position that allowed him to extol the virtues of the William & Mary experience to prospective students and their families. He worked as assistant dean for admission and earned a master's in education administration from the School of Education in 1998. He held positions at Tufts University and at the University of North Carolina-Chapel Hill's Kenan-Flagler Business School, where he was associate director of M.B.A. admissions and student services.
He returned to his alma mater in 2006 as associate provost for enrollment management. Under his guidance of the admission and financial aid programs, the College attracted record numbers of applications for undergraduate admission and the enrollment of students from under-represented backgrounds increased from 20 percent to 25 percent of the student body. He also worked to foster a culture of engagement to serve incoming students and their families.
In 2010, Granger was appointed associate vice president for University Development, helping to lead fundraising efforts and, as he said at the time, "to influence how others view the College and choose to support the initiatives that secure its future."
In 2012, he was tapped to lead the program as the interim vice president. Granger led ably, engaging alumni and donors, forging partnerships on campus and energizing development staff to seek support for the College. His efforts have come during a critical time for garnering private support for William & Mary, and the College is on pace for an exceedingly successful year in fundraising.
He "is one of the most helpful people you can find on campus," according to one nominator, and "embodies the essence of the Sullivan Award."
Sunday was not the first time Granger received the Algernon Sydney Sullivan Award. He was a student recipient of the award at his undergraduate commencement 21 years ago.