W&M faculty launch new open-access journal devoted to the psychology of giftedness
For years, research in gifted education has centered on achievement and educational practice but lacked in the psychology of giftedness. W&M faculty members Tracy Cross and Jennifer Riedl Cross are founding a new journal to make research on the psychology and well-being of individuals with gifts and talents accessible to academics, parents, professional educators and counselors.
Tracy L. Cross, the Jody and Layton Smith Professor of Gifted Education and executive director of the W&M Center for Gifted Education, was recently recruited by the organization Supporting the Emotional Needs of the Gifted(SENG) to serve as the founding editor of a new journal on the psychology of gifted individuals. Jennifer Riedl Cross, research associate professor and director of research for the Center for Gifted Education, will serve as co-editor. For more than 40 years, SENG has been an important advocacy group for gifted children and their families. They have trained tens of thousands of parents internationally to understand giftedness, gifted education and how to advocate for their children. SENG has offered annual and regional conferences for decades, including in 2015, when they brought more than 1,000 attendees to a conference at the Williamsburg Lodge in Colonial Williamsburg.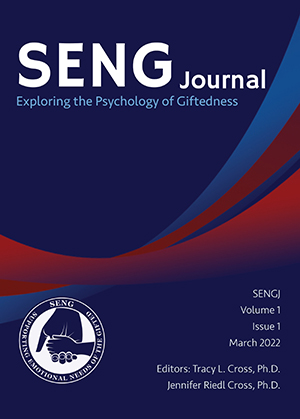 The new journal, SENG Journal: Exploring the Psychology of Giftedness (SENGJ), will specialize in publishing original research on the psychology of gifted individuals. The aim of SENGJ is to promote the social, emotional and psychological well-being of these individuals. Research that focuses on how these individuals think, feel and interact with others will enhance understanding of this exceptional population and contribute to the support and development of their talents. SENGJ will fill a gap in the field of gifted education, which presently has no journals that focus exclusively on psychological topics.
"The psychology of these individuals has been an interest of mine since growing up surrounded by accomplished artists," shares Tracy Cross. "I noticed they had vastly different personalities and always seemed to have a psychological interpretation of their artwork."
While in graduate school, Cross noticed the gap in the literature related to the psychological issues and well-being of individuals with gifts and talents.
"SENG is an organization that has been around for decades, helping families, in particular, support their gifted children's emotional needs," he adds. "It seemed like a natural partner for a journal like this. I also thought it would help SENG by adding a rigorous, empirical journal to complement its many resources."
W&M Libraries has long been committed to eliminating barriers to information. Their ScholarWorks initiative makes information freely accessible to readers worldwide. SENGJ will be an online journal produced through ScholarWorks, which offers a management system for submissions, an open-access platform and search optimization. Unlike some open-access platforms, Scholarworks is free to authors, who are not charged for the publication of their work.
"There are no open access journals in our field and the traditional model would have been an easy route to take" shares Jennifer Riedl Cross. "William & Mary Libraries have made open access to information a high priority and we are so pleased they have made it possible for us to publish SENGJ through the ScholarWorks collection."
SENGJ will be published online twice a year, with empirical articles, reviews of research, theoretical explorations and interviews with thought leaders and experts about the psychology of gifted individuals of all ages. The partnership among SENG, the W&M Center for Gifted Education, and W&M Libraries will lead to free access worldwide to research that can improve the lives of gifted and high ability students.
"I hope it will be read by a wide range of people, starting with academics, but also parents who want an in-depth look at research that may be helpful to them, professional educators and counselors who have an interest in the psychology of giftedness" explains Tracy Cross.
Although SENGJ will be a scholarly journal, the editors are committed to making it accessible to a broad range of readers.
"One of our regular features will be interviews we have conducted with various experts and professionals in the field who have insights that only come from years of experience," says Tracy Cross. "We are excited to share this kind of information that can help support the well-being of gifted individuals."