Public Policy Major Benjamin Simon Presents Research on Dual-Language Teachers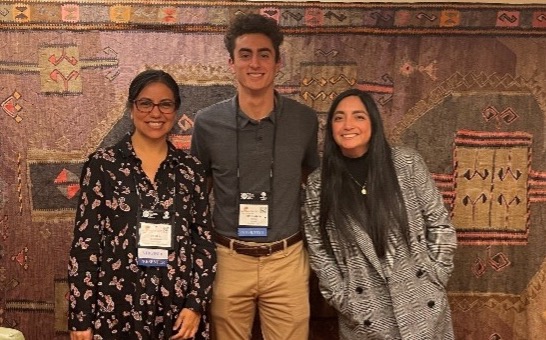 During the first week of November 2022, I traveled to Santa Fe, NM to present my original research on teacher agency in dual language classrooms at the La Cosecha Dual Language Conference. La Cosecha is regarded as the leading dual language conference in the country, with accomplished educators and scholars convening to share current research, discussion, theory, and practice on the development and implementation of dual language education programs. 
I traveled with Katherine Barko-Alva, Ph.D. of the William & Mary School of Education. For about three years, Dr. Barko-Alva and I have been working with each other on her bilingual education research. During my freshman year, I applied for and earned a research assistant position with Dr. Barko-Alva. I spent the following months transcribing and translating audio interviews and classroom sessions from a third-grade dual language classroom. Through her incredible generosity, I have been fortunate enough to continue working with Dr. Barko-Alva as a co-researcher and co-author. In our time working together, I have contributed to the data collection, coding, qualitative data analysis, and writing processes. We have one original manuscript published in EBSCO's Pathways to Research, and we intend to submit our second co-authored article in January of 2023. 
At the conference, Dr. Barko-Alva and I delivered two presentations to over 200 attendees. During each 80-minute presentation, we engaged the audience with our findings and engaged in a dialogue with educators and scholars from all over the country. I felt honored to be able to exchange ideas with so many caring and dedicated teachers who shared my passion for designing and implementing effective bilingual education programs. 
When I was not actively presenting, I was able to attend presentations from leading scholars on a diverse array of ideas in the field of dual language education. Additionally, I had ample opportunity to network with teachers and scholars, whether stopping by to introduce myself after a presentation or going out to dinner with Dr. Barko-Alva and her colleagues. Outside of the conference itself, I was grateful to travel to Santa Fe for the first time and experience a culture that I had never experienced. I was even able to connect with my extended family who lives in Santa Fe.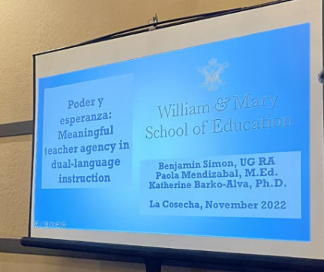 I am very proud to have been able to offer my expertise among some of the most accomplished, most revered names in the field of bilingual education. Of the 200+ presenters and 3,000+ attendees at La Cosecha, I was the only undergraduate student — a fact of which I am immensely proud and grateful. 
I am very thankful for the Public Policy program at William & Mary for recognizing the hard work I dedicated in order to gain acceptance into this conference and aiding in funding my trip to Santa Fe. When my application to La Cosecha was accepted in June of 2022, I had no idea how impactful an experience awaited me — in fact, I was not even sure if I would be able to attend. I reached out to the Public Policy program to seek funding, and they were willing and able to support me in my pursuit of an unforgettable undergraduate research experience. Thank you — I will never forget my experience at La Cosecha.