Mihyeon Kim wins the National Association for Gifted Children's 2020 Community Service Award
As clinical associate professor and director of pre-collegiate learner programs at the Center for Gifted Education, Mihyeon Kim's influence goes far beyond the instruction she gives in the School of Education's classrooms. Each year, her work impacts hundreds of K-12 students and their families within Williamsburg, throughout Virginia and internationally. Her work has made her this year's recipient of the Community Service Award by the National Association for Gifted Children.
In addition to being a professor and researcher of gifted education, she is responsible for developing and implementing the Center for Gifted Education's renowned enrichment programs for high-ability K-12 students.
"Working with diverse students and parents directly is both a rewarding and beneficial experience for me and I have learned a lot," she says. "I never would have imagined receiving such an award for what I do."
Over her more than 10 years at the center, she has developed many enrichment programs for K-12 students, but Camp Launch has been her passion project since the first day she became a part of the Center's mission to motivate gifted students to pursue higher education regardless of their backgrounds. 
Camp Launch is a residential summer program that hosts high-ability middle and high school students from low-income families. Students immerse themselves in STEM subjects including robotics, archaeology and debate; attend career planning workshops; and become a part of a peer network with other students with like-minded interests.
Kim helped Tracy Cross, the center's executive director, develop the program in 2012. Over the past nine years, the program has become an institution in the Tidewater region and a model for similar programs across the country. Since its beginnings, Camp Launch has welcomed more than 400 middle-school students to William & Mary and will grow to double its impact in the coming years with a new grant received this year from the Petters Family Foundation.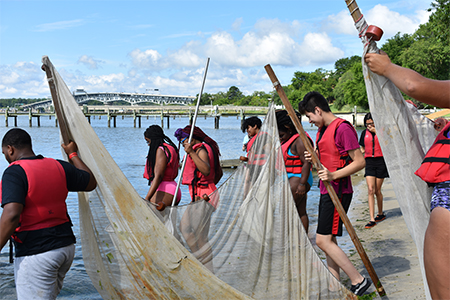 "I am constantly in awe of the work of Dr. Mihyeon Kim," Tracy Cross says about his colleague and former student. "Her responsibility is so large that I sometimes tease that she is the third largest employment agency in Virginia."
Part of the magic of Camp Launch comes from students having the experience of living on a college campus, which makes them feel like they belong at college when they graduate high school, Kim says.
"Camp Launch is the most rewarding program for me because I can see the seeds we are planting for their future. I can't make a change for the entire world, but I feel that I contribute to the efforts toward providing equal educational opportunities for all students, regardless of their background."
Kim first became interested in gifted education when she became the mother of a gifted child. Having earned a Ph.D. in library science, she pursued her second doctoral degree at William & Mary, where she worked for the Center for Gifted Education as a program assistant for K-12 enrichment programs. Her professional dream was to create university-based K-12 programs for gifted students, and it became a reality when she became the director of Precollegiate Learner Programs at the Center for Gifted Education in 2009.
In this role, she has created a host of programs. In addition to Camp Launch, Kim developed Super Saturdays, a full day of academic programs for K-8 students. Other precollegiate learner programs under her direction include summer enrichment programs where K-8 students learn more about medicine, chemistry, and other STEM subjects, and the annual Focusing on the Future winter event for gifted students and their parents to learn about various occupations, academic planning, and college admissions. In partnership with the Virginia Institute of Marine Science and Jefferson Lab, Kim directs a summer residential governor's school for high school juniors and seniors from across the state.
Kim maintains strong connections with educators in South Korea. She has brought high-achieving middle school students from South Korea to W&M's campus for week-long science courses using a problem-based learning approach and since 2018, hundreds of Korean educators have come to Williamsburg for professional development at the center. 
The Center for Gifted Education serves students from across Virginia, the nation and the world, but Kim wants to expand its programs to have even greater reach.
Receiving this year's Community Service Award motivates her to serve even more students.
"Winning the Community Service Award and having my work recognized by the community and the people I have worked with means a lot to me. I realize that there are so many students in the state of Virginia, alone, who need extra help."
Through her work, Kim has realized the tangible effect the enrichment programs she has developed has had on students, especially those from communities historically underserved by universities. 
From Kim's perspective, the environment a student is immersed in is just as important as the content they learn. Continuous educational opportunities and strong role models are essential to success in academics and life after graduation. 
"The most recent tragic events showing inequities in our nation made me reflect more on the goal of Camp Launch: making a difference in the lives of high-ability students who may not have been given out-of-school educational opportunities. In times of great crisis, I hope we all commit ourselves toward a more humane and equal community, and I hope that we can empower all of our students through education, to build our future together."