Tracy L. Cross Journeys to Ireland to Collaborate with the Centre for Talented Youth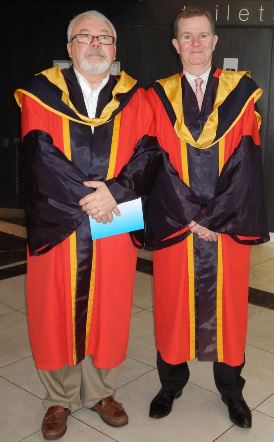 Tracy L. Cross, Executive Director of the Center for Gifted Education (CFGE) at The College of William and Mary, donned Dublin City University regalia during a visit to Dublin in December 2013. As a visiting professor at the university, Cross was invited to participate in a
ceremony honoring U.S. Senator George Mitchell
, who was conferred with an Honorary Doctorate of Philosophy in recognition of his "outstanding service in the cause of peace around the world." Mitchell was the United States Special Envoy for Northern Ireland and served as chair of the Northern Ireland Peace Talks, which resulted in the 1998 Good Friday Agreement.
Dr. Tracy L. Cross, who launched the
Centre for Gifted Research at Dublin City University
, serves on the Advisory Board of Dublin City University's Centre for Talented Youth–Ireland (CTY-I). He and CFGE Director of Research, Dr. Jennifer Riedl Cross, attended the CTY-I Board meeting to report on joint research projects and to speak with parents participating in CTY-I programs.