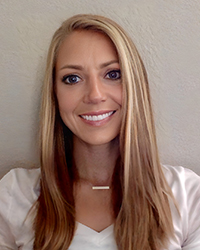 Jaimie Stickl Haugen
Clinical Assistant Professor
Phone: (757) 221-2053
Email: [[jehaugen]]
Areas of Expertise: School Counseling, Student Belonging, Equity in Education, Legal & Ethical Issues in School Counseling, Assessment and Instrument Development

Profile
Dr. Jaimie Stickl Haugen is a clinical assistant professor in the Counselor Education program at William & Mary. She is a licensed Professional School Counselor in New York and Colorado, a Licensed Professional Counselor (Colorado), a National Certified Counselor, and an Approved Clinical Supervisor.
Dr. Stickl Haugen is passionate about bridging the research to practice gap through community-engaged research and intentional research dissemination. Her research interests connect with the common thread of school counselor development as it relates to (a) anti-racism and equity in education, (b) cultural considerations in student belonging, and (c) youth suicide. Dr. Stickl Haugen also focuses on integrating best practices in instrument development to support the creation and refinement of high-quality, culturally responsive assessments and counseling outcome research. She has published in peer-reviewed journals such as Professional School Counselor, Journal of Counseling & Development, Counselor Education and Supervision, and the Counseling Outcome Research and Evaluation.
Dr. Stickl Haugen is actively involved and holds leadership roles in a number of state and national professional counseling organizations including the American School Counselor Association, the Colorado School Counselor Association, and the Association for Assessment and Research in Counseling. She has also served on the editorial board for the Counseling Outcome Research and Evaluation journal and the official journal of the Southern Association for Counselor Education and Supervision.
Education
Ph.D. in Counseling and Counselor Education, The University of North Carolina at Greensboro, 2017
M.A. in School and Community Counseling, Regent University, 2010
B.S. in Elementary Education, Grove City College, 2008
Activities and Honors
Sink Award for Outstanding Co-authored Publication in Journal of School-Based Counseling Policy and Evaluation (2021)
Post-Secondary Vice President, Colorado School Counselor Association (2020-Present)
Co-Chair of the Scholarly Grants Committee, Association for Assessment and Research in Counseling (2018-Present)
Ethics Committee Member, American School Counselor Association (2018-Present)
Editorial Board Member, Counseling Outcome Research and Evaluation (2017-Present)
Association for Assessment and Research in Counseling Emerging Leader (2017-2018)
Selected Publications
Stickl Haugen, J., Sutter, C. C., Tinstman Jones, J. L., & Campbell, L.O. (2022). Teachers as youth suicide prevention gatekeepers: An examination of suicide prevention training and exposure to students at risk of suicide. Child & Youth Care Forum. https://doi.org/10.1007/s10566-022-09699-5
Stickl Haugen, J., Bledsoe, K., Burgess, M., & Rutledge, M. L. (2021). Framework of anti-racist school counseling competencies: A Delphi study. Journal of Counseling & Development. https://doi.org/10.1002/jcad.12422
Stickl Haugen, J., Waalkes, P., & Neverve, C. (2021). 'Seeing the other side': Empowering the voices of Latinx youth. Journal of Child and Adolescent Counseling, 7(2), 100-117. https://doi.org/10.1080/23727810.2021.1893577
Stickl Haugen, J., Waalkes, P., & Lambie, G. W. (2021). A national survey of school counselors' experiences with student death by suicide. Professional School Counseling, 25(1), 1-11. https://doi.org/10.1177/2156759X21993804
Lambie, G. W., & Stickl Haugen, J. (2021). The Assessment of School Counseling Competencies as a tool to support school counseling students, supervisors, and training programs. Professional School Counseling, 25, 1-10. https://doi.org/10.1177/2156759X20981050 
Stickl Haugen, J., Sutter, C., Tinstman Jones, J. , & Campbell, L. O. (2020). The Teacher Expectations and Values for Suicide Prevention Scale: Confirmatory factor analysis and validation. Crisis: The Journal of Crisis Intervention and Suicide Prevention. https://doi.org/10.1027/0227-5910/a000706 
Stickl Haugen, J., & Chouinard, J. (2019). Transparent, translucent, opaque: Exploring the dimensions of power in culturally responsive evaluation contexts. American Journal of Evaluation, 40, 376-394. https://doi.org/10.1177/1098214018796342
Stickl Haugen, J., Wester, K., & Wachter Morris, C. (2019). The need to belong: An exploration of belonging among urban middle school students. The Journal of Child and Adolescent Counseling. https://doi.org/10.1080/23727810.2018.1556988