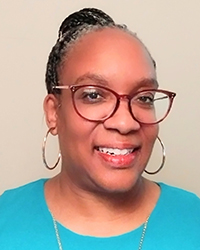 Chandra Floyd
Clinical Assistant Professor & Director of Curriculum, Center for Gifted Education
Office: 3018
Phone: (757) 221-3124
Email: [[cbfloyd]]
Website: {{https://education.wm.edu/centers/cfge/, Center for Gifted Education}}
Areas of Expertise: Gifted Education, Professional Development, P12 Administration, Underrepresented Populations in Gifted Education, Advocacy

Profile
Chandra Floyd is a Clinical Assistant Professor and the Director of Curriculum at the Center for Gifted Education. With teaching and administrative experience at the P12 and higher education levels, Dr. Floyd's experience spans over 25 years. Her research centers on equity in gifted education. Under this umbrella, she examines gifted education's relationships to the broader educational enterprise; leadership that advances equitable access to gifted education; and teacher preparation that results in not only instructional excellence but also robust advocacy for individuals, marginalized groups, and the field at large.
Education
Ph.D. in Educational Policy, Planning, & Leadership, concentration in Gifted Education Administration, William & Mary
Ed.S. in School Administration, Cambridge College
M.Ed. in Education, Graceland University
B.S. in English, East Carolina University
Activities and Honors
Research and Evaluation Network Dissertation Award, 2nd Place, National Association for Gifted Children (2020)
Christopher Wren Association Life-Long Learning Scholarship, William & Mary (2018)
Selected Publications
Floyd, C. B. (2022) Organizational barriers to equity: Stories from Virginia gifted education coordinators. Roeper Review, 44(4), 212-230. doi:10.1080/02783193.2022.2115177
Floyd, C. B. (2019). A book review of Kettler, T., Lamb, K., & Mullet, D. Developing Creativity in the Classroom: Learning and Innovation for 21st-Century Schools. Roeper Review, 41(2), 147-148.
Funk, J., Floyd, C., Gilson, C., Kapustka, K., Yew, F. (2016). Research Roundup for Parents. Parenting for High Potential, 6(1), 18-19.