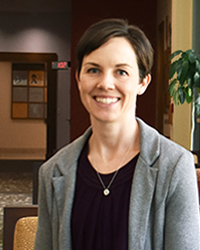 Amanda Simpfenderfer
Assistant Professor
Office: 3082
Phone: (757) 221-2060
Email: [[ajsimpfenderfe]]
Areas of Expertise: Higher Education, Intergenerational Mobility, Quantitative Research Methods

Profile
Dr. Simpfenderfer is a critical, quantitative scholar focused on interrogating how educational systems function to reinforce and exacerbate inequality. Drawing on her experience in student and academic affairs within higher education, she examines access, success, and pathways out of higher education from an equity-based, identity affirming perspective. Her research interest center on three main areas: 1) the relationship between higher education and post-graduate outcomes; 2) interrogating organizational structures within higher education that create barriers to student success; 3) utilizing quantitative methods to advance equity and justice.
   
Prior to joining the faculty at William & Mary, Dr. Simpfenderfer served as the Director of Assessment, Data, and Accreditation for the College of Education and Social Services at the University of Vermont, where she also taught quantitative methods courses in the doctoral program and student affairs courses within the Higher Education program. Additionally, Dr. Simpfenderfer has held roles in academic advising, career advising, and leadership development across a range of higher education institutions.
Education
Ph.D. in Educational Leadership and Policy Studies, University of Vermont, 2022
M.S. in College Student Personnel, Western Illinois University, 2011
B.S. in Business Marketing, University of Nevada, Las Vegas, 2009
Activities and Honors
ASHE/Ascendium Fellow (2022) - Streamlining Key Learner Transitions Research Team
Herman W. Meyers 2022 Excellence in Doctoral Policy Research Award
Selected Publications
Garvey, J. C., Jackson, R., Dolan, C. V., & Simpfenderfer, A. D. The Queer Price of College: Mapping the Financial Landscape for Queer Students. Journal of Student Affairs Research and Practice
Simpfenderfer, A. D. (2022). Reconceptualizing the role of higher education in intergenerational mobility. Literature Reviews in Education and Human Services,1(1), 50-79.
Simpfenderfer, A. D., Robles, J., Drummond, J., Garvey, J. C., Haslam, R. E., Dews, S. D., & Weaver, C. A. (2020). Campus climate perceptions among queer and trans* students living on campus: Using structural equation modeling to explore queer and trans* students' residential experiences. The Review of Higher Education, 44(1), 31-56. https://doi.org/10.1353/rhe.2020.0034 
Simpfenderfer, A. D. (2020) Higher education: Path or barrier to opportunity. Journal of Critical Scholarship on Higher Education and Student Affairs 5(2).
Simpfenderfer, A. D., Haudley, C., & Ballysingh, T. A. (2020) Beyond Access: Indigenizing Programs for Native American Student Success edited by Stephanie J. Waterman, Shelly C. Lowe, and Heather J. Shotton [Editor's review]. Journal of Student Affairs Research and Practice. DOI: 10.1080/19496591.2020.1724548