Daria Kavaliova Lorio '09
Received Dean's Award for Excellence in 2009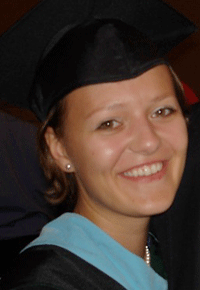 Lisa Pennycuff, M.Ed. '98, Ed.D. '10, Departmental Director, School Board Office, Accountability & Instructional Services, York County School Division has announced that Daria Kavaliova Lorio has been selected to fill the Department of Accountability and Instructional Services (DAIS) Instructional Specialist position.  
Mrs. Lorio has experience as a Special Education Teacher for a self-contained class for students with Autism Spectrum Disorder, general education teacher of an inclusive classroom, and most recently as an Assessment, Compliance, and Intervention Coordinator (ACI) from Tabb Elementary School. Mrs. Lorio will be the Instructional Specialist serving Mount Vernon Elementary School, Grafton Bethel Elementary School, the CSC Class at Grafton Middle School, and Grafton High School.
Mrs. Lorio was the 2009 recipient of the Dean's Award for Excellence - Master's Level and the William and Mary Foundation Scholarship.  She holds a 2009 M.Ed. degree in the Educational Policy, Planning and Leadership K-12 Administration program.