Kristi Wyatt
Class of 2009 - Ph.D. Counselor Education program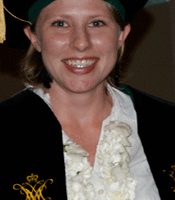 I am a recent graduate of the Counselor Education and Supervision program.  When I was applying for graduate programs, I did a national search to find the program that was the best fit for me and could offer the experiences I wanted and needed. The faculty and students I met when I came to William and Mary were interesting, collegial, and they made me feel comfortable. I was encouraged by the many different research interests and areas of expertise among the faculty and students.
Doctoral students are involved in all levels of the master's training and have opportunities to write and teach with faculty. My mentor and dissertation chair were very supportive and helpful to me in getting through the difficult hurdles of a doctoral program.
This program was rigorous, but rewarding.