Keep Running Successfully
Keep Running Successfully in the Learning Marathon: Evidence-Based Practices Can Make the Difference
By Denyse Doerries, Ph.D., and Lori Korinek, Ph.D.
This year, in order to receive your pay check, you are required to complete a marathon (all 26.1 miles of it). You have a choice of running shoes. Will you choose shoes based simply on your favorite color or those that have a proven record of significantly improving your performance? These high-performance shoes have been designed by expert engineers and tested repeatedly on people like you (probably non-marathon runners). Hopefully, you would choose the shoes that have the greatest possibility of improving your outcomes. In addition to the shoes, you may need specially designed socks to increase your comfort and the likelihood of finishing successfully. Without these supports, you will be doomed to pain and frustration and be more likely to drop out of the marathon.
Whether we want improved outcomes in running or in special education, we need to find and apply interventions that have the greatest likelihood of yielding positive results (Cook, Tankersly, & Landrum, 2009). Students with learning and behavioral difficulties require the most effective teaching techniques to profit from instruction and meet their needs in their race to a diploma. Therefore, educators must be confident that the teaching techniques they employ are the most likely to produce the largest gains for their particular students. A major challenge for teachers of students with disabilities is to discover which practices are the most effective based on research AND match the diverse characteristics of their students.
Legislation in both general education (NCLB, 2001) and special education (IDEA, 2004) requires educators to employ scientifically based practices grounded in rigorous research that meets established quality indicators. However, more high-quality research is needed to determine which practices are "evidence-based." The field of special education is currently developing a systematic process for identifying evidence-based practices (EBPs) for students with disabilities (Cook et al., 2009). At this point, "promising practices" have been determined. These include programs and strategies that were developed based on theory or research but lack sufficient efficacy data to be designated as evidence-based practices (Cook et al., 2009). Nevertheless, these promising practices give educators a much better starting point and "running equipment" for successfully teaching students with disabilities than do strategies backed by little research or theoretical support.
Examples of promising practices include two widely used interventions, repeated readings (for students with learning disabilities) (Chard, Ketterlin-Geller, Baker, Doabler, & Apichatabutra, 2009) and functional behavior assessment (for adolescents with emotional disabilities) (Lane, Kalberg, & Shepcaro, 2009). Both interventions have a strong theoretical base and have produced promising results with some populations. However, to date too few high-quality research studies have documented their effectiveness with these populations (students with learning disabilities and adolescents with emotional disabilities, respectively) for these strategies to be considered "evidence-based."
Where can educators find evidence-based and promising practices to support them in the teaching and learning marathon? Several professional organizations have begun to identify research-based and promising practices for students with disabilities. For example, the Division for Learning Disabilities (DLD) of the Council for Exceptional Children (CEC) provides helpful recommendations. Practices on their list are divided into two groups, labeled either Go For It, designating practices with some research support, or Use Caution practices, for which the research evidence is incomplete. The two practices mentioned earlier, repeated readings and functional behavioral assessment, are listed as Go For It on the DLD list and are considered promising practices (see Table 1).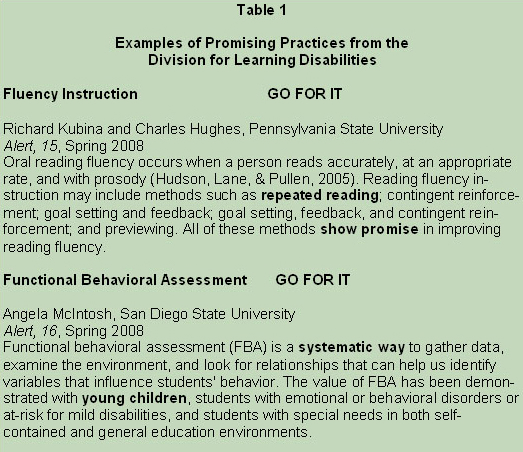 To find more promising practices, click on the Division for Learning Disabilities website at
http://www.dldcec.org/ld_resources/alerts/default.htm.
Additional sites to help educators of students with disabilities stay apprised of the most current evidence-based and promising practices include the following:
When training for your marathon, you will find that certain routines better match your personal characteristics and prove more effective for you than for other runners. Similarly, what works in general education or with some students with disabilities may or may not be effective with other students or groups of students in special education, depending upon the impact of their disabilities. Finding the correct match between instructional practices and students' characteristics and needs is challenging. Because there is no guarantee that evidence-based or promising practices will work with all students every time, teachers must evaluate the effectiveness of their interventions through formative assessments. Educators need to collect and evaluate ongoing progress data in order to inform and adjust their instructional practices and to demonstrate their effectiveness with particular students (click below for a teacher-friendly data-collection article)
http://education.wm.edu/centers/ttac/resources/articles/assessment/teacherfriendly/index.php
Educators can keep informed about EBPs through various forms of professional development, including professional learning communities, coaching, mentoring, workshops, professional conferences, publications, and websites such as those cited above. Collaboration among educators is critical. No one teacher can be expected to be an expert in all areas or to run the race alone. Together, we can successfully reach the finish line.
References
Chard, D. J., Ketterlin-Geller, L. R., Baker, S. K., Doabler, D., & Apichatabutra, D. (2009). Repeated reading interventions for students with learning diablities: Status of the evidence. Exceptional Children, 75(3), 263-280.
Cook, B. T., Tankersley, M., & Landrum, T. J. (2009). Determining evidence-based practices in special education. Exceptional Children, 75(3), 365-383.
Hudson, R. F., Lane, H. B., & Pullen, P. C. (2005). Reading fluency assessment and instruction: What, why, and how? The Reading Teacher, 58, 702-714.
Lane, K. L., Kalberg, J. R., & Shepcaro, J. C. (2009). An examination of the evidence base for function-based interventions for students with emotional and/or behavioral disorders attending middle and high schools. Exceptional Children, 75(3), 321-340.