Creating an Effective Instructional Match: Critical to Moving Students Forward
Creating an Effective Instructional Match: Critical to Moving Students Forward
Mary Murray Stowe, M.Ed.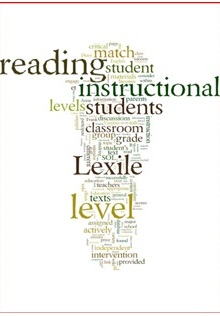 (Citations are hyperlinked to their original documents available on the web.)
Imagine the possibilities!  In the eighth-grade English classroom next door, all students are actively engaged in reading independently in preparation for an upcoming multiple-group discussion. The class is studying the literature describing the plight of children affected by Nazi Germany. You notice though that all books are at different reading levels, but cover a similar topic:  Number the Stars - 670L (3.9)* , the novel - the Diary of Anne Frank - 1080L (8.6), the play - The Diary of Anne Frank, Night - 570L (3.2),  Survivors:  True Stories of Children in the Holocaust - 970L (7.0) and Milkweed - 510L (2.7).  Moving into the sixth-grade history classroom down the hall, where the students are studying the major causes and effects of the American involvement in World War II (USII.6),  you find a variety of texts displayed on student desks at different reading levels.  The students are actively engaged in two group discussions, charting their ideas on a graphic organizer to share when the whole group comes back together. 
Why are students reading different texts?  How can all students actively engage in group discussions when a variety of texts have been read? 
The selected texts, while covering the same topic, are written at various reading levels.  Students are matched to texts at their independent reading levels, allowing them access to reading materials that meet their needs and the lesson's objectives within the general education classroom.  That is, every student receives what he or she needs to actively and successfully participate in class discussions.  Engagement and motivation are essential in successfully addressing the instructional needs of adolescents, and critical to their readiness for college and career (Center for Applied Special Technology [CAST], 2010; Deshler, 2010; Kamil et al., 2008; Smith, 2008; Torgesen et al., 2007).
In Virginia, the State Superintendent of Public Instruction has provided a guide to match students' reading levels with their English Standards of Learning (SOL) Assessment score (Superintendent's Memo #267, October 24, 2008).  The reading levels used are referred to as Lexile levels, and their correlations to SOL test scores by grade level may be found using the following link:
http://www.doe.virginia.gov/testing/scoring/lexile/
Virginia Department of Education (VDOE) and Lexile have developed charts by grade level of SOL scores and their corresponding Lexile level to provide instructional information for parents and teachers. Made available at the close of the school year, this information is invaluable for parents in locating reading material for their child(ren) - major bookstore chains are beginning to allow customers to search titles by Lexile level, making parents' search easier.
For teachers this information is valuable throughout the new school year to ensure appropriate  instructional materials for their students. Teachers can search the Lexile database. (The Lexile website contains a database of literature that has been assigned a Lexile level.  If desired texts have not been assigned a level, the Lexile Analyzer can be used to determine the Lexile level of inserted text.) Lexile levels link students to text at their independent reading levels for core content classes, and to their instructional reading levels for intensive intervention.  This match is critical to mastery of grade-level content or an intense intervention in reading. 
Novels used in the classroom can also be matched to students' reading levels by assessing their current performance with these materials.  To do so, the teacher must accurately assess students' current independent and instructional reading levels and match instructional materials accordingly.  The process can begin by conducting an assessment as described on this wiki page:  Before Reading Teacher Activity:  Use of Lexile Levels.
An appropriate instructional match is a necessary component of effective differentiation for student success.  "The educational demands [and] difficulty of the task and the student's skills must match to ensure high student success rates" (Riley-Tillman, 2010). "Teachers who take into account the potential effects of instructional match ... on instructional outcomes should consider assessing student proficiency in instructional materials prior to assignment of instructional tasks ..." (Daly, Martens, Kilmer, & Massie, 1996, p. 517).  Barnes and Harlacher (2008, p. 419) consider "ensuring an instructional match between student skills, curriculum, and instruction" one of the five clearly defined principles of Response to Intervention."  
The time spent determining independent and instructional reading levels prior to assigned reading tasks will result in greater student engagement and motivation to participate in activities in both general education classrooms and intensive interventions.  Engaged and motivated students are successful students!
                                                  * (Lexile Level/Grade Level)
 References
Barnes, A., & Harlacher, J. (2008).  Clearing the confusion: Response-to-intervention as a set   of principles. Education and Treatment of Children, 31(3), 417-431.
Center for Applied Special Technology (CAST). (2010). UDL guidelines version 1.0.
Retrieved from the National Center on Universal Design for Learning. http://www.udlcenter.org/aboutudl/udlguidelines .
Daly, E., Martens, B., Kilmer, A., & Massie, D. (1996).  The effects of instructional match and content overlap on generalized reading performance. Journal of Behavioral Analysis, 29(4), 507-518.
Deshler, D. (2010, April). Moving the needle for struggling adolescent readers:  All hands on deck! Presentation at the Maryland International Reading Association. Retrieved from http://www.kucrl.org/images/presentations/Maryland_IRA(April_10).pdf
Kamil, M. L., Borman, G. D., Dole, J., Kral, C. C., Salinger, T., & Torgesen, J. (2008).  Improving adolescent literacy: Effective classroom and intervention practices: A practice guide (NCEE #2008-4027). Washington, DC: National Center for Education Evaluation and Regional Assistance, Institute of Education Sciences, U.S. Department of Education. Retrieved from http://ies.ed.gov/ncee/wwc.
Riley-Tillman, C. (2010). Common reason for academic failure: It is too hard;  Intervention Name: Instructional Match. Retrieved July 3, 2010, from http://www.ecu.edu/cs-cas/psyc/rileytillmant/Academic-Interventions.cfm         
Smith, S. C. (2008). Addressing dropout-related factors at the local level: Recommendations for teachers.  Retrieved from http://www.ndpc-sd.org/documents/LEA_Recommendations_for_Teachers.pdf  
Torgesen, J. K., Houston, D. D., Rissman, L. M., Decker, S. M., Roberts, G., Vaughn, S., Wexler, J. Francis, D. J., Rivera, M. O., & Lesaux, N. (2007). Academic literacy instruction for adolescents: A guidance document from the Center on Instruction. Portsmouth, NH:    Center on Instruction RMC Research Corporation.